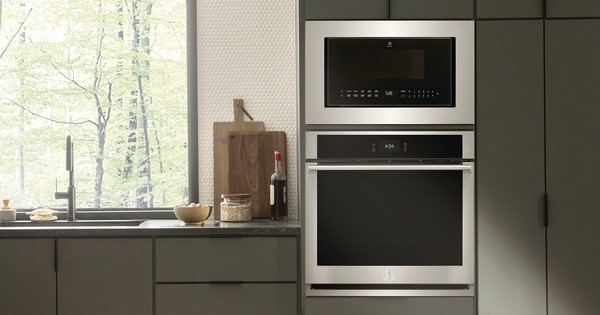 Sous vide, which is French for "because cooking isn't complicated enough already," is a technique known for boosting flavors and resulting in better textures. It's popular with meats in particular but can make plants tastier, too. Typically, you can heat a water bath to a specified temperature, seal your food in a water-tight bag, and let it sit in that water bath until the food reaches the same temperature as the water it's sitting in. This prevents overcooking or undercooking.
Electrolux wall ovens with air sous vide are designed to hold low temperatures steadily, varying no more than 3 degrees from the temperature you've chosen. Most ovens will naturally rise and fall 25 degrees around the set temperature, so this is quite the accomplishment!
Since there's no water bath, you can bag your food for the oven without needing the bag to be watertight. Set the temperature from 100 to 205 degrees Fahrenheit for up to 12 hours. Air sous vide will preserve flavors and moisture. No vacuum sealing and no water bath makes air sous vide a more flexible option for your culinary adventures.
As of spring 2021, this technology is exclusive to Electrolux and is patent pending.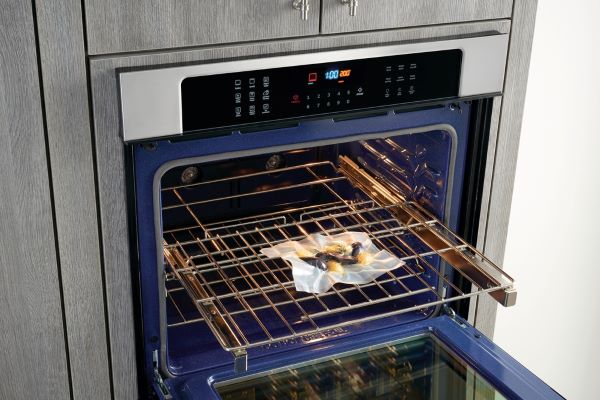 More About Electrolux Air Sous Vide Wall Ovens
You have two options:
Both models come with the following:
Built-in air fry with an included air fry tray (GE and Frigidaire also make wall ovens with air fry)

Steam Bake and Steam Roast options

Advanced Convection (which is part of what makes Air Sous Vide possible)

Additional options like No Preheat, Turkey, Bread Proof, and Dehydrate

Temperature probe

Luxury-glide oven racks and oven lighting
They use glass touch control panels with digital displays for a sleek, modern look. The display can provide guidance on some features like Steam Roast. They're also Wi-Fi connected, so you can use the Electrolux Connect app to monitor and control your wall oven from your phone and provide a guided cooking experience.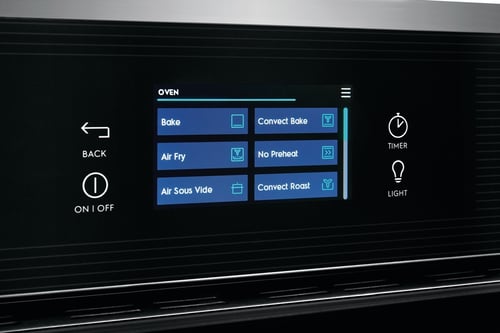 As far as competitors with this level of features and options - KitchenAid and Cafe are two brands that come to mind that might be competitors to consider, but if you want air sous vide, then Electrolux is your one-and-only.
Questions? Thoughts? Leave us a comment below - we'd love to hear from you!