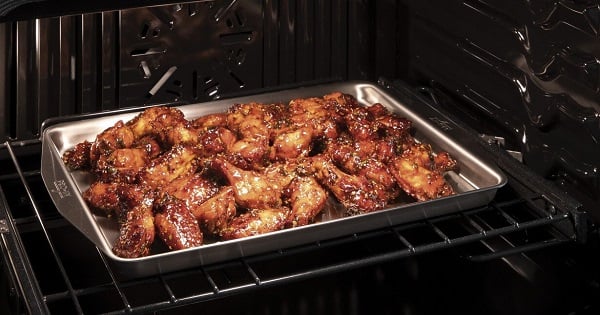 The first air fry ranges hit the market a couple of years ago with Frigidaire as the pioneer. Other brands have followed suit, and now, you can find a variety of stoves with this feature! If you're looking for a wall oven with air fry, options are a little more limited, but they're there.
Table of Contents
What is Air Fry?
There's no actual "frying" happening with air fry - but the results are pretty similar to frying while using less oil. By whipping up convection currents and moving hot air around your food, your food cooks quickly, and a dehydrated crispy crust forms on the outside.
Air fry ovens have powerful heating elements so they can quickly and evenly heat the oven interior. Your food will cook faster than the regular bake setting.
Although several brands are offering their own "air fry trays" to go along with these ovens, a special tray isn't necessary to get great results. The ideal air fry setup is:
A wire basket for the food so hot air can circulate around all sides of the food (otherwise, use a rimless flat metal baking sheet)

A baking sheet on the rack underneath the basket to catch drips and spills

You can also place parchment paper on the lower baking sheet to trap oil drips and prevent it from smoking

You may need to run your range hood while cooking to remove any smoky odors
This feature works best with the food placed on a single rack. It's a good idea to reference your range's owner's manual for suggested cooking times and temperatures. You can also place the food on a solid baking sheet if you don't have a wire basket or sheet. Try to use a flat baking sheet rather than a rimmed baking sheet to ensure the best air circulation.
Who Makes Air Fry Wall Ovens?
Currently, you can find single and double wall ovens (electric only) from GE Profile, Frigidaire, and Electrolux that also have air fry. We'll review Frigidaire Gallery and GE Profile wall ovens below.
Frigidaire Gallery Air Fry Wall Ovens
Single wall oven 30": Frigidaire Gallery GCWS3067AF - $2,599 MSRP
Double wall oven 30": Frigidaire Gallery GCWD3067AF - $3,599 MSRP
(Note: Good news for people with 27" wide ovens they want to replace: Frigidaire Gallery 27" wide wall ovens with air fry were released in Q4 of 2021!)
Frigidaire's air fry wall ovens use an algorithm plus a powerful convection element to quickly heat the oven cavity and create effortlessly crispy cooking results. Both the single and double wall ovens come with a temperature probe (upper oven only in the double oven model). These are 30" wide models, and Frigidaire's Fit Promise states that these ovens fit over 90% of competitor cutouts. Trim kits are also available if a cutout is too large.
These models come in fingerprint resistant stainless steel and also have features like a Steam Clean option as well as high-heat self clean. Frigidaire sells a wire air fry tray separately.
These ovens are fully featured yet cheaper than the competition, so they're a great option if you're on a budget. One thing we noticed is that the touch controls are "glass-like" rather than being actual glass touch controls. They'll feel more premium than mushy touch buttons, but we'd recommend trying them out in person to see if you like them. The cost is similar to other electric wall ovens with True Convection.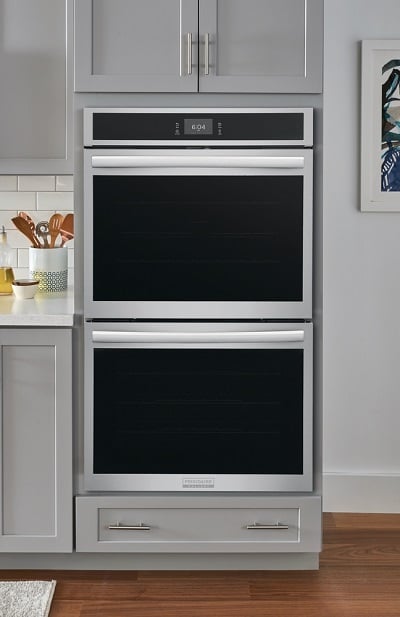 GE Profile Air Fry Wall Ovens
Single wall ovens: GE Profile PTS9000SNSS - $3,553 MSRP
GE Profile PTS7000SNSS - $3,331 MSRP
Double wall ovens: GE Profile PTD9000SNSS - $4,664 MSRP
GE Profile PTD7000SNSS - $4,442 MSRP
You can currently find two sets of options for wall ovens with air fry from GE Profile's lineup. Both options are available in stainless steel or black stainless steel. The 9000 models offer some bonus features - namely an in-oven CookCam so you can check on your food with your smartphone, and a few extra cooking modes.
Both the 7000 and 9000 models come with 7" full color touch displays, air fry plus an array of precision cooking modes, smooth-gliding roller racks, a temperature probe, and Wi-Fi connectivity. Steam clean and self clean options are both available as well.
Wall oven sizes can be a headache - so GE offers a Fit Guarantee. They'll pay you up to $300 if you need to make cabinet modifications to fit their oven into a cutout designed for the same width.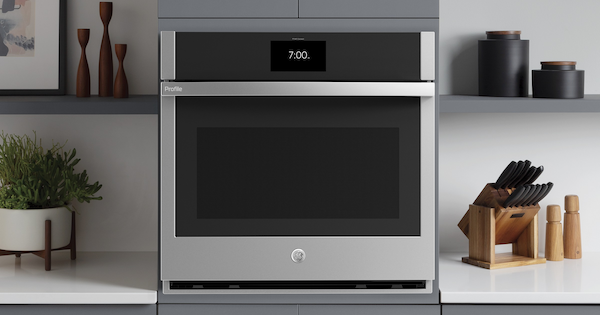 We hope this article helped you get a better idea of what the options are for wall ovens with air fry! You can also check out our reviews of the best single wall electric ovens of the year and the best double wall ovens of the year, too. Leave us a comment below - We'd love to hear from you!
Editor's Note: This blog was originally written in May of 2021 and has been completely revamped and updated for accuracy as of the publication date noted above.