The Speed Queen Dryer Platform
The components of these dryers are almost identical across the three models, with the main differences being in the control panel options and cycles. So let's take a look at the bodies of the machines.
Speed Queen puts three coats of an enamel-like finish on the exterior that's designed to stand up to years of wear and tear in laundromats, meaning that it should hold up even better in your home. A 7.0 cubic foot capacity galvanized steel cylinder is resistant to rust and corrosion and is more durable than the plastic cylinders that many other manufacturers include in their machines. The lint filter is up front, making it easy to reach and clean.
Speed Queen has an efficient axial airflow design on their dryers which utilizes a heavy-duty fan system and an advanced airflow pattern to provide the ideal balance between mechanical action, drying temperature, and airflow pattern. The electronic controls included in the dryers are commercial-grade and tested to withstand 10,400 cycles. The dryers are designed to operate quietly and to dry fabrics thoroughly without over-drying (thanks in part to moisture sensors in the drum).
These machines also have 3- or 4-way venting options and reversible doors, making installation easier in certain spaces. All models fit a 27" wide platform and are 28" deep.
Consider a Speed Queen laundry pair if you're concerned with...
Durability - Machines that will last at least 20 years

Spending your money effectively - An impressive manufacturer's warranty plus extensive testing by the manufacturer mean you're getting your money's worth

Repairability/DIY repairs - Repairs should be few and far between, but the simple internal makeup of these dryers makes DIY troubleshooting and repairs easier

A no-frills design - If you prefer simplicity and familiar controls and options, Speed Queen won't overwhelm you with tons of bells and whistles
If you want to go for just a Speed Queen dryer, keep in mind that the dryer should be about twice the capacity of the washer so that the dryer won't be over- or under-loaded (over-loaded dryers are over-worked and won't perform well). So if your current washer is about 3.5 cubic feet or less, or you're planning on upgrading to a washer of that size in the future, these dryers should be compatible.
The Entry-Level Model DR3003WE - 3-Year Warranty - $899
The Speed Queen DR3003WE electric dryer retails for $899 and its gas counterpart, model DR3003WG, goes for $999. This model has a reversible door that allows for flexibility. It has an old-school feel with two dial control knobs to operate the machine. One dial is for fabric selection and has three options: no heat, delicate, and permanent press/regular dry. The other knob is for cycle selection and features an automatic dry for permanent press and knits, automatic dry for regular/delicate clothes, and a timed dry option. New for 2021, it also features a Sanitize option, which kills 99.9% of bacteria! You can access this feature by selecting the cycle selector to Time Dry - Max Dry and the fabric selector to Perm Press/Regular. The cycle uses high heat and takes about 75 minutes.

Speed Queen includes industry-leading warranties on all their products and this machine comes with three years full coverage, both parts and labor.
Cycles & Options
3 Cycles: Automatic Regular/Delicate, Automatic Permanent Press/Knits, Timed Dry (up to 70 minutes)

3 Fabric Selectors: No Heat, Delicate, Permanent Press/Regular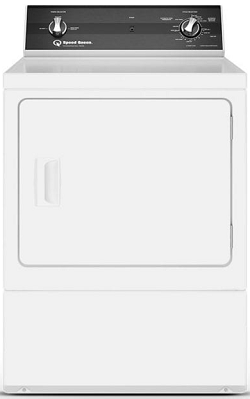 The Step-Up Model DR5003WE - 5-Year Warranty - $999
The next step up is the Speed Queen DR5003WE priced at $999. The gas counterpart, model DR5003WG, retails for $1,099. This dryer option is also a dial control model. On the fabric selector dial, this machine separates the permanent press and the regular cycle into two selections. The cycle selection for this model includes a Steam Refresh cycle that helps make your clothes look and smell good. There is also a switch for extended tumble that you can turn on if you want your clothes to tumble longer to reduce wrinkles. The 2021 version features Speed Queen's Over-Dry Protection, which uses an adaptive cool-down technology to avoid overdrying your clothes and to thus extend their lives! This model also offers the Sanitize cycle as a dedicated selection (compared to the DR3, which makes it part of the Timed Dry cycle) and has a reversible door.
A third dial on this machine controls auto-dryness, and the options include: Less Dry, Near Dry, Dry, and Dry & Extended Tumble. This step-up model is Energy Star rated, so you're getting efficiency along with durability and quality drying performance with this dryer. Also, the warranty on this machine is five years full coverage, so spending those extra few dollars for another two years of coverage may make the jump worth it!
Speed Queen is also offering the new "throwback" TC5 washer, and the matching dryer model DC5003WE has some similar options as the DR5, like the fabric selectors and the Sanitize and Extended Tumble cycles. It also has a 5-year warranty.

Cycles & Options
Cycles: Time Dry, Steam Refresh, Auto-Sensing, Sanitize, No Heat, Steam Boost

4 Fabric Selectors: Delicate, Permanent Press, Regular, Heavy Duty

Auto-Dryness: Less Dry, Near Dry, Dry, Dry & Extended Tumble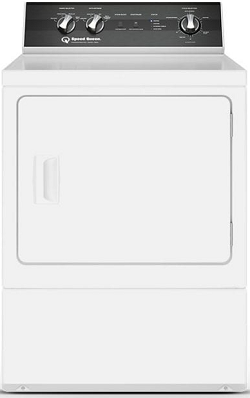 The Premium Model DR7003WE - 7-Year Warranty - $1,199
The last model we'll look at in these Speed Queen dryer reviews is the Speed Queen DR7003WE, which is the company's premium home dryer. It includes an electronic touchpad control panel as opposed to the dials in the previous two models. Some consumers are wary of a touchpad because of the perception that they break easily, but these ones are designed for commercial use and tested for 1,000,000 depressions to ensure lasting quality.
This model is priced at $1,199, while the gas version model DR7003WG goes for $1,299. It has moisture sensing capability, an EcoDry option to maximize energy efficiency, and the option to save favorite cycles. You can choose from heavy duty, regular, permanent press, and delicates for the auto-sensing dry cycles and time dry and quick dry for the manual cycles.
Just like the previous model, you'll also get features like Over-Dry Protection, Steam Refresh, Steam Boost, and Extended Tumble with this 2021 version of the DR7. It's also Energy Star rated and has a reversible door. The upgrades for this model include a Steam-Sanitize option that adds the power of steam in killing bacteria, a Pet Plus option that helps you quickly remove pet hair in your items, and an anti-static feature.
The real kicker on this fully-featured machine is the seven-year full-coverage warranty, so even if you're a bit hesitant about purchasing a clothes dryer with touch controls, that provides some real peace of mind!
Cycles & Options
Cycles: Automatic Heavy Duty, Automatic Regular, Automatic Permanent Press, Automatic Delicates, Manual Time Dry, Favorites, Manual Quick Dry, Pet Plus cycles, Steam Sanitize, Steam Refresh

Selections: 4 temperatures, 4 dryness levels

Options: Extended Tumble, EcoDry, Signal On/Off, Steam Boost, Anti-Static, Control Lock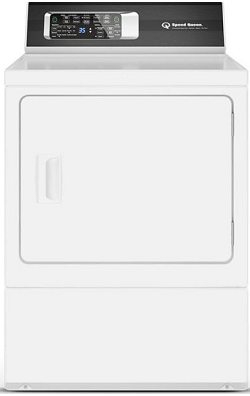 While there are many options available for clothes dryers, Speed Queen is always a quality choice, especially if you're looking for a machine that's going to last. These dryers possess commercial quality, unmatched performance, and industry-leading warranties. Headquartered in Wisconsin, Speed Queen products are American-made and only available through independent retailers. You won't find them at the big box stores!
We hoped you enjoyed these Speed Queen dryer reviews. Check out our Speed Queen washer reviews as well! Please leave us a comment below. We'd love to hear from you!
Editor's Note: This blog was originally written in May of 2018 and has been completely revamped and updated for accuracy as of the publication date noted above.