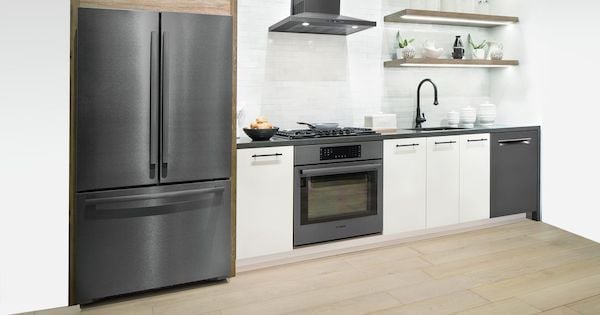 Bosch's German engineering has helped it make a name for itself in the appliance market, especially in dishwashers. They made our list of the ten quietest dishwashers and even went head to head with KitchenAid in a comparison of which brand had the quietest dishwasher.
While many appliance manufacturers have already released black stainless steel models and even entirely new color options like GE Slate and Whirlpool Sunset Bronze, Bosch has been surprisingly late to the game. However, Bosch black stainless steel is slightly different from other brands and might be the perfect choice for your kitchen.
Jump To:
Bosch Black Stainless Steel: What Makes It Unique
Although each manufacturer has a slightly different take on the black stainless steel finish, their technique for creating the finish is pretty similar: the black finish is applied over the stainless steel base as a type of foil. Black stainless steel is fingerprint resistant and is an alternative premium finish to stainless steel with a deeper, richer look. However, there have been complaints about the durability of the finishes from different manufacturers. If the coating is chipped or scratched, it can reveal the stainless steel underneath.
What took Bosch so long to create Bosch black stainless steel? It might be due to their technique: rather than applying a coating on top of stainless steel, Bosch adds that unique black metallic finish during the manufacturing of the stainless steel so it is actually a part of the stainless steel, not just layered on top of it. This makes the resulting metal more scratch-resistant, which has been an issue with black stainless steel appliances in the past. Plus, any scratches that do occur will be a lot less obvious.
You can read more about black stainless steel here, or check out our comparison of black stainless steel to other premium finishes here!
What Does Bosch Black Stainless Steel Look Like?
The best way to experience black stainless steel finishes is in person, because each appliance manufacturer has a slightly different look to this finish. For example, Frigidaire black stainless steel has a graphite look to it, while KitchenAid black stainless steel looks more like a satiny, slightly matte black metal.
Bosch black stainless steel is a mix of black and graphite tones with a soft sheen. Check it out in our video below!
Bosch Black Stainless Steel at NECO Appliance EXPO 2018
Which Appliances Are Available in Black Stainless Steel?
Bosch has released a full kitchen suite in black stainless steel, including:
Initially, Bosch only offered wall ovens and cooktops but they are now offering slide in ranges and professional gas ranges.

Should You Buy Bosch Black Stainless Steel Appliances?
Because each brand has a different take on black stainless steel, unlike with stainless steel you can't really mix and match black stainless steel appliances from different brands without having noticeable differences in overall color, texture, and shine. Again, Bosch really stands out in that their black stainless is highly durable and scratches will be better hidden than coating-style black stainless finishes.
You may want to consider a Bosch black stainless steel kitchen suite if...
You're building a new home or renovating your kitchen and want a sleek new look

You don't mind a more limited selection of appliances to choose from (Bosch's premium options are all quite fully-featured)

You want a finish that won't emphasize scratches, should they occur
Although Bosch doesn't really join in with the holiday sales like Memorial Day and Black Friday, they do offer rebates for kitchen suites and you can sometimes find additional rebates on specific items as well. Learn more about appliance packages here.
A 4-piece kitchen package in this color from Bosch starts at around $6,679 before rebate offers and "buy more save more" type promotions kick in. Check out current rebates for Bosch appliances. If you want black stainless steel on a budget, consider brands like Frigidaire.
What do you think about black stainless steel - must-have or no-go? Does Bosch black stainless steel appeal to you? Leave us a comment below - We'd love to hear from you!
Editor's Note: This blog was originally written in November of 2018 and has been completely revamped and updated for accuracy as of the publication date noted above.