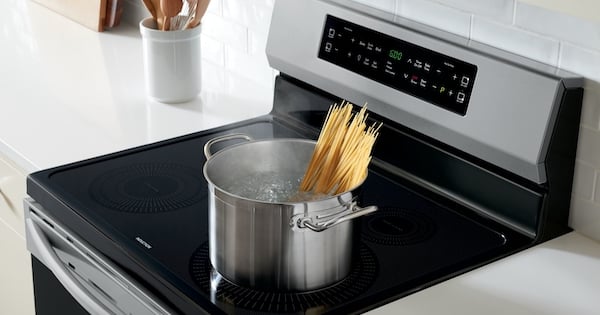 Induction ranges are interesting and different. These ranges are increasing in popularity and many consumers are seeking to learn more about them. If you are researching new ranges and considering an induction range, you should check out the Frigidaire induction range options. If you are looking for American-built quality, Frigidaire should definitely be on your list.
For more about the benefits and drawbacks of induction cooking, read our article, What is Induction Cooking? - Is it right for your kitchen?
For over 85 years, Frigidaire has been manufacturing products across North America. From coil elements to radiant glass to the newest induction glass top, Frigidaire has planted firm roots in our lives and kitchens. They currently offer incredibly affordable induction ranges starting at $1,299, which we'll review below.
Frigidaire currently offers an induction range in their value-priced Frigidaire line and nicely featured Frigidaire Gallery line, as well as induction cooktops. Frigidaire often participates in holiday sales and promotions, so you may be able to find these models for less than the typical retail price throughout the year. Check out our video below to see a demonstration of a Frigidaire induction range in action!
Let's take a look at two leading Frigidaire induction range models that you should consider for your next purchase - we'll start with the model from Frigidaire's main line.
Frigidaire GCRI3058AF Induction Range Review - $1,299 MSRP
The Frigidaire GCRI3058AF induction cooktop electric range is one of the cheapest induction ranges available - other ranges with induction start at around $2,000. This amazingly quick cooking surface has the ability to heat and boil water 50% faster than the average electric cooktop. The variable heat settings are very accurate and are the most similar experience to working with a gas cooking surface that you'll find in an electric induction range.
Benefits of Induction
This 30" freestanding range allows you to sear steaks, crisp the bread for sandwiches, melt chocolate or simmer sauces with the precise temperature control of induction. Dial in your desired power level and this unit will maintain the necessary heat setting. Since induction heats your cookware and not your kitchen, less energy is lost throughout the cooking process. The only potential shortfall with this model compared to an electric range is that it has four elements, while many smoothtop electric ranges have five elements.
No stressing over spills and boil-overs as the top simply does not generate heat, therefore food will not burn and adhere to the glass. The pan is now the element and will hold true temperatures for as long as you need it. Whether you want to simmer, boil, sear, or saute, induction cooking is much more accurate than traditional heating elements.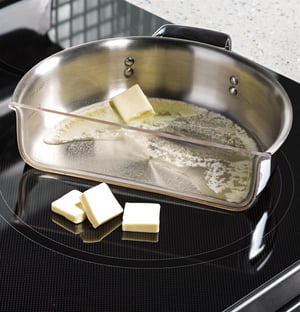 ...& Other Great Features
Beyond that, you'll find a 5.4 cubic foot capacity True Convection oven with self clean and steam clean options. This convection system utilizes a rear wall-mounted fan assembly and an additional heating element to circulate hot air to bake and brown 20-25% faster and more evenly than traditional baking methods. New for 2020 is a feature Frigidaire is rolling out across its range lineup: Air Fry. We've written a whole article about Frigidaire Air Fry ranges, but basically this feature is a great way to get crispy air fry results without needing a dedicated countertop air fryer. The convection is key to air frying, too - high heat and lots of air movement help achieve that crispy crust we all love!
This model is available in stainless steel at $1,299 or black stainless steel, model GCRI3058AD at $1,399. For a more high-end look, Frigidaire also makes slide-in ranges with induction cooking and Air Fry starting at $1,999 - see model FGIH3047VF.
Click here to read over 12 real customer reviews of this product!
Frigidaire GCRI3058AF - $1,299 MSRP - CLICK HERE FOR CURRENT PRICING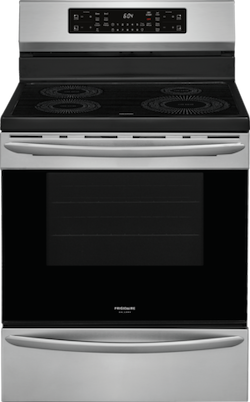 How Do Frigidaire's Induction Ranges Compare to the Competition?
Again, Frigidaire's popular induction models are the least expensive on the market - alternatives from GE Profile, LG, Samsung, and KitchenAid are $2,000-$3,000.
The features you're compromising on are mainly about the looks of the appliance and "extras" like wifi connectivity. You're still getting quite a lot from Frigidaire, and the Air Fry feature has proven to be very popular!
We hope you enjoyed this review and comparison of induction range options. Besides being easy to clean, an induction cook top ensures you'll always have accurate temperatures without heating up the whole house! Check out our Electrolux induction range and cooktop reviews for more great examples of induction technology!
Let us know how your experience goes if you end up purchasing one of these products. We'd love to hear from you!
Editor's Note: This blog was originally written in November of 2017 and has been completely revamped and updated for accuracy as of the publication date noted above.