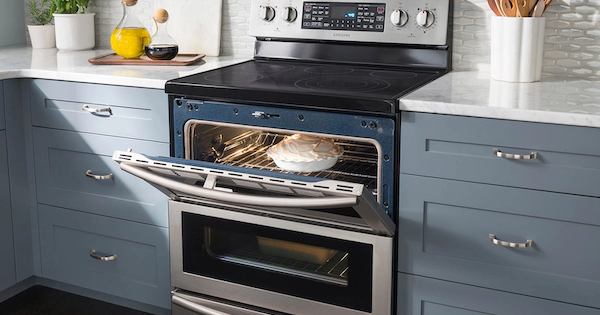 A double oven range can be a great way to boost your cooking options: splitting the oven cavity in two means you can cook two dishes at different temperatures simultaneously. A roast for dinner and cookies for dessert? Yes, please!
However, there are a few downsides to the double oven range style: the lower oven is usually the larger one, but it's closer to the floor so you have to bend or squat to get to it. Sometimes the oven space is divided about half and half, while in others there is a smaller upper oven and a larger lower oven. The Samsung Flex Duo system aims to give you the best of both worlds by making it easy to convert your range from a double to a single oven whenever you want.
Table of Contents
Overview, Features, & How It Works
Samsung initially debuted this system in 2012 and offers slide-in and freestanding models in electric, induction, or gas with this technology. A selection of single and double wall ovens are also available with Flex Duo. We'll focus on the ranges in this article, but the basic features are the same.
Here's how Samsung does it: it starts with the Smart Divider. This removable divider can be inserted in a specific slot towards the upper half of the oven, and transforms your single oven into two. The stove will chime, or the control panel will display the "dual mode" screen, when you've inserted the Smart Divider correctly. The Smart Divider does its job well: it doesn't transfer heat or aromas between the cavities. In ranges with a storage drawer, you can store the divider there when it is not in use. For ranges without a storage drawer, you may like to keep it with the cookie sheets and cutting boards.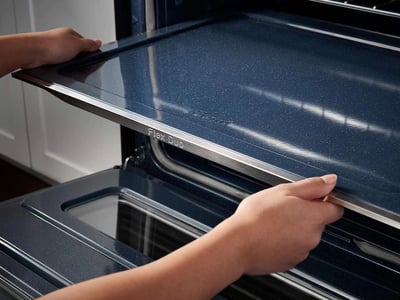 The divider creates a smaller upper oven cavity that is great for small dishes. It preheats more quickly than the full oven cavity, so you can get your baked potatoes or pizza ASAP. However, the convection options vary depending on the model. Some models offer two types of convection: fan convection for the top cavity and True Convection with a heating element and fan in the lower cavity. Others offer Dual Convection where both sections have True Convection.
Temperature options are slightly limited when the "twin mode" dual oven feature is in use - this is because there is a limited power supply available to be "split" between both cavities. This impacts what you can do when using both ovens to bake or broil. It may be worth taking a look at the owner's manual to see what you can and can't do with the split oven feature! If you're not interested in a learning curve, you may not want to try out this range lineup.
You'll want to get comfortable with the glass touch control panel, which walks you through the temperature, time, and other options. The controls are split in half so you can make separate selections for the upper and lower oven, and you can use either set of controls for single oven mode. On the slide-in ranges with this feature, the control panel on the front of the stove is angled upward so it's easy to read.
Flex Duo with Dual Door
Another feature that is available on some Flex Duo models is the Dual Door: similar to a door in door refrigerator, with the Dual Door feature, you can open just the top oven section rather than opening up the full door. In the photo below, you can see the button on the handle that you can press in to open just the upper door. This is handy if you're cooking something in the lower cavity and don't want to waste heat while you access the top cavity. Some models also have a soft close door feature so the door will close softly even if you don't know your own strength and push the door closed too hard.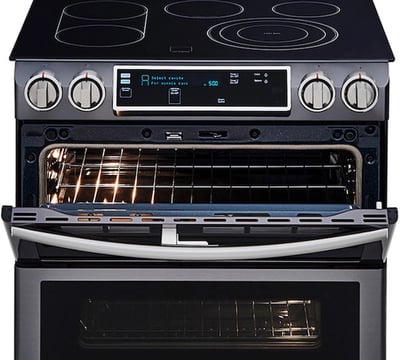 (Have 14 seconds to spare? Watch our quick demo of the Flex Duo with Dual Door!)
If you're interested in Samsung's smart appliances, you might want one of their wifi connected Flex Duo ranges. Using the Samsung Smart Home app, you can:
Check if the cooktop is on

Preheat the oven

Turn the oven off

Adjust oven time/temperature

Use pre-programmed Auto Cook settings for your favorite meals
However, as of this writing, the smartphone app has dismal reviews on both Apple and Android platforms. Although it's hard to give a fair interpretation of the reviews, it seems like the app is buggy and hard to use, and people are annoyed at the permissions the app requires in order to function. There are a large number of 1-star and 2-star reviews on the Google Play version alone that go on for pages. Even though you can't expect to please everybody, the volume of negative reviews is concerning. With over 1 million installs of the Android version alone, even with thousands of reviews that still means less than 1% of the people who downloaded the app left reviews. It's possible that many people had neutral experiences with the Samsung Smart Home app that didn't warrant a review!
If you don't care about wifi connectivity, you can still buy a Flex Duo with this feature and just ignore the Samsung app. Don't worry about the negative reviews on the app in this case - it won't affect the the operation of the range.
Quick Features Review for the Lineup:
Flex Duo: The option to divide a single oven cavity into two with a Smart Divider and control them separately using the Guiding Light glass touch control panel. Available on freestanding ranges, slide-in ranges, and wall ovens (single and double wall oven models).

Dual Door (Some Models): Flex Duo ovens that allow you to access just the smaller oven cavity by pressing a button on the handle. Convenient for retaining heat in the lower oven when cooking two dishes at once.

Soft Close Door (Some Models): Makes sure that the oven door shuts smoothly every time.

Dual Convection (Some Models): Both sections of the oven feature True Convection rather than having fan convection only in the top cavity when in "twin mode." Probably a must-have for serious bakers.

Wifi Connected (Some Models): Use the Samsung Smart Home app, available on Google Play and iTunes, to control your oven. However, at the time of this writing, the app has not been received well by customers according to reviews on both platforms.
That sums up everything you need to know about Samsung Flex Duo models! Review organizations seem to have a positive impression overall of the cooking performance of these models. Pricing starts at around $1,600 MSRP for freestanding ranges, $2,900 for slide-in models, $3,300 for single wall ovens, and $4,400 for double wall ovens.
View all Flex Duo products currently available, complete with prices and features!
Product Review: The Samsung NE63A6751SS Electric Range - $1,499
One of the most popular flex duo models is a dual door freestanding electric range model, the Samsung NE63A6751SS. This model is not quite as beautiful as a slide-in range but still has a lot to offer when it comes to features. The MSRP is around $1,499 in stainless steel, while $1,599 in black stainless steel.
The full oven space is 6.3 cubic feet, and with the Flex Duo divider it becomes a 3.4 cubic foot upper oven and a 2.7 cubic foot lower oven. At first blush, this model looks like a double oven. But using the latch hidden on the handle, you can open the full door to access both sections, or just the top section if you want to access the upper oven only. You'll find Convection+ in the oven. You can also use a traditional self clean option or a steam clean option for a lighter, faster clean. Preheating is relatively quick in any of the configurations. Underneath the oven cavity, you'll find a storage drawer where you can store the griddle after use.
The five burner stovetop is also nicely featured, with a triple ring 6"/9"/12" 3,000W burner plus two bridgeable elements which you can use for your griddle and a warming zone. It boils quickly but can simmer at low heat, too.
The risk with smart appliances is that the electronic controls can be a painful expense to replace should they fail. Consider going to a local appliance retailer with in-house service or even an extended warranty if you're interested in these products but would like some extra peace of mind.
Features
Convection+

Storage Drawer

Bridgeable elements on cooktop

Keep Warm burner

Steam clean and self clean oven options

6"/9"/12" 3,000W tri-ring burner
Click here to read real customer reviews of this product!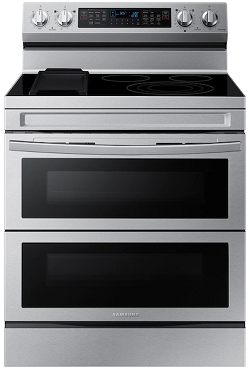 What do you think about this double oven innovation? Would you spring for a wifi connected option or does it seem like too much of a hassle? Have any questions about the Flex Duo line? Leave us a comment below - We'd love to hear from you!
Editor's Note: This blog was originally written in April of 2019 and has been completely revamped and updated for accuracy as of the publication date noted above.