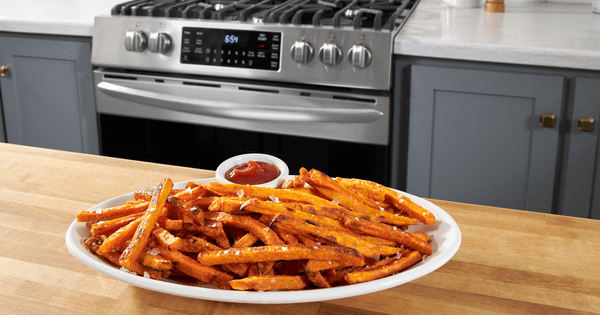 If you've heard about the Frigidaire stove with air fry and want to learn more, you're in the right place! Air frying has become a hot trend over the past few years, and countertop air fryers are popular. But why not save counter space and grab an oven that can do it for you!
Although these products are relatively new, so far the customer reviews have been positive. And outside of air fry mode, the ranges offer solid features and performance.
Table of Contents
How Frigidaire Air Fry Works
First, let's burst a small bubble: air frying = convection, not magic. Convection toaster ovens were around long before air fryers and can do the same job just as well. (Don't believe me? The Wirecutter tested it!) By whipping up a convection current and moving hot air around your food, it crisps the outside by drying it. However, it's harder to get those results in a full-sized oven, and a countertop option may not have enough space if you're prepping for a crowd or trying to make a family dinner. So what's the deal with Frigidaire air fryer stoves?
In a nutshell, Frigidaire's air fryer mode heats up the oven to a higher temperature than a typical convection mode, so you can cook more food than you can with a typical countertop air fryer (ideal for large households) AND cook it faster than using a regular bake setting alone.
Frigidaire also offers a special wire air fryer basket (sold separately) to crisp wings and other items evenly on all sides.
As of late 2020, several other brands have joined in on the air fry craze with their own air fry ranges. These include GE, LG, and Samsung. So if you can't find a Frigidaire range or want to explore other brands, you now have that option! Read more about all the air fry oven options on the market here.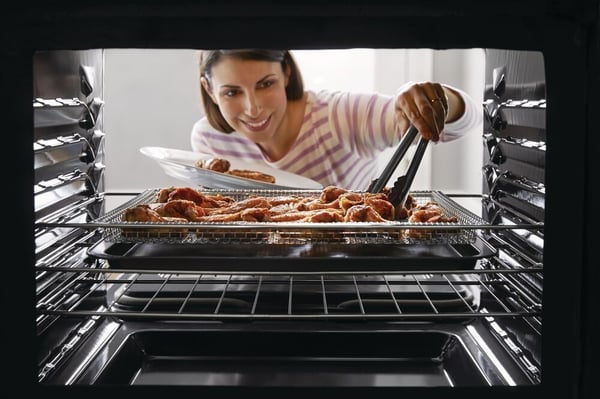 Here are Frigidaire's guidelines for getting the best results from Air Fry mode:
Use the wire basket or a dark non stick pan with low or no sides - this ensures that the pan heats quickly and that air circulates well.

Air Fry works best with a single pan on a single rack; multi-rack cooking may not work as well.

Use Frigidaire's minimum suggested cook times and settings from the owner's manual (they offer settings for fresh and frozen chicken wings, french fries, and more).

Check food often/at the minimal recommended bake time in the owner's manual.
When using a wire pan like the air fryer basket, oil dripping from the pan to the bottom of the oven can smoke. To manage this, Frigidaire recommends that you:
Run your range hood while your food is cooking to remove any smoky odors.

Place a baking sheet on a lower rack that is larger than the air fry basket to keep drips and debris from falling to the bottom of the oven.

You can also place a sheet of parchment paper on top of this lower baking sheet - this traps oil and prevents it from smoking.

(Do not place parchment paper/bakeware/foil directly on the bottom of the oven - this will prevent air from circulating properly.)

Use oils/sprays with high smoke points (like avocado or grape seed).
Pricing & Options
Frigidaire offers slide-in and freestanding ranges in gas, electric, and induction with air fry in their nicely styled Frigidaire Gallery line, although the most popular models so far have been the slide-in front control models. Pricing starts at around $1,149 MSRP.
Freestanding ranges in electric, gas: $1,149-$1,249 MSRP

Front control slide in ranges in electric, gas: $1,799-$1,999 MSRP

Induction: $1,999 MSRP in stainless steel only
These models are available in both smudgeproof stainless steel and black stainless steel. Black stainless steel models retail for $100 more than the stainless steel options.
The Frigidaire ReadyCook Air Fry Tray is sold separately for about $50.
Frigidaire has been promoting these ranges quite a bit as of this writing, so they are often part of holiday sales. You can easily save 20-30% off of the retail price! For example, during the 2020 President's Day sale, their $1,799-$1,899 front control models were on sale for around $1,099.
As of late 2020, Frigidaire is releasing new slide-in gas and electric ranges in their Frigidaire Professional line that have air fry. Gas range model PCFG3078AF, retailing at $1,999, offers a flexible 5-burner cooktop with an oval shaped center burner that's perfect for a griddle. Electric range model PCFE3078AF retails at $1,899 and includes an expandable element plus bridgeable elements. Both come with temperature probes, convection, and more. The ReadyCook air fry tray is included with these models.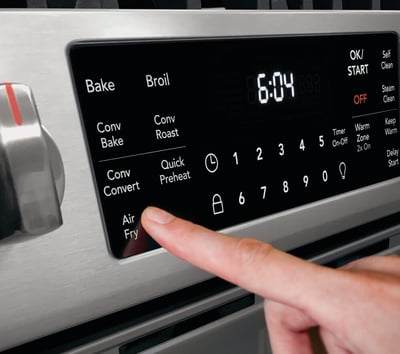 Review: The Frigidaire Gallery FGGH3047VF Gas Slide In Range - $1,899 MSRP
The Frigidaire Gallery FGGH3047VF is a top-selling slide in gas range with Air Fry. It retails at $1,899 in stainless and $1,999 in black stainless. The signature sleek styling of Frigidaire Gallery and smooth glass touch controls make this a gorgeous kitchen upgrade!
The oven has true convection with an additional heating element plus specialized convection modes for roasting and baking. Options include Quick Preheat, Keep Warm, Variable Broil, and Delay Start. You'll also have access to a 2/3/4 hour high heat self clean option as well as a steam clean option for a quicker, light-duty low temperature clean.
The stovetop features five burners, including an oval-shaped center burner designed for use with the included griddle pan. The 18,000 BTU Power Burner boils water at impressive speeds, while the 5,000 BTU simmer burner is perfect for keeping soups and other items at a low heat. Edge-to-edge grates make it easy to move cookware around.
If you like an outside opinion: Reviewed, a consumer product review website, found that this model performed well in their tests. Customer reviews on Frigidaire's website are also very positive!
Key Features
5,000-18,000 BTU burners, including a 10,000 BTU oval burner for griddles (griddle pan included)

True Convection oven (rare in gas ranges)

Continuous corner-to-corner grates

Self clean and steam clean oven

Air Fry mode, of course!
Click here to read over 1,090 real customer reviews of this product!
Frigidaire Gallery FGGH3047VF - $1,899 MSRP - CLICK HERE FOR CURRENT PRICING!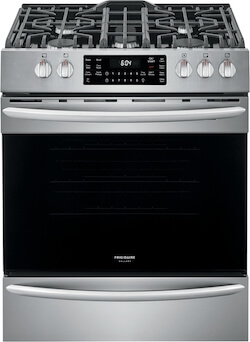 Review: The Frigidaire Gallery FGEH3047VF Electric Slide In Range - $1,799 MSRP
Although not quite as popular as the gas range options with Air Fry, Frigidaire's electric stoves with this feature are doing pretty well. The Frigidaire Gallery FGEH3047VF retails for $1,799 in stainless and $1,899 in black stainless. Like the gas range, this smooth top electric model has very positive reviews from customers.
The cooktop has five elements, including a low-powered 100W Keep Warm element. The two front elements are expandable: one dual 6"/9" and one triple 6"/9"/12" element. Wattage power ranges from 1,200W to 3,200W. These elements can get really hot, according to tests done by Reviewed.com!
It also comes with a true convection oven - a must-have for bakers - that cooks quite evenly even when the convection setting isn't in use. It comes with both a high heat pyrolytic self clean mode and a quick, low temperature steam clean mode. The steam clean mode is best for small messes or hot days when you don't want to heat up the kitchen, while the self clean mode is the heavy-duty option.
Overall, this nicely styled and nicely featured slide in electric range would be a great option for your kitchen! If you're still considering your options, check out our reviews of the Top 5 Best Slide In Electric Ranges of the Year.
Are you interested in induction cooking? The Frigidaire FGIH3047VF is an induction version of this slide in range. Induction offers the responsiveness of gas burners with the convenience of electric fuel!
Key Features
1,200-3,200W elements, including dual and triple expandable elements plus a 100W Keep Warm zone

True Convection oven

Self clean and steam clean oven

Air Fry mode, of course!
Click here to read over 995 real customer reviews of this product!
Frigidaire Gallery FGEH3047VF - $1,799 MSRP - CLICK HERE FOR CURRENT PRICING!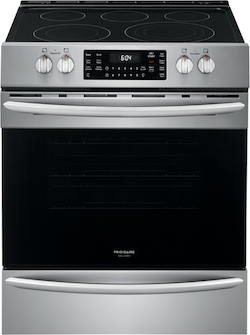 We hope this helped you decide if you want to check out a Frigidaire stove with Air Fry. So far, the product seems to be doing well! And despite the high MSRP on the slide in models, during sale periods, they can be quite affordable.
What do you think about air fry in a stove? Are you trying it for the first time, or thinking of ditching your countertop air fryer? Leave us a comment below - We'd love to hear from you!
Editor's Note: This blog was originally written in March of 2020 and has been completely revamped and updated for accuracy as of the publication date noted above.