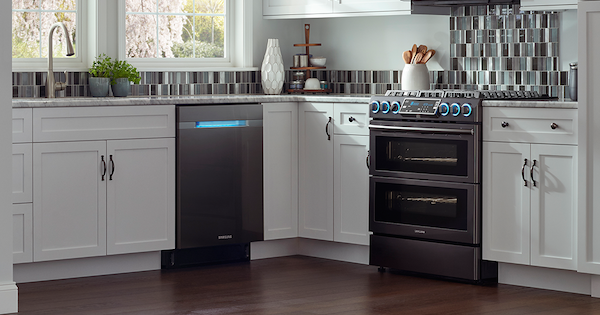 With high-quality manufacturing and cutting-edge technology, Samsung is leading the pack as a relatively new entrant into the appliance industry (along with competitor LG). Samsung is newer to the US market but has begun to expand from refrigeration and laundry into dishwashers and has some great innovations.
If you're looking for smart appliances with innovative features and technologies, Samsung is definitely a brand you should consider, along with LG - check out our LG dishwasher reviews to compare the two brands!
Before we dig into the Samsung dishwasher review below, we'll outline what Samsung dishwashers have to offer.
Table of Contents
Samsung Dishwashers - Key Features
Samsung offers around 8 models as of this writing, starting at $599 all the way up to $1,249 (before promotional discounts and rebates kick in). The styling is sleek and modern: choose from a towel bar style handle with hidden top controls, a pocket handle with visible front controls that are sleeker than low-end models, and a pocket handle model with integrated controls. They offer models in a premium black stainless steel finish and their new Tuscan stainless steel finish as well for a premium alternative to stainless steel.
See Tuscan Stainless Steel for Real!
Several of their models offer premium features at lower prices than you might find from KitchenAid or Bosch dishwashers. All models come with three spray arms (the industry standard is two).
Here are some key features found on select Samsung dishwashers:
FlexTray Third Rack: Like many high-end dishwashers, select Samsung models come with a third rack. However, Samsung stands out by including a removable tray set into the third rack so you can easily lift out your utensils on the tray and carry them over to wherever they need to be unloaded.

Auto Release Door: The door opens automatically at the end of a cycle and a fan pushes steamy air out of the dishwasher to improve drying performance.

StormWash: This is a special red nozzle set near the spray arm at the bottom of the dishwasher. You can use it to target tough baked-on food and heavy soils by placing the pot or pan over this spray nozzle and selecting the StormWash program.

ZoneBooster: Found on select dishwashers with WaterWall and AquaBlast technology, ZoneBooster adds extra nozzles in the lower rack to target heavily soiled dishes.

AquaBlast/Linear Wash System: New for 2019, this upgrade to WaterWall 2.0 technology looks pretty similar to WaterWall but has redesigned water jets. Six powerful jets spray at a moving bar. The water hits the bar and is pushed straight up against your dishes, and the bar moves back and forth to ensure total coverage.
1. The Entry-Level Model - Samsung DW80N3030US - $649
First up in our Samsung dishwasher reviews is the Samsung DW80N3030US, a pocket handle model with smooth-touch digital front controls. Even this entry-level model comes with a third rack and height-adjustable upper rack. It's not the quietest in this price range at 51 dB, however, so if you're looking for a quiet dishwasher then you may need to go to a higher-end model. (Read more about dishwasher decibel levels here.)
This model comes with a Hybrid Tub, meaning the walls are stainless steel but the bottom of the tub is plastic. (Learn more about plastic vs stainless steel dishwasher interiors here.) This is around the price point where stainless steel tubs are pretty common, so it's interesting that Samsung chose to implement the "hybrid tub" at this price.
The cycles and options are pretty simple, including a NSF-certified Sanitize option for cleaning items like baby bottles and a heated dry option. If you would prefer more loading flexibility over things like quieter operation, this could be a great model for your needs. The pocket handle means you don't have to match hardware with other appliances in your kitchen for a seamless look.
The warranty covers one year parts and labor and five years on the circuit board and interior racking. This model is available in black or white at $599, or stainless steel for $649.
Features & Options:
51 dB operation

4 Cycles: Auto, Normal, Heavy, Express 60

4 Options: Hi-Temp Wash, Sanitize, Heated Dry, 3-6-9H Delay Start

Indicator lights for cycle progress (Wash, Rinse, Dry, End)

Third rack and height-adjustable upper rack
Click here to read over 90 real customer reviews of this product!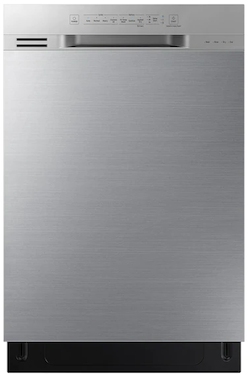 2. A Quieter Top Control Model - Samsung DW80R7061US - $949
This has been one of our most popular Samsung models and has a lot to offer for the price. The Samsung DW80R7061US keeps it simple with a gorgeous curved handle and hidden top controls. It's available in stainless steel at $949 or fingerprint resistant black stainless at $1,049. With no brand name badge on the front, this model will integrate seamlessly with your kitchen. It operates at a quiet 42 decibels.
This model includes the StormWash feature and Auto Release door discussed above. It has a third rack plus a nice array of cycles and options, including a one-hour quick wash cycle and a lower rack only wash option for half loads. The pop-open door will improve drying performance. The racks are easy to adjust and have ball bearing glides, and the stainless steel interior tub improves drying performance.
If you want to avoid pre-washing and want flexible racking options plus improved drying performance thanks to the AutoRelease door, this model might be a great fit for your needs. Samsung offers a one year parts and labor warranty. The previous model featured here, model DW80K7050US, was very popular, retailing at around $849 with 44 decibel operation and a slightly different bar handle style. It will be interesting to see how this new model performs!
Another popular model with similar specs, but with integrated controls and a pocket handle, is model DW80R5060US, retailing at $949 in stainless steel. A model available in a lower price range is the Samsung DW80R5061US, retailing at $799. This model operates at 48 decibels (so it's about 60% louder, since a 10-decibel increase means double the noise level) and does not have glide rails on the upper rack. Other than that, the features and styling are very similar!
Features & Options:
42 dB operation

6 Cycles: Auto, Normal, Heavy, Express 60, Delicate, Rinse Only

5 Options: Hi-Temp Wash, Sanitize, Lower Rack Only, Storm Wash, 1-24H Delay Start

AutoRelease door

Third rack and height-adjustable upper rack

StormWash technology
Click here to read real customer reviews of this product!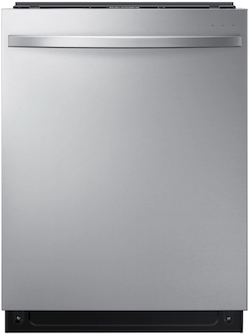 3. The High-End Model - Samsung DW80R9950US - $1,149
Do you want your dishwasher to integrate seamlessly with your kitchen? The Samsung DW80R9950US has a high-end look and feel plus whisper-quiet operation at just 39 dB! It's available in fingerprint resistant stainless steel, black stainless, or Samsung's new Tuscan stainless steel.
The racks feature ball bearing glides so they move in and out easily. Red accents on the racks indicate adjustable areas like tine angles and rack height so you don't have to fumble around for the right button or latch. This high-end model comes with the AutoRelease Door, Linear Wash System, and Zone Booster, and it also comes with wifi connectivity. You can remotely monitor and control this dishwasher with your smartphone so you can check on the progress of a cycle, start the dishwasher, and more.
The exterior design features a modern pocket handle with an integrated LED digital display to show the cycle time remaining. Samsung's warranty covers one year all parts and labor and five years on printed circuit board and nylon racks. As of this writing, 39 decibels is as about as quiet as you can get when it comes to dishwashers.
Features & Options:
39 dB operation

7 Cycles: Auto, Normal, Heavy, Delicate, Express 60, Rinse Only, Self Clean

8 Options: Half-Load Wash (Lower Rack), Zone Booster™ (Left), Speed Booster, Hi-Temp Wash, Sanitize, 1-24H Delay Start, Control Lock, Smart Control (Wi-Fi App)

AutoRelease door

Third rack and height-adjustable upper rack

Wifi connectivity

Zone Booster
Click here to read over 85 real customer reviews of this product!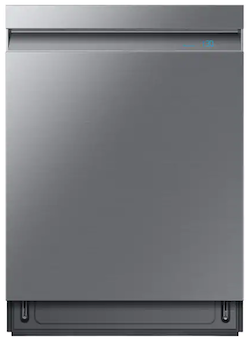 We hope you've enjoyed this Samsung dishwasher review complete with all of Samsung's dishwasher features and options. Samsung offers some interesting features on their dishwashers that other brands are taking note of. For example, in late 2019 Bosch released a dishwasher with a similar pop-open door to aid drying. If you like tech innovations, take a closer look at Samsung dishwashers when you head into the store.
If you're not sure if Samsung is right for you, check out our reviews of the best dishwashers of the year!
Please leave a comment below. We'd love to hear from you!
Editor's Note: This blog was originally published in November of 2014 and has been completely revamped and updated for accuracy as of the publication date noted above