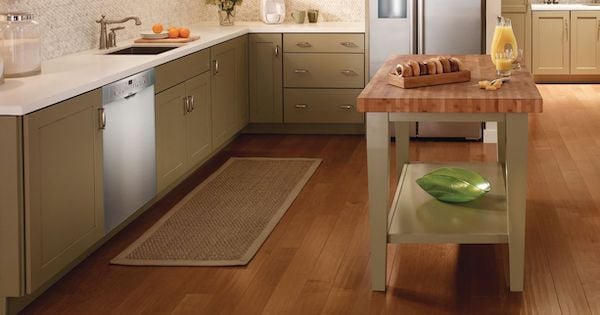 How do Frigidaire's dishwashers compare with Bosch models? Bosch is an excellent brand and is very strong in the dishwasher category. They were one of the first to fill the need for quieter dishwashers and even their most inexpensive models come with stainless steel tubs. They are known for excellent cleaning performance and quality German engineering.
Frigidaire dishwashers are an exceptional value, typically focusing on providing a modern exterior design at lower prices than the competition. Their Frigidaire Professional line of dishwashers is made in one of the Electrolux factories in Italy and they have added many new quality features to the product line. The new models are quieter, offer solid cleaning performance, and dry the dishes well.
We compare two popular models at similar price points to see how the brands stack up.
Table of Contents
The Frigidaire Gallery FGID2468UF - $699
First up: what does Frigidaire have to offer? The Frigidaire FGID2468UF, priced at at a $699 in smudge-proof stainless steel, comes from the Frigidaire Gallery line. This Energy Star rated dishwasher also comes in black stainless steel at $749, or in pocket handle options like model FGIP2468UF. It operates at 49 dB, which will be quieter than most older dishwashers but not as quiet as possible - read more about dishwasher decibel levels here. It has a graystone plastic tub, nylon racks, and a splittable three-piece silverware basket. Both racks feature fold down tines, and the upper rack is height-adjustable and has stemware holders.
With fan-assisted SaharaDry technology you can choose heated drying or MaxBoost drying to get thoroughly dry dishes. The 34-minute Quick Wash and Upper Rack Only wash are great for handling small, lightly soiled loads. DishSense technology adjusts the cycle time based on the soil levels for a smarter, more efficient wash. Like most newer dishwashers, average cycle times are longer overall at 104 minutes. The OrbitClean wash system with satellite spray arms provides better water coverage, and you also have the option to adjust the wash pressure depending on your needs. A nicely designed control panel makes it easy to add wash options like increasing the wash pressure for heavy soils.
The hidden top controls and sleek exterior give it a premium look, too. Overall, this model is a great pick for people looking for something stylish with mid-end features at a good price.
Features:
8 Cycles: Energy Saver Plus, China/Crystal, Favorite Cycle, PowerPlus (Heavy), Normal, Quick, Rinse Only, Upper Rack Only, Quick Wash

4 Options: Wash Pressure (Spray, Surge, Scour), Wash Temp (Normal, High, Sanitize), Dry (Air, Heat, MaxBoost), Delay Start 1-24 Hours

Fan-assisted SaharaDry technology

Removable, self-cleaning stainless steel filter

Stay-put door stays at the angle you open it to

49 dB operation
Click here to read over 125 real customer reviews of this product!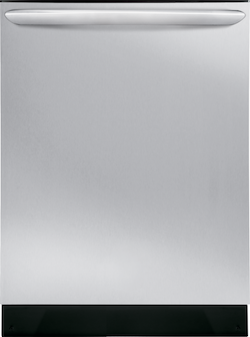 The Bosch SHXM4AY55N - $749
Next up is the Bosch SHXM4AY55N at a $749 price point in stainless steel. It has a stainless steel tub and door liner with a polypropylene plastic bottom and a stainless steel door liner. It has a slight edge over the Frigidaire Gallery model with 48 dB operation - however, if you listened to each of them on the same cycle, you probably wouldn't notice the difference. For the price these features are still pretty impressive!
It comes with nylon racks, a v-shaped third rack to boost loading space while leaving room for tall items in the upper rack, and an adjustable RackMatic upper rack. Bosch's AquaStop Overflow Protection System detects leaks even if the dishwasher isn't running, and will pump water out of the tub and close the water inlet if needed. The hidden top controls and bar handle give this model a high-end look and feel. Plus, Bosch's EuroTub design ensures that this dishwasher installs completely flush with your cabinetry.
It has similar cycles and a slightly different set of options compared to the Frigidaire model, plus several worthwhile upgrades. If you are on a budget, you can still get a dishwasher that performs well!
Features:
5 Cycles: Heavy, Auto, Speed60, Normal, Rinse

4 Options: Delay Start 1-24 Hours, Delicate, Sanitize, Extra Dry

AquaStop 24/7 Overflow Protection System helps prevent water leaks

Third rack and height-adjustable middle rack for more loading flexibility

Removable silverware basket can be placed anywhere

Door self-latches at an angle less than 20 degrees but otherwise stays open at the position you chose

48 dB operation
Click here to read over 630 real customer reviews of this product!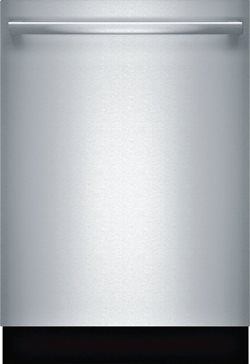 Features Comparison
Cycles & Options: Both models offer helpful must-haves like Sanitize options, delay starts, and quick wash cycles. At the same time, some of Frigidaire's extra options may seem pointless if you tend to prefer automatic cycles.

Other Features: The Bosch model includes a third rack so you can wash more in one load. Frigidaire has tighter spacing in the upper rack that can make loading difficult, but Bosch's European design means tighter spacing in the lower rack. This doesn't work well for thick stoneware plates and bowls. Bosch has a stainless steel tub with a plastic bottom, while the Frigidaire model has a completely plastic tub. Stainless steel is a better material for durability and sound absorption than plastic.

Look & Feel: Both models offer a smooth, sleek look with hidden top controls and bar handles. Both brands offer similar models with pocket handles as well if you want your dishwasher to match with the rest of your appliance suite! However, Bosch does not offer a fingerprint resistant stainless steel.

Performance: Bosch is known to be a top performer when it comes to cleaning. Frigidaire does alright but is typically not at the same level.
For the price and features, Bosch is the winner here - for $50 more you're getting better cleaning performance, a partial stainless steel tub, and a third rack. The exception is if you have earthenware or stoneware plates - in which case the tight tine spacing of the Bosch's lower rack won't work for you.
Please leave us a comment below. We'd love to hear from you.
Editor's Note: This blog was originally written in August of 2014 and has been completely revamped and updated for accuracy as of the publication date noted above.