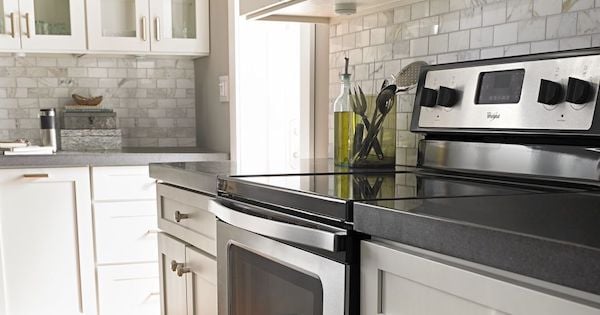 Two well-known appliance brands available to consumers today are Whirlpool and Frigidaire - but which one is best for you? If you're shopping for a new freestanding smoothtop electric range, you may want to know more about your options from each of these brands. Whirlpool now owns several other brands, including KitchenAid, Maytag, and Amana. Frigidaire is owned by Electrolux.
So what you can you expect from these two brands? In our Whirlpool vs Frigidaire review, we compare two 30'' freestanding electric ranges from the Whirlpool and Frigidaire Gallery lines in the $800-$900 price range to help you choose the best electric range for your kitchen.
The Whirlpool WFE515S0ES - $749
First up in our Frigidaire vs Whirlpool electric range review is the Whirlpool WFE515S0ES, priced at $749 in stainless steel only. This freestanding electric range features an easy-to-clean ceramic glass cooktop with two 6" 1,200W burners, one 9" 2,400W burner, and one 6"/9" FlexHeat dual 3,000W burner.
Behind the large oven window is a hidden bake element with 2,400W of power and a 3,400W broiler element located at the top. Two oven racks and five rack guides give you flexibility inside of the 5.3 cubic foot self cleaning oven. This stainless steel freestanding range offers a good number of basic features and a sleek design with all controls located on the backguard.
Whirlpool also designed this range to be "counter depth" at just 27.75" deep, so it should only stick out slightly from a standard 25" deep countertop.
Click here for over 1,560 real customer reviews of this product!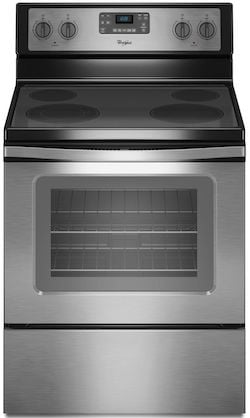 The Frigidaire Gallery FGEF3036TF - $949
The Frigidaire FGEF3036TF is priced in smudge-proof stainless steel at $949 and is also available in black stainless steel for $1,049 as well as black or white at $849. Like the Whirlpool option, it features a ceramic glass cooktop with backguard controls. The cooktop features five burners, including an expandable SpaceWise element that lets you go from 6" to 12" for added cooking flexibility, a 3,200W Quick Boil element, and a warming zone burner located at the rear center of the cooktop.
Inside of the oven, you have a 5.4 cubic foot oven capacity with a 3,500W bake element and 3,900W broil element. Quick Bake fan convection is a great option for people who want to improve their baking results. When it comes to cleaning, you can choose a steam clean option or a traditional high heat self clean. Steam cleaning takes just 30 minutes at a lower temperature than self cleaning cycles, but you need to do it more often to keep your oven interior pristine.
Pictured below are Frigidaire's three convection systems. As you can see, with the Quick Bake convection you're getting a fan to improve heat circulation (read more about convection here).

Frigidaire's sleek styling and convection option make it a more premium option than the Whirlpool model.
Click here to read real customer reviews of this product!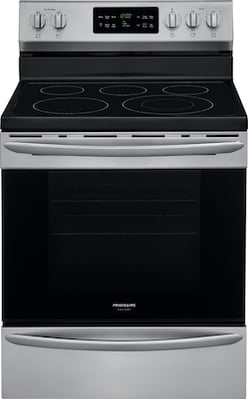 Features Comparison
Stovetop Features: Frigidaire wins this round with a keep warm zone. Frigidaire's dual element goes from 6" to 12", ideal for large cookware, while Whirlpool's is a 6"/9" option. It also has a slightly more powerful wattage option at up to 3,200W, while Whirlpool's goes to 3,000W.

Oven Features: Fan convection (found on the Frigidaire model) is a great choice for speeding up the cooking process and getting better baking and browning results. Self cleaning features are also important to consider - would you prefer traditional self cleaning or would you like the convenience of steam cleaning as well?

Look & Feel: Frigidaire is a clear winner here with sleek styling at a great price - it's what the Frigidaire Gallery line is known for! That being said, Whirlpool's model is a fine option despite a lower overall aesthetic appeal. The Frigidaire model is about an inch deeper than the Whirlpool model so it will stick out from countertops slightly more.
So, how do you choose between these Frigidaire and Whirlpool electric ranges? They're both great products with solid features, but have a few differences. The Frigidaire option may appeal to families and other households that are often cooking for a crowd due to its slightly larger oven capacity and expandable stovetop elements. The convection baking option is a must-have if you bake often and need things done sooner rather than later!
The Whirlpool electric range offers all of the basic features you need for a lower price, so if you want a modern range on a budget, the Whirlpool may fit your needs better. Although it lacks convection baking, it still bakes evenly, so you won't have trouble with hot spots. It has slightly less powerful bake and broiler elements compared to the Frigidaire, but similar cooktop power.
Overall, in the Whirlpool vs Frigidaire debate, these electric ranges are solid, high-quality freestanding ranges with a lot to offer. Go for the Whirlpool range if you want a lower price and don't mind more basic features, or choose Frigidaire if you can't live without convection!
We hope you found our 30'' freestanding electric range reviews comparing Whirlpool vs Frigidaire helpful. Check out our reviews of the best electric ranges of the year for more options! Leave us a comment below - We'd love to hear from you!
Editor's Note: This blog was originally written in September of 2017 and has been completely revamped and updated for accuracy as of the publication date noted above.