Certain specialty applications call for specialty products. Refrigerators are no different: refrigerators with no freezers, also called "all-refrigerators" or "freezerless refrigerators" are often installed in offices, pool houses, or where a second refrigerator is needed. They range from basic to high-end, mini to full-size, and there are a lot of options. Here are a few types of all-refrigerators:
Twin Refrigerators or Column Refrigerators: A high-end type of refrigerator with no freezer, usually with a built-in look. They feature a single door and can be paired with a matching column freezer for a custom side by side look, or separated for convenience in a high-end kitchen. They may be panel-ready, built-in, or integrated (read more about built in and integrated refrigerators in our article).

Freestanding All Refrigerators: These models are useful for apartments, dorm rooms, offices, and other settings. They can be compact at 11 cubic feet or less, or up to 19 cubic feet or so for full-size models.

Beverage Centers/Wine Coolers: These refrigerators are specifically designed for storing beer, soda, wine, and other beverages. They're a great addition to any home bar! They usually have clear glass doors and can be freestanding or built-in models that can be installed under counters.
What most people are looking for are the freestanding options. Maybe you need a mini fridge for a dorm room or office, or maybe you're looking for a larger model for entertaining and extra storage space. Frigidaire and Whirlpool are two mainstream home appliance brands that offer refrigerators with no freezers, but you may want to consider specialty brands like Danby, Summit, and Marvel as well (check out our Marvel refrigerator reviews for some great compact models). Although Energy Star ratings are common in full-sized refrigerators with freezers, they aren't quite as standard within the all refrigerator market. Check the Energy Guide if you're concerned about electricity costs!
The Basic Mini Fridge
The Danby DAR044A4WDD is a great example of a compact all refrigerator model at an affordable price point of just $229 in black or white. This Energy Star rated model has a generous 4.4 cubic foot capacity, includes Danby's Canstor beverage dispenser, reversible doors and an interior light. There are two full-width and one half-width adjustable wire shelves. It is covered by an 18 month warranty on parts and labor and is a great affordable option allowing you additional space in the kitchen, cabana or office. This counter height model is a great option for storing snacks and cold drinks!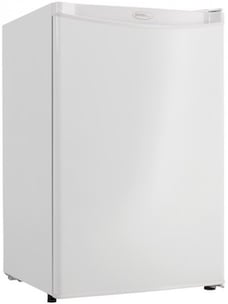 The Full-Size All Refrigerator
Are you looking for a larger refrigerator with no freezer? Maybe you need an extra fridge for your garage or extra refrigerator space for your organization's food storage needs. One popular option is the 16.6 cubic foot Frigidaire FFRU17B2QW. Frigidaire (a division of Electrolux) offers great products in this space. This refrigerator without a freezer will really help boost your fresh food storage capacity and is designed, engineered and assembled in the US. It comes with bright interior lighting, three adjustable wire shelves, five door racks, frost free operation, and adjustable temperature controls. It is not Energy Star rated and uses about 318 kWh per year. The good news: this is on the low end for energy usage in this category.
Click here to read over 150 real customer reviews of this product!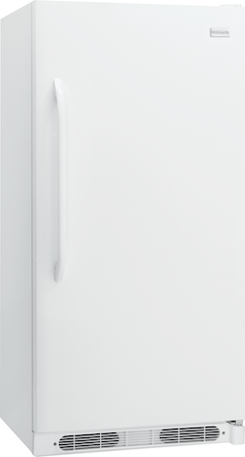 The Premium All Refrigerator
Now if you really want to take your fresh food storage to another level, you can look at the Electrolux EI32AR80QS all refrigerator model with 18.5 cubic feet of capacity in stainless steel. This model can be installed alone or as a "twin" setup with a matching column freezer. Like the Frigidaire model, this option is not Energy Star rated but its operating costs are on the low end for the category (about 331 kWh estimated usage for the year).
Electrolux's Perfect Organization system is pretty great: Luxury-Glide crisper bins come with adjustable dividers and two mini baskets for keeping produce organized. A full-width storage drawer is great for storing platters and other wide, low items. There are also two adjustable full-width shelves The door storage includes tilt-out bins for storing little items like yogurt cups. Ramp-up Luxury-Design LED lighting illuminates every level of the refrigerator.
Other features include Luxury-Quiet Design for consistently quiet operation and an exclusive limited warranty that covers three years parts and on year labor. Among the many premium options in this category, this Electrolux model is nicely designed and nicely priced! This model prices at $2,599.
(PS: Another top-selling all refrigerator is the 19 cubic foot Frigidaire Professional FPRU19F8RF, available with a trim kit for the built in look. It prices at around $2,199.)
Click here to read over 100 real customer reviews of this product!
Electrolux EI32AR80QS - $2,599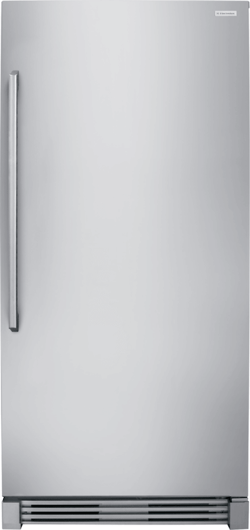 When dealing with specialty products, it is critically important for you to speak with an experienced salesperson - of course, we recommend heading to your local appliance store! We hope this article gave you a solid overview of the options on the market for refrigerators with no freezers.
Have any questions about freezerless refrigerators? Leave us a comment below - We'd love to hear from you!
Editor's Note: This blog was originally written in December of 2016 and has been completely revamped and updated for accuracy as of the publication date noted above.