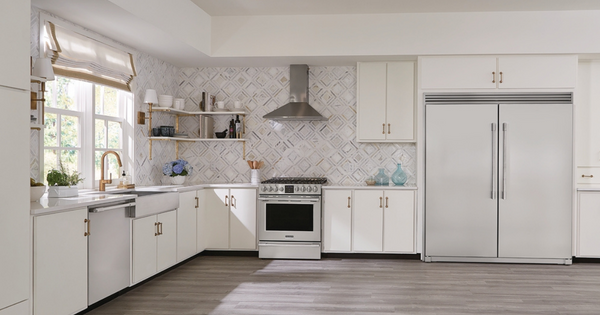 Certain specialty applications call for specialty products. Refrigerators are no different: refrigerators with no freezers, also called "all-refrigerators" or "freezerless refrigerators" may come in compact forms to be installed in offices, pool houses, or where a second refrigerator is needed. Others are intended to replace built-in refrigerators for a high-end look. They range from basic to luxurious, mini to full-size, and there are a lot of options. Here are a few types of all-refrigerators:
Twin Refrigerators or Column Refrigerators: A high-end type of refrigerator with no freezer, usually with a built-in look. They feature a single door and can be paired with a matching column freezer for a custom side by side look, or separated for convenience in a high-end kitchen. They may be panel-ready, built-in, or integrated (read more about built in and integrated refrigerators here). Frigidaire offers freestanding options that look built in but are a lot cheaper.

Freestanding All Refrigerators: These models are useful for apartments, dorm rooms, offices, and other settings. They can be compact at 11 cubic feet or less, or up to 19 cubic feet or so.

Beverage Centers/Wine Coolers: These refrigerators are specifically designed for storing beer, soda, wine, and other beverages. They're a great addition to any home bar! They usually have clear glass doors and can be freestanding or built-in models that can be installed under counters. (We reviewed beverage coolers here.)
Jump To:
Looking for mini fridges? Check out our review: The 5 Best Mini Fridges of the Year.
Freestanding All Refrigerator Reviews
If you need a freestanding all refrigerator for an apartment or otherwise just don't need a refrigerator with freezer space, you're in the right place. We've also written mini fridge reviews if you're looking for models under 10 cubic feet.
Product Reviews
1. Whirlpool WRR56X18FW - 17.8 cu. ft. - $2,049 MSRP
The Whirlpool WRR56X18FW has been a top-selling freezerless refrigerator. This model is Energy Star rated and has a reversible door. It's available in white only starting at $2,049, and inside you'll find a nice storage setup lit with LEDs.
With adjustable full-width glass shelves and four clear crisper bins, the interior definitely looks good. Two of the crisper bins are humidity controlled and two are non-climate controlled. For door storage there is a full-width gallon shelf plus three half-width shelves and a dairy bin, and a wire rack for wide, narrow items. The electronic temperature controls are up front for easy access.
It's covered with a one year parts and labor warranty - which isn't quite as impressive as the Danby model we'll review below...
Dimensions:
Height: 66.75"

Width: 31"

Depth: 30"
Click here to read over 265 real customer reviews of this product!
Whirlpool WRR56X18FW - $2,049 MSRP - CLICK HERE FOR CURRENT PRICING
2. Danby DAR170A3WDD - 17 cu. ft. - $1,499 MSRP
The Danby DAR170A3WDD is a less popular apartment sized freezerless refrigerator than the Whirlpool model above, but it has some great additional features. It's available in white or a "stainless look" option, model DAR170A3BSLDD. Like the Whirlpool model, it's Energy Star rated with LED lighting and a reversible door.
First up: Danby covers this model for 18 months rather than the standard one year, so if you want extra protection then you may prefer this model. Inside you'll find a precision digital thermostat so you can set exact temperatures from 32-50 °F. There are two glass-covered humidity-controlled crispers, adjustable glass shelves, and adjustable door bins with bottle storage. There's also an audible door ajar alarm if the door isn't closed properly.
This model is also slightly shallower than the Whirlpool model and an inch narrower, so it could be a better option if you want a more integrated look or have limited space. Compare these models and see if one is right for you!
Dimensions:
Height: 67.3"

Width: 30"

Depth: 28.5"
Danby DAR170A3WDD - $1,499 MSRP - CLICK HERE FOR CURRENT PRICING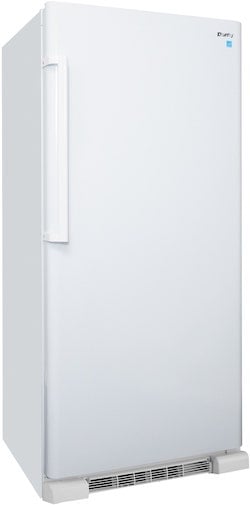 3. Danby DAR110A1WDD - 11 cu. ft. - $899 MSRP
If you need a smaller apartment sized model, Danby is one of our top sellers. The Danby DAR110A1WDD is an 11 cubic foot model that's just 24" wide. It's also available in a stainless steel look option, model DAR110A1BSLDD. The integrated pocket handle helps this model blend in.
Inside you'll find adjustable glass shelving, a covered vegetable crisper, and plenty of door shelving, including a tall bottle storage area. It has a mechanical thermostat and a simple interior light. The door is reversible. It's Energy Star rated and uses environmentally friendly R600A refrigerant.
Danby covers this model with an 18 month parts and labor warranty.
Dimensions:
Height: 58.75"

Width: 23.94"

Depth: 26.1"
Danby DAR110A1WDD - $899 MSRP - CLICK HERE FOR CURRENT PRICING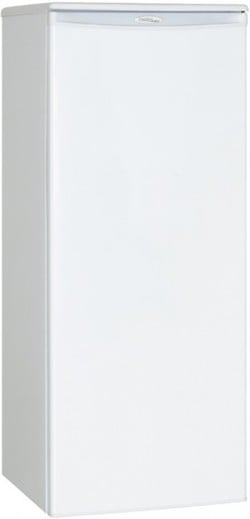 Column Refrigerators from Frigidaire & Electrolux - Built-In Look for Less
Frigidaire offers a great replacement for built-in refrigerators: premium freestanding column refrigerators that can be paired with column freezers. If you need to replace a built in refrigerator on a budget, check out Frigidaire!
Electrolux is also releasing column refrigerators in 2021 for $2,999 each: the EI33AR80WS refrigerator and EI33AF80WS freezer column. We aren't currently selling these in our store so we won't review them at this time.
Many people are looking for freestanding options in compact sizes. Frigidaire and Whirlpool are two mainstream home appliance brands that offer refrigerators with no freezers. Fisher & Paykel is another option. You may want to consider specialty brands like Danby, Summit, and Marvel as well.
Product Reviews
1. Premium Look for Less - Frigidaire Gallery FGRU19F6QF - $1,899 MSRP
Note: This model seems to have been discontinued. As of this writing, we are uncertain if it will be replaced.
If you'd like to save almost 30% off the retail price of the Electrolux column refrigerator (not including discounts through holiday sales and package deals, which can shave off another 20-40%), Frigidaire has the answer. Retailing at $1,899, the Frigidaire Gallery FGRU19F6QF is 32" wide with 18.6 cubic feet of capacity in smudgeproof stainless steel.
Inside, you'll find bright LED lighting and organization options like adjustable shelving and a full-width deli drawer. Digital electronic temperature controls are easy to adjust, and the refrigerator will automatically alert you if the temperature drops or if the door is left open. Although not Energy Star rated, it costs about $40 to run per year according to the Energy Guide. This refrigerator with no freezer is designed, engineered, and built in the USA, too! Single and double louvered trim kits are available to provide a built-in look with or without a matching column freezer (model FGFU19F6QF).
Frigidaire covers this model with a one year parts and labor warranty. A true built-in model from a premium brand is more likely to provide longer warranty coverage.
Frigidaire Gallery FGRU19F6QF - $1,899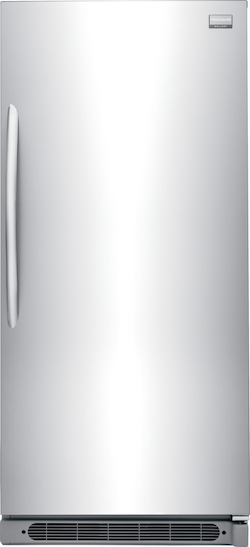 2. Frigidaire Professional FPRU19F8WF - $3,699 MSRP
Another 32" wide column refrigerator offers a step up in design while still saving you money compared to a true built-in unit. The Frigidaire Professional FPRU19F8WF, retailing at $3,699 in smudgeproof stainless, has a sleek design with commercial-inspired bar handles. Match it with column freezer model FPFU19F8WF. Previous generations had a brand badge, but these 2020/2021 models don't, giving them a more high-end feel.
Inside you'll find CrispSeal Plus crisper bins, a full-width deli drawer, plenty of door bins, and multi-level LED lighting. An internal water dispenser with the PurePour water filter provides cool, filtered water at the touch of a button. The interior drawers and door bins use a smoky translucent plastic with stainless trim for a premium look. The doors on these models close automatically when they are open 5" or less, and they are Energy Star rated as well.
Multiple trim kits trim kits are available depending on the look you want and the width of the space you need to fill.
Frigidaire Professional FPRU19F8WF - $3,699 MSRP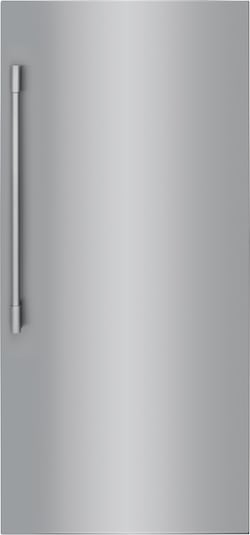 When dealing with specialty products and the complexity of replacing a built in refrigerator, it is critically important for you to speak with an experienced salesperson. Of course, we recommend heading to your local appliance store! We hope this article gave you a solid overview of the options on the market for refrigerators with no freezers.
Have any questions about freezerless refrigerators? Leave us a comment below - We'd love to hear from you!
Editor's Note: This blog was originally written in December of 2016 and has been completely revamped and updated for accuracy as of the publication date noted above.