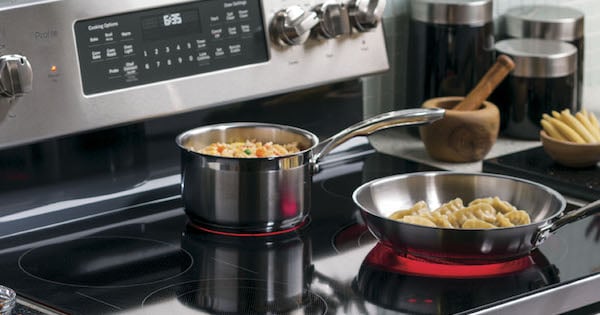 If you have an old coil top range and are seeking to upgrade it, you should definitely consider one of the many smooth top ranges available. Smooth top ranges have been around for many years now and they offer a great alternative to old coil top models. If you are looking for a cheap electric range that will be easy to repair, a coil top model may still be your best bet.
In this article, we'll go over the pros and cons of a smooth top electric range compared to a coil top range - check out our range buying guide for more information on buying a new gas or electric kitchen range!
Smooth top ranges have a ceramic top cooking surface with no exposed burners. The burners are located under the ceramic surface. This makes for incredibly easy cleaning. It also helps ensure even cooking - which can be an issue with coil ranges if the coils aren't perfectly level. The ceramic material heats up more slowly than coils, but offers more efficient cooking since the burners concentrate the heat better. Smooth top ranges also cool down more quickly, reducing the risk of burns.
Unlike old coil top ranges, food will never fall or splatter into the burner bowls or below the stove surface. When you want to clean your smooth top range, simply wipe it down with a damp cloth or paper towel. If there are caked-on stains, use a single-edge razor blade to gently scrape them off and then wipe them down. You'll also want to care for your ceramic top range with ceramic cleaner on a regular basis.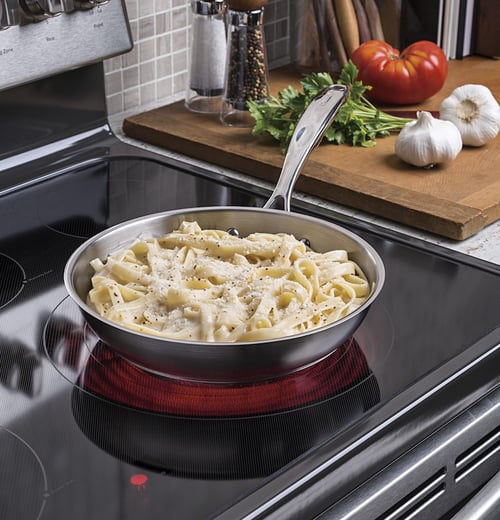 Are there any downsides to smooth top ranges, you ask? We can only think of two. First, if you neglect the cleaning and allow food to get caked on frequently, you can eventually pit and scar your glass and it can develop a hazy look. This is only a factor if you really neglect the upkeep. Ceramic is a surprisingly tough material! The second downside is the possibility of breaking the glass. This only happens with a direct blow from a heavy object but it does happen on rare occasions, such as if someone drops a casserole dish on it while removing it from an over the range microwave. The resulting replacement can be expensive! However, if you keep up with your cleaning and are careful with heavy pans and dishes (especially cookware made out of cast iron, stoneware, or glass), you should get many enjoyable years out of your smooth top range.
Manufacturers generally recommend using heavy-weight stainless steel or aluminum cookware, which will reduce the risk of scratches while giving you great cooking results.
In conclusion, compared to coil top ranges, smooth top ranges...
Are easier to clean

Can heat cookware more evenly thanks to the perfectly flat surface

May heat more slowly than coil top models, but cool down more quickly and offer more concentrated heat

Carry a small risk of the ceramic glass top breaking

Can be scratched by heavy cookware - avoid dragging cookware across the cooktop surface

Are more expensive than comparable coil top models

Offer greater aesthetic appeal with a clean, modern look

Come in a broader range of styles, colors, and feature packages
One issue with electric ranges in general is that the burners respond slowly when you want to dial the heat up or down. If you want an instantaneous response, you may want to consider a gas range or an induction range.
For a complete list of all smooth top ranges on the market from top brands with reviews, pricing and features, click here.
We hope you enjoyed this discussion of smooth top ranges. It's up to you whether they are the right fit for your kitchen. Leave us a comment below. We'd love to hear from you!
Editor's Note: This blog was originally written in February of 2018 and has been completely revamped and updated for accuracy as of the publication date noted above.