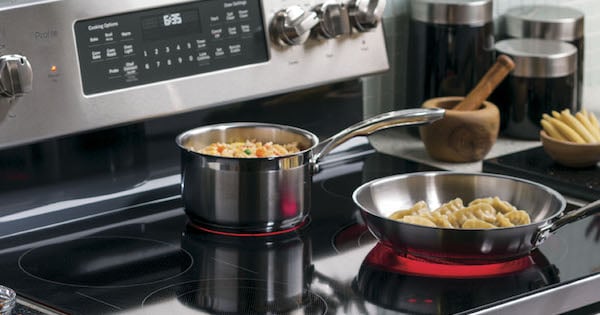 If you have an old coil top range and are seeking to upgrade it, you should definitely consider one of the many smooth top ranges available. Smooth top ranges have been around for many years now and they offer a great alternative to old coil top models. On the other hand, if you're looking for a cheap electric range that will be easy to repair, a coil top model may still be your best bet.
In this article, we'll go over the pros and cons of a smooth top electric range compared to a coil top range. Check out our range buying guide for more information on buying a new gas or electric kitchen range!
Table of Contents
Smooth Top vs Coil Top: Overview
What's the difference between a smooth top range and a coil top range? Coil ranges are the traditional electric stove style. The metal coil contains a wire that is heated with electricity. Smooth top ranges still have these coils, but they are hidden under a ceramic glass surface. This toughened glass provides a glossy finish and a sleek look.
Manufacturers typically indicate the size and location of smooth top burners with rings marked on the glass, and the burners will glow orange under the glass surface when heating. The smooth top can cool down faster since the glass dissipates heat more quickly than exposed metal coils.
Performance can be pretty similar between the two types - all electric stovetops tend to heat up slowly, and temperature adjustments don't happen instantly (unlike with gas or induction). One annoyance with coil tops is that if the coils aren't perfectly flat, your cookware will heat unevenly. This issue is eliminated with smooth tops.
You can find coil top electric ranges for under $500 MSRP, so they are a great pick for rental homes and tight budgets. Frigidaire, GE, Amana, and Hotpoint are a few brands that offer coil top stoves. Starting around $500 MSRP and above you'll find the smooth top ranges. Of course, keep in mind that package deals and holiday sales can shave 20% or more off of the retail prices!
One new standard feature in today's coil tops are temperature limiting coils, also called sensi-temp technology. Sensi temp sensors have been around for decades, but only in 2018 did they become a requirement on all coil top stoves. A temperature sensor in the coil is supposed to keep the pan from getting hotter than 450 °F (which is plenty of heat for pressure canning and deep frying). Left unattended, coil burners can reach over 900 degrees, creating a serious safety hazard. As long as you have well-made pots and pans with flat bottoms, this temperature limiting technology should work fine.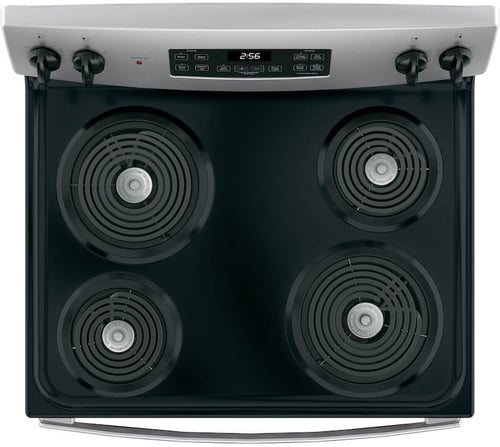 However, in our experience, customers that are used to old coil top ranges without sensi temp are unhappy with the performance of these new coils. Reviews online have remained positive overall for many of these new sensi temp range models, and some reviews will explicitly point out that the sensor coils seem to perform just fine. However, some people are very disappointed with the stovetop performance, to the point that we encourage people who strongly prefer old-fashioned coil tops for their performance to buy a smooth top instead.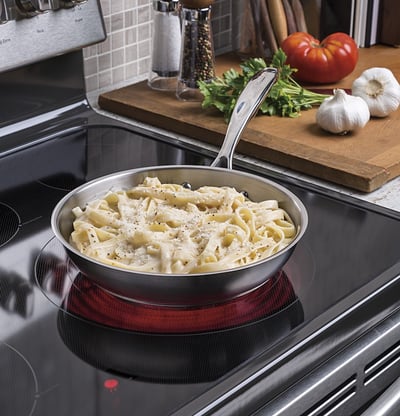 Advantages & Disadvantages of Smooth Top Ranges
The smooth top design makes for incredibly easy cleaning. Unlike old coil top ranges, food will never fall or splatter into the burner bowls or below the stove surface. When you want to clean your smooth top range, simply wipe it down with a damp cloth or paper towel. If there are caked-on stains, use a single-edge razor blade to gently scrape them off and then wipe them down. You'll also want to care for your ceramic top range with ceramic cleaner on a regular basis.
However, although the glass is easier to clean since it doesn't have any cracks or crevices, despite being tougher than normal glass it's still at risk for scratches and discoloration. Heavy cookware, as well as abrasive cleaners and cleaning tools, can scratch the cooktop. Additionally, sugary substances can discolor a white or light-colored cooktop if they burn into the surface. Wiping up spills as soon as they happen with a damp cloth is an easy way to prevent this.
The ceramic material heats up more slowly than coils, but offers more efficient cooking since the burners concentrate the heat better. Smooth top ranges also cool down more quickly, reducing the risk of burns.
One neat feature with smooth top ranges that you won't find with coil tops is specialized elements.
In addition to having different burner power levels to help you achieve a quick boil on one element and a soft simmer on another, you can also find adjustable elements. Many mid-range smooth top stoves offer expandable elements that can be switched from 6" to 9" or even 12" in diameter to suit different sizes of cookware.

Another option: bridgeable elements that combine two side-by-side elements into one oblong element. This is useful for griddles and other oddly shaped cookware.

Some smooth tops also include a fifth element, typically a warming zone set in the center of the stovetop.
In our opinion, there are two main downsides to smooth top ranges:
First, if you neglect the cleaning and allow food to get caked on frequently, you can eventually pit and scar your glass and it can develop a hazy look. This is only a factor if you really neglect the upkeep. Ceramic is a surprisingly tough material!
The second downside is the possibility of breaking the glass. This only happens with a direct blow from a heavy object but it does happen on rare occasions, such as if someone drops a casserole dish on it while removing it from an over the range microwave. The resulting replacement can be expensive! However, if you keep up with your cleaning and are careful with heavy pans and dishes (especially cookware made out of cast iron, stoneware, or glass), you should get many enjoyable years out of your smooth top range.
Manufacturers generally recommend using heavy-weight stainless steel or aluminum cookware, which will reduce the risk of scratches while giving you great cooking results.
In conclusion, compared to coil top ranges, smooth top ranges...
Are easier to clean

Can heat cookware more evenly thanks to the perfectly flat surface

May heat more slowly than coil top models, but cool down more quickly and offer more concentrated heat

Carry a small risk of the ceramic glass top breaking (which can be an expensive repair)

Can be scratched by heavy cookware - avoid dragging cookware across the cooktop surface

Are more expensive than comparable coil top models

Offer greater aesthetic appeal with a clean, modern look

Come in a broader range of styles, colors, and feature packages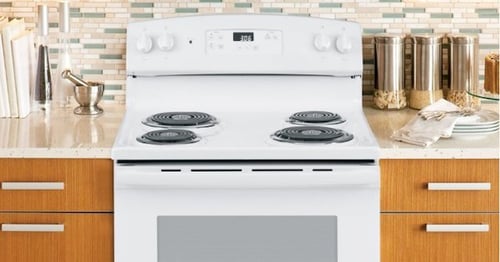 Who Should Buy a Coil Top Range?
You may prefer a coil top range if you...
Need an electric stove for a rental home that is cheap and easy to repair

Use cast iron, stoneware, or glass cookware on the stovetop exclusively, and aren't willing to switch to other cookware materials

Want to can on your stovetop (some readers have found that canning works best with exposed coils - canning with a pressure cooker is another option)

Prefer a range with basic features

Have cookware that is flat-bottomed, relatively well-made, and not warped (to get the best performance with the sensi temp burners)
If you are looking for a 24" or 20" wide stove size, you'll typically find that most apartment sized electric ranges are coil top. Check out our 24" smooth top range reviews for a more premium option!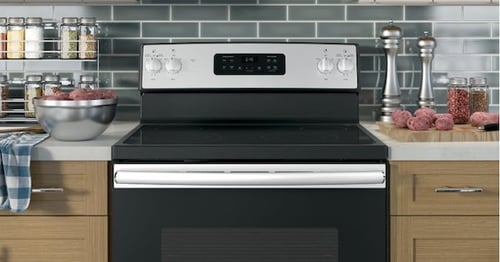 Who Should Buy a Smooth Top Range?
You may prefer a smooth top range if you...
Would like more advanced stovetop features like expandable elements, and want an oven with convection or other useful options

Mainly use stainless steel or aluminum/nonstick cookware on the stove (or are willing to "convert")

Are fine with cleaning the stove regularly and treating it a bit more gently than a coil top range to prevent scratches

Value aesthetic appeal and/or want a more modern kitchen design

Wish to avoid temperature limiting sensors on the coils
Conclusion
Which type of electric range you should buy ultimately depends on your preferences and your budget. Coil top ranges are definitely still popular, but many people also choose to upgrade to a smooth top range. One issue with electric ranges in general is that the burners respond slowly when you want to dial the heat up or down. If you want an instantaneous response for stovetop cooking, you may want to consider a gas range or an induction range. And to get the best of both worlds - an electric oven and a gas stovetop - dual fuel is the answer!
Want to compare different products? Check out our reviews: The 7 Best Electric Ranges of the Year.
We hope you enjoyed this discussion of smooth top ranges. It's up to you whether they are the right fit for your kitchen. Leave us a comment below. We'd love to hear from you!
Click here to explore smooth top ranges!
Editor's Note: This blog was originally written in February of 2018 and has been completely revamped and updated for accuracy as of the publication date noted above.