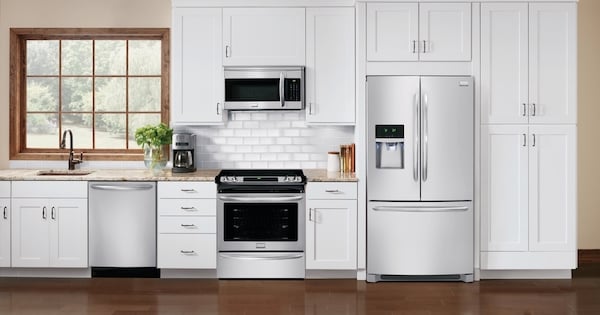 In 1916, the first self-contained electric refrigerator was invented and introduced to the public. The company that created this groundbreaking innovation was purchased by General Motors in 1918 and has since grown to be one of the most trusted and well-known major appliance producers in the USA and around the world. The name of this company? Frigidaire.
Appliances have come a long way since then and somewhere between the end of World War II and Elvis taking the world by storm, the dishwasher became a ubiquitous staple item of American kitchens. Frigidaire eventually jumped on board and added the dishwasher to their lineup of quality products, and now, after a century in the appliance business, they have a full line of dishwashers, each with unique features and capabilities suited to different consumer needs.
In this article, we're going to examine four Frigidaire dishwasher models, ranging from a basic economical model to the higher end professional model. When it comes to price, keep in mind that package deals and holiday sales can cut 20% or even 40% off of the retail price! If you are researching new dishwashers, don't overlook Frigidaire.
Table of Contents
1. The Basic Model: Frigidaire FFCD2413US
If you're looking for a basic dishwasher that can still provide a quality clean but doesn't have many bells and whistles, the Frigidaire FFCD2413US is a decent model to look at from the Frigidaire Value line. Engineered and assembled in the USA and priced at $429, it contains a plastic polymer tub, three separate spray levels to provide a thorough clean, a self-cleaning filter, 4-hour delay start, and three cycle options. This Energy Star rated model features electronic front controls and a recessed pocket handle.
It is not particularly quiet at 60 decibels, but at that noise level many people can run the dishwasher in the same room without being disturbed (Learn more about dishwasher decibel levels here). The stay-put door is a nice feature: the door will stay put at whatever angle you open it. The racks are also PVC coated, which is a standard feature on lower end dishwashers and not as durable as nylon-coated racks.
It is also available in white or black at $379. At this price point, you won't find sensors that automatically adjust the wash duration and intensity based on soil levels or particularly quiet operation. Some front control dishwashers offer digital time remaining displays, which is not present on this model. However, if you need a cheap dishwasher this is a fine option!
3 Cycles: Normal, Light, PowerPlus (Heavy)

4 Options: Heat/No Heat Dry, 4 Hour Delay Start, Hi-Temp Wash

Heated drying system

60 dB operation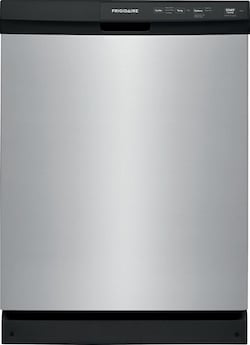 2. The Next Step Up: Frigidaire Gallery FGID2468UF
The American-made Frigidaire Gallery FGID2468UF is priced at $699 and features a smudge-proof stainless steel finish. It's also available in premium black stainless steel at $749 and pocket handle style models (such as model FGIP2468UF) to match any appliance suite. While this model still has a plastic tub like the previous model, it includes upgraded features like a 30-minute quick clean cycle, an adjustable upper rack, and fold down tines. The racks are coated with nylon instead of PVC, which provides a tougher and more durable layer of protection that will stand up to years of usage.
This Energy Star rated model operates at 49 decibels - not yet at the whisper-quiet level but below the level of a typical conversation, so it operates more in the background. Integrated top controls give this dishwasher a premium look that many customers love! A removable self-cleaning stainless steel filter is another upgrade, and the SaharaDry system plus the MaxBoost drying option offers high performance at this price range.
Another added feature exclusive to Frigidaire dishwashers is their OrbitClean Wash System, which comprises of a rotating spray arm that allows for up to four times more wash coverage than traditional spray arms. This ensures you get a complete clean the first time around!
Features:
8 Cycles: Normal, PowerPlus (Heavy), Quick Wash (34 minutes), Favorite, China Crystal, Rinse Only, Energy Saver, Upper Rack Wash Only

4 Options: Wash Pressure (Spray, Surge, Scour), Wash Temp (Normal, High, Sanitize), Dry (Air, Heat, MaxBoost), Delay Start 1-24 Hours

SaharaDry fan-assisted drying system

DishSense sensor technology adjusts cycle time for optimal cleaning

Fully-integrated controls on top of door

49 dB operation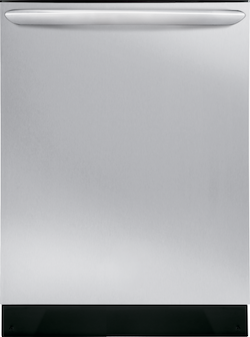 3. The High-End Model: Frigidaire Gallery FGID2479SF
Getting on to the high end of the Gallery line of Frigidaire dishwashers, the Energy Star rated Frigidaire Gallery FGID2479SF is priced at $849 in smudge proof stainless steel and at $899 in black stainless steel. It features a stainless steel tub, adjustable upper rack, and fold down tines. Frigidaire adds a third rack for utensils and flatware on this model, creating a place for everything and making it far easier to clean dishes of all shapes and sizes.
Like the previous model, this dishwasher also has the OrbitClean wash system. It contains an upgraded fan-assisted dish drying system, called EvenDry, which recirculates air with fan assistance to remove moisture and leave your dishes remarkably dry every time. Because this dishwasher is a quiet 49 decibels, Frigidaire includes a green LED floor beam indicator light that alerts you when the wash cycle is finished.
For a bump in price from the previous option, this model comes with a more advanced drying system, a stainless steel tub, slightly quieter operation, and a third rack. It's not a huge change, although stainless steel interior dishwashers offer better drying performance and longevity than plastic tubs. It's still a popular model and a great option for the price!
Features:
8 Cycles: Normal, PowerPlus (Heavy), Quick Wash (30 minutes), Favorite, China Crystal, Rinse Only, Energy Saver Plus, Upper Rack Wash Only

4 Options: Heat/No Heat Dry, Hi-Temp Wash, NSF-Certified Sanitize Rinse, Delay Start 1-24 Hour

Automatic Cycle Adjustment - Senses how dirty dishes are and adjusts cycle time accordingly

Fully-integrated controls on top of door

49 dB operation
Click here to read over 45 real customer reviews of this product!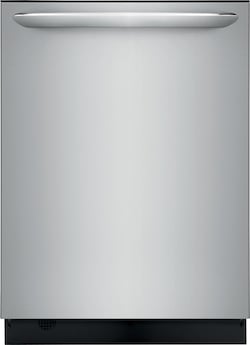 4. The Premium Model: Frigidaire Professional FPID2498SF
Lastly, we have a Frigidaire dishwasher from the company's commercially-inspired product line, Frigidaire Professional. Also coming in a smudge proof stainless steel finish, the Frigidaire Professional FPID2498SF, priced at $1,149, possesses a sturdy industrial style with a bar handle and contains many of the same desirable features as the previous model. These include the adjustable upper rack, removable third rack for utensils, OrbitClean wash system, EvenDry system, and LED floor beam indicator light.
This Energy Star rated dishwasher operates at an impressive 47 decibels, which is the quietest of the Frigidaire lineup. This model also has a unique feature called PrecisionPro Wash Zones that allows for cleaning oddly shaped items like water bottles, large glassware, vases, and more.
We think that most people either choose to upgrade to this premium model or the next step up model (#2) rather than #3, since the price change isn't too significant. If your budget is flexible, you can get more for your money with this higher-end model! The only potential downside is that it's not available in black stainless steel or other colors, and that's a minor consideration for most people.
Features:
7 Cycles: Normal, PowerPlus (Heavy), Quick Wash (30 minutes), Favorite, China Crystal, Rinse Only, Energy Saver Plus

4 Options: Heat/No Heat Dry, Hi-Temp Wash, NSF-Certified Sanitize Rinse, Delay Start 1-24 Hour

EvenDry system

PrecisionPro Wash Zones for cleaning inside of water bottles and other items

47 dB operation
Click here to read over 100 real customer reviews of this product!
Frigidaire FPID2498SF - $1,149
With a full line of Frigidaire dishwashers at various price points and available with a range of specs and abilities, there are several options to choose from depending on your budget and preferences on styling and features. Each of these models is highly popular at its price point. We hope these Frigidaire dishwasher reviews proved helpful in uncovering the best one for your specific needs!
Please leave us a comment below. We'd love to hear from you!
Editor's Note: This blog was originally written in November of 2017 and has been completely revamped and updated for accuracy as of the publication date noted above.