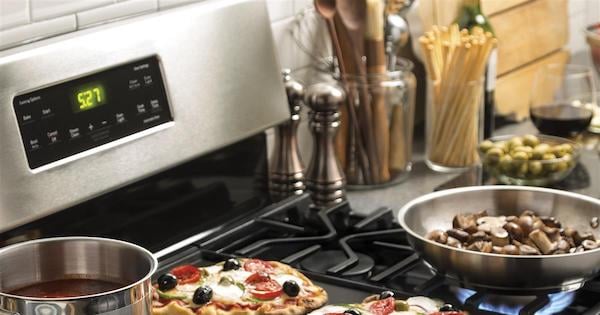 Frigidaire and GE are two of the best recognized gas range brands in the appliance industry. Both companies offer quality built, dependable products in both gas and electric ranges. Their gas ranges are loaded with new features and technology that will help make cooking easier and more fun. Whether you're looking for a slide-in gas range or a free standing gas range (compare slide in vs freestanding ranges here), Frigidaire and GE offer every size and style in gas ranges with a variety of feature packages for you to choose from. Be sure to look at these two brands when you go shopping for your new appliances.
Let's take a look at two of their top selling freestanding range models for comparison.
1. The Frigidaire Gallery FGGF3059TF - $1,149
Frigidaire Gallery is Frigidaire's mid-range line of appliances with a focus on a sleek, clean aesthetic, and the popular Frigidaire FGGF3059TF gas range is a great addition to your kitchen. It's available in smudge-proof stainless steel at $1,149 or black stainless steel at $1,249 (click the links to learn more about these color options). This model comes with a 5.0 cubic foot capacity oven and five burners with continuous corner-to-corner grates for ease of use and a premium look.
Let's start with the stovetop: the fifth burner is an oval-shaped 10,000 BTU burner. You'll also find a 5,000 BTU simmer burner and an 18,000 BTU power burner. The continuous cast iron grates are in three pieces, and a griddle is included for use with the oval burner. The 18,000 BTU True Convection oven includes options for steam cleaning cycles and traditional self cleaning plus options for variable broiling, Quick Preheat, and Auto Keep Warm. Three heavy duty handle racks with six rack positions make it easy to set multiple dishes up the way you like them. An Effortless Temperature Probe is included for getting perfect results when it comes to roasts and other recipes.
Pictured below: The interior configurations of Frigidaire's different convection options. On the far right is True Convection with a fan and third heating element, featured in this range.

If you're looking for a gas range with great upgrades that making cooking easier, you should definitely check out this Frigidaire model! We love the temperature probe and continuous grates, and True Convection is a must-have for people who love to bake. If you want an even more premium option, check out the slide-in model FGGS3065PF, retailing at $2,099.
Click here to read real customer reviews of this product!
Frigidaire Gallery FGGF3059TF - $1,149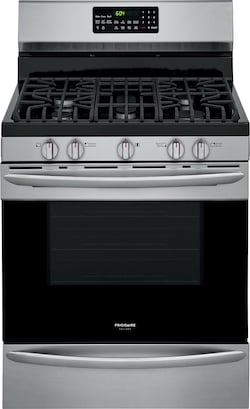 2. The GE JGB700SEJSS - $1,199
The GE JGB700SEJSS is a well featured gas range with a 5.0 cubic foot gas convection oven and five burners that comes with an extra large non-stick griddle. It's available in a wide range of colors: black or white at $1,149, stainless steel at $1,199, and slate, black slate, or black stainless steel at $1,299. Explore the differences between slate, black slate, and black stainless steel in our article!
This model comes with a lot of great features that are similar to the Frigidaire model: continuous cast iron grates, a steam and self-clean convection oven with variable broil, and a 10,000 BTU oval burner. The grates are dishwasher safe for easy cleaning. The sealed burners include an 18,000 BTU power burner and a 5,000 BTU simmer burner. The oven comes with two oven racks. The included non-stick griddle is the "industry's largest integrated griddle," allowing you to cook up to six grilled cheeses at once!
Pictured below: Not four, not five, but SIX grilled cheeses on the GE JGB700SEJSS griddle!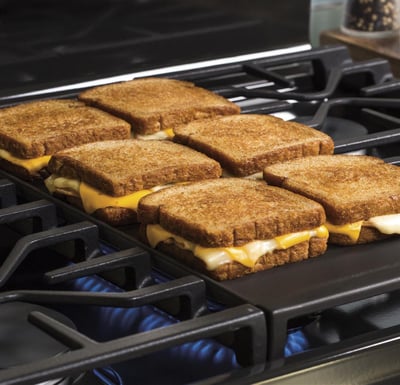 This gas range from GE doesn't include an oven temperature probe like the Frigidaire model, but the extra-large griddle makes it a better choice for people who do a lot of stovetop cooking. A premium slide-in version of this range is the GE JGS760SELSS, retailing for $1,999.
Click here to read over 440 real customer reviews of this product!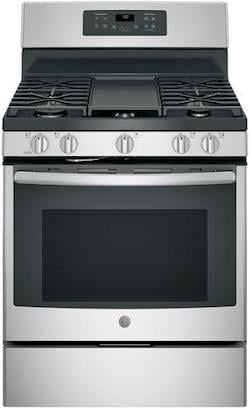 Features Comparison
Oven Features: Frigidaire wins here with a temperature probe, but both models have convection with steam clean and self clean options. The Frigidaire model also comes with three oven racks with handles, while the GE model comes with two standard racks.

Stovetop Features: Both come with a griddle option for the oval fifth burner, but GE's claims to be the largest integrated griddle in the industry. They have similar burner BTU levels - Frigidaire has 56,500 including the oval burner, while GE has 54,500. GE's burner grates are dishwasher safe, while the Frigidaire model's are hand-wash only.

Look & Feel: The GE model has a simpler control panel and uses more gray than black tones for accent colors. Both models come with storage drawers and large oven windows. Overall, the Frigidaire model has a more commercial feel due to the stainless steel and black glass framing around the oven door for a cleaner look. However, the GE model comes in a stunning range of colors!
Which model is the best gas range? That depends on your needs. If you want the latest tech, the Frigidaire model is probably the winner for you. If you want an awesome stovetop griddle and a unique color like slate or black slate, or traditional black or white, you may prefer the GE model. Both models are highly rated!
We hope this review helped you narrow down your options. Which model do you prefer? Leave us a comment below - We'd love to hear from you!
Editor's Note: This blog was originally written in August of 2016 and has been completely revamped and updated for accuracy as of the publication date noted above.