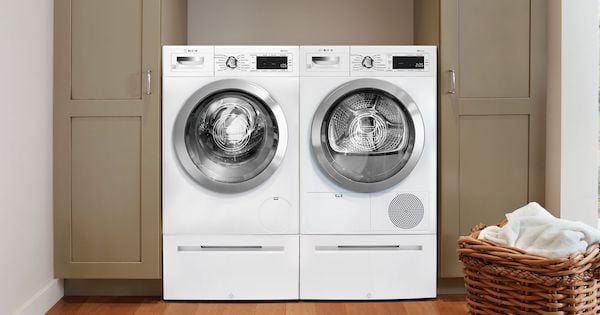 Researching a new dryer can be an easy process if you know the right things to look for (check out our dryer buying guide for more information). If you are living in an apartment or condo and have no access to exterior venting for your dryer, you may be looking at a condenser dryer as an option.
A condenser dryer does not require venting to the outside - saving you hundreds or even thousands of dollars on the costs of cutting holes and installing venting. Typically, a dryer will vent steamy air outdoors. Condensation dryers have heat exchangers or cooling systems that turn water vapor into water and can either pump the water into a drain or collect the water, requiring you to empty it by hand at the end of the cycle. While not as convenient as traditional vented dryers, they're definitely more convenient than trying to air dry everything!
Condenser dryers can be installed anywhere as long as they can be connected to a 220V plug. These dryers are generally more expensive than vented dryers, but the operating costs are lower. You'll have longer dryer times, but a condenser dryer is more efficient and gentler on fabrics. Heat pump dryers are the most efficient and have the lowest operating costs.
Although you have a lot of flexibility in where you install a condenser dryer, keep in mind that they still need a good amount of airflow to operate properly and tend to put out heat during operation - so don't stuff it in a closet! One benefit of a condensation dryer is that you don't have to worry about cleaning a long vent - all you have to do is clean out the secondary lint trap every one to three months. They also tend to be very fully-featured dryers.
This type of dryer is extremely common in Europe - and vented dryers are even illegal in some areas - so these appliances have been well-tested by the market. Bosch and Electrolux offer several options for condenser dryers, and LG and Whirlpool have recently entered the mix as well as of 2017. Many condensation models are compact dryers, in the 2.0-4.5 cubic foot range, but there are a few full size heat pump dryers available from Whirlpool and LG. You'll find that most washer dryer combos are also using condensing dryer technology.
One example of a condensation dryer is the LG DLEC888W, a 4.2 cubic foot compact electric dryer with a 24 inch width, priced at around $999. This model features LG Sensor Dry and a NeveRust stainless steel drum. You can use NFC Tag-On technology to download new cycles to the dryer and take advantage of the Smart ThinQ app for troubleshooting with SmartDiagnosis to reduce service calls.
An interior drum light makes it easy to spot a leftover sock, and the dial cycle selector plus the touch LED display offer an intuitive way to select the program and options you need. This model comes with a one-year warranty on parts and labor and includes specialty drying cycles like Wool, Sports Wear, and Jeans. Pair it with a compact washer and you're ready to go!
Cycles & Options Include:
11 Sensor Dry Programs: Cotton, Mixed Fabrics, Easy Care, Bulky Items, Jeans, Soft Care, Quick Dry, Sports Wear, Delicates, Wool, Downloaded Cycle

3 Manual Dry Programs: Cool Air, Gentle Air, Warm Air

10 Options: Gentle, Damp Dry, Beep, More Time, Less Time, Time Delay, Custom Program, Wrinkle Care, Drum Light, Child Lock, Time Dry

5 Temperature Settings: High, Medium High, Medium, Low, Ultra Low

5 Drying Levels: Very Dry, More Dry, Normal Dry, Less Dry, Damp Dry
Dimensions:
Width: 24"

Depth: 25.25"

Height: 33.5"
Click here to read over 35 real customer reviews of this product!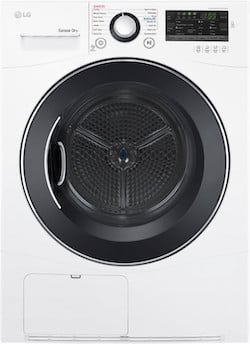 For more information about condensation dryer options and the entire dryer buying process, feel free to download our FREE Dryer Buyer's Guide. It is packed with information to help educate you so you can make a great purchase. We hope you enjoyed this article and will explore the variety of other blogs we've published on related topics.
Please feel free to leave a comment below. We'd love to hear from you!
Editor's Note: This blog was originally written in March of 2017 and has been completely revamped and updated for accuracy as of the publication date noted above.