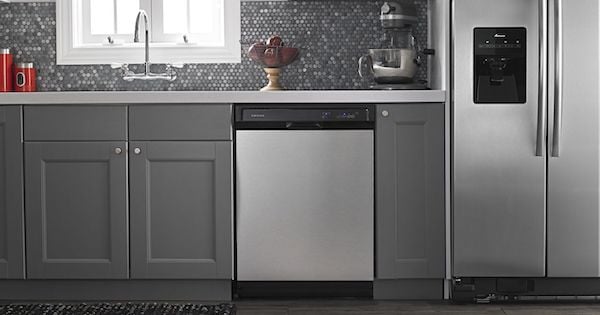 There are many brands to consider when doing your research for a new dishwasher. Some brands, like GE, Samsung, LG, Maytag, and Frigidaire, have huge national advertising budgets and seem to be featured everywhere you turn. However, there are some lesser-known brands that offer great quality and value at lower price points. Amana, a Whirlpool family brand, is a shining example of that.
We wanted to take the opportunity to provide a few Amana dishwasher reviews to help you get familiar with the brand. You may find that you want to add this brand to your shopping list. Amana has a long history in the appliance industry. Although they may be new to you, they've been manufacturing in the US since 1934!
Amana ADB1500ADS - $599 MSRP
First on our list of Amana dishwasher reviews is the Amana ADB1500ADS. This is a great entry-level model for consumers seeking basic features at a great price. It features SofSound Technology to help reduce noise. While certainly not as quiet as other dishwashers in Whirlpool's main Whirlpool line or its high-end KitchenAid line, it operates at a manageable 55 decibels. You'll probably find it quieter than your old model if you are replacing anything 10 or 15 years old. However, it doesn't compare to today's best models, which can be as low as 39 decibels - inaudible.
This model has a plastic interior but a high-end professional exterior design with fully integrated controls and a sleek designer handle. The Triple Filter Wash System scrubs food particles from the wash water. The SoilSense cycle uses a sensor to automatically adjust the wash based on the size and soil level of the load. Overall, this is a nicely featured dishwasher for the price - just $599 in stainless steel. However, if you'd like to spend $600 or less on a dishwasher, we'd recommend checking out brands like Bosch and Samsung as well since they also offer entry-level models. Bosch's entry-level dishwashers have a stainless steel tub with a plastic base for improved drying!
One of the trade-offs of a cheaper dishwasher besides the more limited features is the materials: this model features a plastic tub and vinyl racks. Learn more about why stainless steel interior tubs and nylon racks are superior in our articles on these topics. However, the fact that it is Energy Star rated means it is still a great efficiency upgrade to a decade-old dishwasher.
Features:
12 place setting capacity

Cycles: SoilSense, Heavy, Normal, 1-Hour Wash, Soak & Prewash

Options: 1-24 Hour Delay, Sani Rinse, Heated Dry, Hi Temp Wash, Control Lock

Energy Star rated

SofSound™ Technology II

Fully integrated controls with LED display

Rinse aid dispenser
Click here to read over 65 real customer reviews of this product!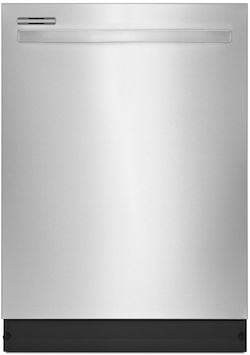 Amana ADB1400AGS - $349 MSRP
Next up in our Amana dishwasher reviews: Amana also offers a 1400 series dishwasher in black, white, or stainless steel with front controls that operates at 63 decibels and does not have a sensor-based automatic cycle. It is priced starting at around $349 so they may be a good option for extra-tight budgets. It's Energy Star rated, so it will use less water and electricity than older models.
This model has front controls and a plastic interior tub with vinyl racks. Amana kept it simple with the 1400 series - it still comes with heated dry and high temperature wash options, but does not offer delay start, Sani Rinse, or control lock options. Although the features are limited, the cleaning performance is top-notch for its price point. The Normal wash cycle is the ideal choice, although it runs long. The 1-Hour Wash cycle doesn't offer as much cleaning power and doesn't dry your dishes as thoroughly.
Basically, if you value low prices and don't mind longer cycle times as long as your dishes come out clean, this Amana dishwasher might be a great fit! Customer reviews are mostly positive, acknowledging that it cleans well for the price, although it is noisy and struggles with drying.
Features:
12 place setting capacity

Cycles: 1-Hour Wash, Heavy, Normal

Options: Heated Dry, Hi Temp Wash

Energy Star rated
Click here to read over 140 real customer reviews of this product!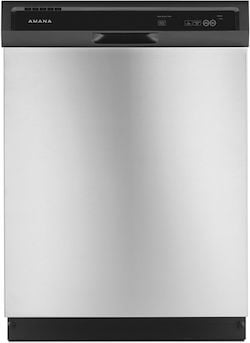 Amana used to offer a 1700 series with an even more advanced sound package, a stainless steel tub, and front controls, but they have discontinued this line. We hope they will offer a replacement soon - we'll keep you posted! One alternative pricing at around $499 is the highly rated Bosch Ascenta SHE3AR72UC, a stainless steel interior dishwasher with Aqua Stop leak protection and an adjustable rack. Check it out!
As you can see, Amana is a great dishwasher line to keep in mind. They offer two great models at low prices, allowing you pick the right combination of exterior look, interior features, sound level, and color, all within a comfortable budget range.
We hope you enjoyed these Amana dishwasher reviews. Leave us a comment below. We'd love to hear from you!
Editor's Note: This blog was originally published in April of 2017 and has been completely revamped and updated for accuracy as of the publication date noted above.