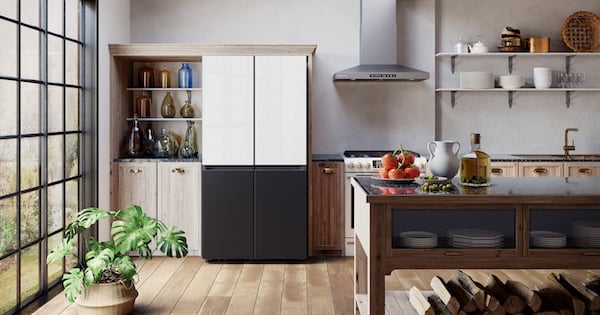 Since I began researching and writing about appliances in 2017, I've come to categorize Samsung as a brand that does a very good job at noticing new features that other brands are doing well and putting their own spin on them. Combine this ability to quickly implement relevant new features with their crazy markdowns during holiday sale periods, and it's no surprise that they've become a major player in the US appliance market.
They're not the first to hop on the "affordable luxury"/custom appliance bandwagon, but their new Bespoke Fridge unveiled at CES 2021 is impressive and unique!
Table of Contents
Some Industry Context
I'd speculate that the new Samsung Bespoke Fridge being displayed at the 2021 Consumer Electronics Show was partly inspired by GE's recent successes with their "affordable luxury" Cafe brand, which they began rolling out in 2018. The Cafe Matte Collection takes advantage of the popular matte finishes and offers several customizable hardware colors, while the newer Modern Glass Collection is ultra-sleek and minimalist.
After decades of stainless steel being the ultimate premium finish for most kitchens in the US, with other premium colors and styles being limited to luxury brands like BlueStar and Viking (pricing at $10,000+ for a refrigerator or range), since around 2013, we've been seeing some interesting shifts. GE Slate has been the most successful early mover in matte finishes, while every brand at this point has some kind of black stainless steel on the market.
Samsung stands out in that this Bespoke Refrigerator offers a higher degree of customization in both the number of colors available and the fact that you don't have to use the same color for all of the panels on the refrigerator.
The BESPOKE 4-Door Flex Refrigerator
So, what's the deal with this refrigerator? The BESPOKE configurations were first released in northern Europe and parts of Asia in 2019, and this four-door refrigerator is Samsung's first offering to the US market. However, we will probably see single and two-door column refrigerators and freezers that you can combine in different ways later in the year or into 2022.
The four-door Flex refrigerator has recessed pocket handles for a sleek, integrated look. Something I'm particularly interested in is that you'll be able to swap out the custom panels yourself. I suspect that the process will be along these lines: you'll order the fridge and then pick whatever combination of custom panels you desire, which you'll then install yourself (rather than the fridge coming with the panels installed from the factory). Supposedly, the process is very easy and takes one person just a few minutes per panel.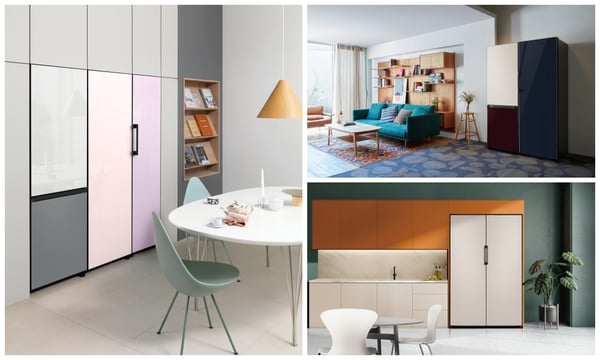 There are a mix of satin-gloss brushed colored steel finishes and high-gloss glass finishes with eight options total. For the steel finishes, options include:
Navy Steel

Champagne Steel

Matte Black Steel
For the glass finishes, options include:
Grey Glass

Sky Blue Glass

Navy Glass

White Glass

Rose Pink Glass
These finishes play it safe with cool-toned colors, but the variety is welcome in an appliance market that's dominated by stainless steel and "darker stainless" in the form of black stainless steel.
Other Features:
A "Beverage Center" with water dispenser is hidden behind the upper left door. The Beverage Center includes an AutoFill pitcher that also has an insert for making infused water. The dispenser nozzle is removable so you can... y'know... actually clean it.

An icemaker in the freezer makes cubed ice as well as smaller "ice nuggets."

FlexZone technology lets you convert half of the freezer to a handful of different refrigerator modes, depending on what you're storing.

Crisper+ airtight crispers keep your fresh produce fresh for longer. An adjustable temperature crisper can store meat at the optimal temperature, or switch to the normal fruits/veggies mode.

Glass shelving, clear bins, and multi-level LED lighting inside make it easy to find what you're looking for.
How Much Will It Cost?
I think it's fair to say that this will cost less than the $10,000+ you'd have to pay for a true custom refrigerator, but that doesn't tell you much. We haven't seen any official information about the price from Samsung yet. Their cheapest 4-door Flex refrigerators are around $3,400, so I have to imagine that this new Bespoke model will be in a higher price range than that.
We're looking forward to finding out more about this great new option, and maybe even getting our hands on one in-person in the coming months!
Sources:
"[Better With Bespoke] Here's Why Samsung's 2021 Appliances Are Putting Customization First," Samsung Press Release, 1/15/2021. https://news.samsung.com/global/better-with-bespoke-1-heres-why-samsungs-2021-appliances-are-putting-customization-first
"Flex Your Style with the Customizable Samsung BESPOKE 4-Door Flex Refrigerator," Samsung Press Release, 1/12/2021. https://news.samsung.com/us/bespoke-refrigerator-4-door-flex-customizable-ces-2021/
"Samsung Focuses on Customization With Its All-New BESPOKE Fridge" - Reviewed, updated 1/8/2021. https://www.reviewed.com/refrigerators/news/samsung-focuses-customization-its-all-new-bespoke-fridge