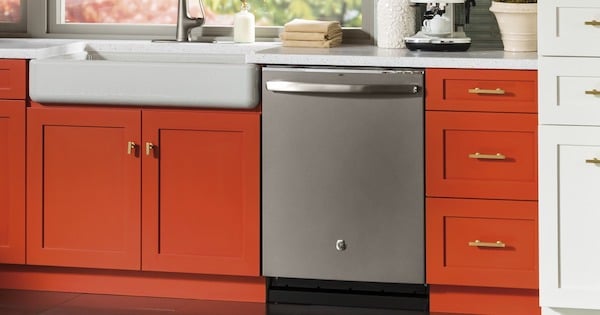 In this article, we'll compare two top-selling dishwasher models from well-known domestic brands to help you decide on the best dishwasher for the money. These two popular US manufacturers are true leaders in the appliance industry, and both companies manufacture many of their products in America.
GE, based in Louisville, Kentucky, offers a wide variety of dishwasher models with advanced features that make your kitchen cleanup job easier. Whirlpool, based in Benton Harbor, Michigan, offers many innovative features and great cleaning results that will lighten your workload. Be sure to include these brands when shopping and consider the value of both. You might discover some unique features in either brand that you will like.
The process of buying a dishwasher can be confusing. Hopefully, this article will help you narrow your search! Let's take a closer look at two competing models in the $650-750 range to compare Whirlpool vs GE.
Table of Contents
The Whirlpool WDT730PAHZ - $749
We'll kick things off with the Whirlpool WDT730PAHZ at a price point of $749 in stainless steel, $849 in black stainless, and $649 in black or white. Keep the inside looking clean with a stainless steel interior door and dark gray plastic tub that masks stains, while the nylon rack system is durable enough to handle everyday dishes, pots and pans, along with glassware and china.
This model comes with an adjustable upper rack to better fit tall items. A Heated Dry option helps get your dishes thoroughly dry after a wash. Other great cycles and options include a One Hour Wash and Sensor cycle. At 51 decibel operation, this model is relatively quiet (read more about dishwasher decibels here).
This model has top controls and a metal bar handle. Overall, this is a solid dishwasher with a good array of options and features for the money!
Features
5 Cycles: Sensor Wash, Heavy, Normal, 1-Hour Wash, Soak & Clean

5 Options: Sani Rinse, Heated Fan Dry, Hi Temp Wash, Control Lock, 1-24 Hour Delay

51-decibel operation

Adjustable upper rack
Click here to read over 1,620 real customer reviews of this product!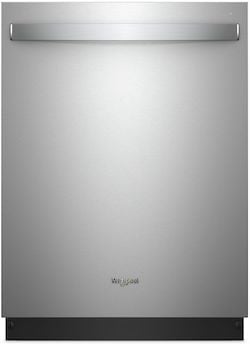 The GE GDT550PYRFS - $679
The next model in our search for the best dishwasher for the money is manufactured by GE. The GE GDT550PYRFS, at a price point of $679 in fingerprint resistant stainless steel, is loaded with exceptional features that will improve wash performance. (It's available in a range of other colors as well, including black, white, and fingerprint resistant slate.) This is a top control model that has fully integrated electronic buttons with a towel bar handle to match the handles of other kitchen appliances of the same brand (see the photo below).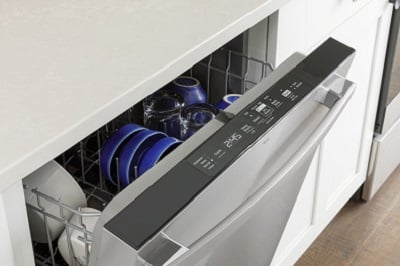 This model has GE's most advanced wash system, increasing wash power by 65% over older GE dishwashers, and a 52-dB sound rating. The height-adjustable upper rack helps to enjoy flexible loading and to easily move the rack up or down to fit bottles, large platters, and other items. Optional Wi-Fi connectivity (part PBX23W00Y0) is available if you'd like to get notifications when a cycle is complete! GE keeps the wash cycles simple and offers 6 wash options, including Steam + Sani and Dry Boost, which gets hard-to-dry items like plastic bottles three times drier than the Heated Dry option. The Steam Prewash option helps loosen baked-on foods, so you don't have to soak or pre-rinse your dishes.
This model is richly featured and could be a great option if you're looking for a top control model. If you'd prefer front controls, check out model GDF550PSRSS, retailing at $679 as well.
Features
4 Cycles: 1 Hour Wash, Auto Sense, Heavy, Normal

6 Options: Delay Start 1-12 Hr. with Countdown, Dry Boost, Start/Reset, Steam + Sani (Certified to NSF Standard 184), Steam PreWash, Wash TempBoost

Height-adjustable upper rack

52-decibel operation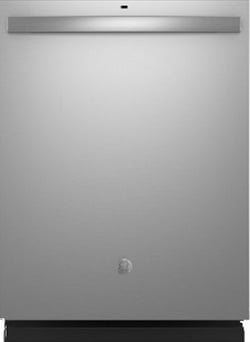 Features Comparison
Cycles & Options: Both models have automatic sensor washes and Sanitize options. However, GE wins in terms of total options, like Steam PreWash. It may have an edge on Whirlpool when it comes to handling dry, caked-on food.

Other Features: Both models are relatively quiet, come with height-adjustable upper racks, and offer heated dry options. GE stands out with Steam + Sani and Dry Boost. Both dishwashers have plastic tubs, which we don't love. Stainless steel interior tubs are more durable and offer better drying performance. Bosch is the cheapest option for this feature with dishwashers starting at $499.


Look & Feel: Both offer similar styling and come in stainless steel, black, and white. Both have top controls and bar handles. If you're interested in GE's fingerprint resistant slate color, check them out in person if you can!
Both of these dishwashers are excellent, well-featured appliances for your home. Choose the one that offers the best features that will benefit you the most. The Steam + Sani and Dry Boost on the GE dishwasher are great features for people who hate having slightly wet dishes, especially plastics.
We hope you enjoyed this comparison and it helped you to choose the best dishwasher for the money for your next purchase. Please leave us a comment below. We'd love to hear from you!
Editor's Note: This blog was originally published in November of 2014 and has been completely revamped and updated for accuracy as of the publication date noted above.