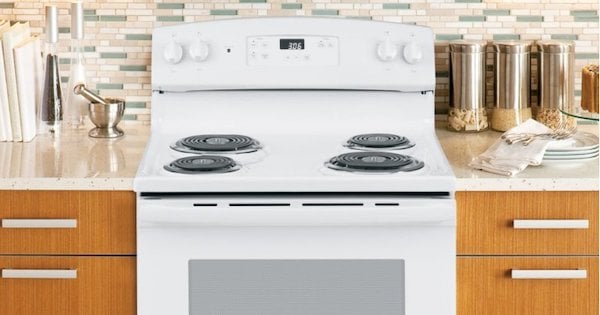 Many of us grew up in a household with a coil top electric range or remember our grandparents having one. With the advent of smooth top ranges, these have become less and less popular (check out our article comparing smoothtop vs coil top ranges to learn more). However, these ranges are still the perfect fit for many buyers!
Coil top electric ranges are extremely durable and easier to maintain due to the "Plug and Play" design of the elements. Coil elements simply plug into a receptacle under the main top and rest in the drip bowl, making replacement a breeze if the element is damaged or worn out.

Coil Top Ranges: What Do You Need to Know?
These days, the coil burner is wound four to five times on most American brands and occasionally a three wind burner can be spotted on select older ranges. So, what's the difference? Most coil-top ranges will have both 6" and 8" elements. The tighter spacing between each coil wind will heat cookware more quickly and more evenly, which helps reduce the chances of uneven cooking due to cool spots.
Traditionally, a 6" element will have four winds and an 8" will have five. These ranges are perfect for any consumer that may tend to be tough on appliances. Here's a scenario - you're a property owner and you rent a unit that happens to have a glass-top electric range. The tenant calls in a panic mentioning that the main top just broke. Chances are that something was dropped on the glass. This is a potential $400 mishap! Compare that to the price of the average coil element of $40 to $110, plus the easy replacement process, and a coil top electric range is suddenly a very attractive appliance!
This style of range can be purchased as a manual clean or self-cleaning unit and prices typically range from $399 to $699, depending on color and other options. In this coil top electric range review, we'll compare the model lineups from two of the most well known manufacturers.
First Up: The Frigidaire Models
Frigidaire began building electric ranges in 1918 while based in Charlotte, NC, ensuring quality ranges for consumers demanding performance and styling at competitive prices.
As of this writing, Frigidaire offers three "levels" of coil top electric range in the Frigidaire Value line:
The ultra-basic FFEF3010

The mid-level FFEF3012

The higher-level FFEF3016
The super-basic model does not come with electronic controls, a timer, or a clock. The Frigidaire FFEF3010UW features a 4.2 cubic foot capacity manual clean oven with high/lo broil options, a storage drawer, an oven light, and a small oven window. The oven features two 8" 2,400W coils and two 6" 1,500 watt coils. This model is available in white or black at around $589.
No bells and whistles here - just good ol' fashioned cooking. Just do a quick turn of the oven temperature selector knob via the single centralized control and set your separate counter-top egg timer.
The Frigidaire FFEF3012UW model, also available in white or black, prices at around $499 and has a control panel with a timer and clock on the backguard. The oven is larger than the base model at 4.8 cubic feet.
A more popular model is the Frigidaire FFEF3016UW, which offers a few more features for your dollar. The self-cleaning 5.3 cubic foot oven comes with electronic controls with options to delay the start of the self-cleaning cycle and an auto shut-off after 12 hours. The oven window is larger than the previous two models and it is 5.3 cubic feet in capacity.
You can find this model in black or white at around $549 or in stainless steel at $649.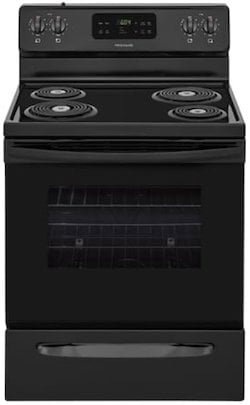 Next Up: The GE Models
Now we turn to another very well-known manufacturer: GE. General Electric started producing ranges in 1910. Over 100 years later, the quality still remains. As they did back then, GE manufactures their ranges in the United States, keeping quality and customer satisfaction a priority.
What places them in another league is the "Calrod" coil top element. This is the most durable, dependable, and accurate coil element on the market. This element is found on all of General Electric's coil ranges.
As of this writing, GE is offering three "levels" of coil top range:
The ultra-basic JBS160

The mid-level JBS360

The higher-level JB256/258
We'll start with the bare bones model. The GE JBS160DMWW comes in black, bisque, silver, and white and prices around $449. At this price you'll find ultra-basic backguard dial controls for the oven and burners with indicator lights for when the oven is heating and when a burner is on. The manual clean oven offers 5.0 cubic feet of capacity and features dual elements on the top and bottom of the oven for even heating. The stove features two 6" 1,250W coils and two 8" 2,400W coils.
Next up, the JBS360 models. This option prices at around $479 in black or white and $529 in stainless steel. This is a "mid-tier" model despite having a higher number in the model name... A reminder that it's important to pay attention to the features! The GE JBS360DMWW offers a standard clean oven but comes with electronic touch panel oven controls with options like Hi/Low Broil, a control lock, and an electronic clock and kitchen timer.
Last but not least: the JB256/258 models. We'll focus on the 256 models. The 258 models are slightly more expensive and have larger oven windows - they're an aesthetic upgrade but are otherwise the same as the 256 models. The GE JB256DMBB has a self clean oven and electronic touchpad oven controls with options like Delay Bake, Delay Clean, Hi/Low Broil, and control lock. It is available in black, white, or bisque for around $529 or in stainless steel for $629. It's nicely featured without breaking the bank!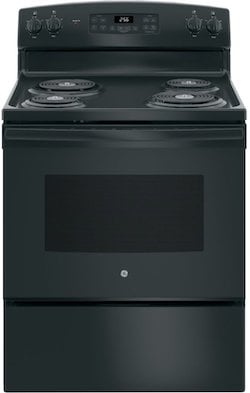 Whichever brand you choose will offer fantastic quality, good basic features and great pricing! These tough little ranges are ideal for making kitchen upgrades on a budget and for people who want to avoid potentially costly maintenance. The GE models offer more color options and GE offers a larger oven for the base model, but overall both brands offer very similar features and styles.
Thanks for reading this comparison of coil top electric range models from Frigidaire and GE. We hope you found it to be informative. Please leave a comment below. We'd love to hear from you!
Editor's Note: This blog was originally written in October of 2015 and has been completely revamped and updated for accuracy as of the publication date noted above.