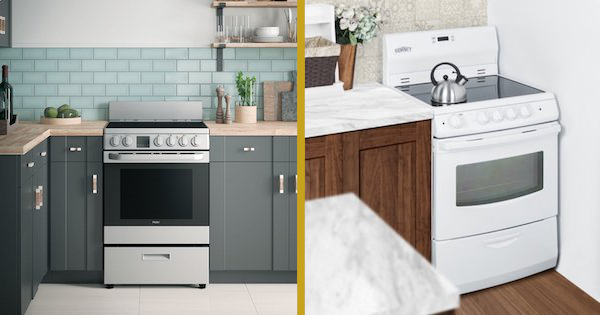 If you are looking for a new range and have only a 24 inch opening to work with, choices can be limited. Many of the ranges designed to fit into a 24 inch space are lower end models, most without smooth tops and often not available in stainless steel. For many customers with small spaces, a coil top range can do the job.
However, if you want a smooth top for your condo, apartment, or small kitchen, 24 inch electric range smooth top models can be hard to find and even harder to find reviews for. We wrote this blog to help provide more information about a few of the great models that are available in smooth top for the 24 inch market to help you find the best model for you.
1. The Haier QAS740RMSS - $1,299
Let's take a closer look at the first model in our review of 24" electric range smooth top models. The Haier QAS740RMSS first came on the market in late 2018 so it is relatively new. It's a popular model available in stainless steel for around $1,299. It has a 2.9 cubic foot oven with fan convection and a steam clean option (click the links to read more about these features).
The stovetop features two 6" 1,200W elements and two 8" 2,000W elements. The backguard controls include burner knobs, a hot surface indicator light, an oven mode knob and an oven temperature knob. A small digital control panel display adds convenience and a high-end feel to this model. The controls are a unique "modular backguard" that can be moved to the front of the range to give a slide-in range look if desired, although the backguard support behind the stove is still present.

This is a great compact apartment sized range with a high-end feel. Check it out in person if you can!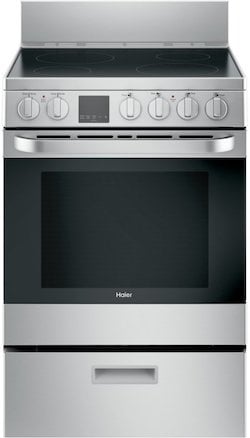 2. The GE JAS640RMSS - $949
Next up is a model from GE. This ADA compliant range features a modular backguard that can be flipped down for a slide-in look, and the stainless steel knobs against a stainless steel panel add to the high-end feel of this apartment sized range. The GE JAS640RMSS includes a 2.9 cubic foot oven with a steam clean option and interior light. There is a 4-pass bake element and a 4-pass broil element as well.
The stovetop has two 6" 1,200W elements and two 8" 2,000W elements. You'll find a storage drawer underneath the oven cavity. The control panel includes a hot surface indicator light and oven cycle indicator light. This model does not come with a digital display but still has a premium feel, so if looks are your biggest concern then this model might be a great option. If you're looking for features like a clock, timer, etc, the Haier model might be a better choice for your needs.
This model comes with a one year parts and labor warranty.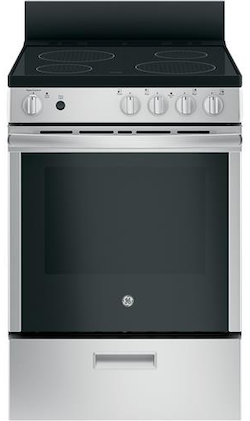 3. The Summit REX2421WRT - $899
Last but not least on our list of 24" electric range smooth top reviews is the Summit REX2421WRT. This slide in style model is available in white only at a great price point of just $899. Use the removable 2" stainless steel backguard for a classic look that guards your backsplash, or remove it for a more seamless appearance. It features a 2.9 cubic foot capacity porcelain-construction oven, a full storage drawer, oven window and light and a high back splash to keep your kitchen walls free from splashes and staining.
The stovetop features two 8" 2,000W elements along with two 6" 1,500W elements to accommodate a wide range of cooking needs. It also has a waist high broiler located inside the oven for easy access and less bending. The basic controls include knobs for the oven and the burners with a hot surface indicator light.
This product is made in North America and backed by a one year parts and labor warranty.
You can find a similarly styled model in stainless steel, the Summit REX2451SS.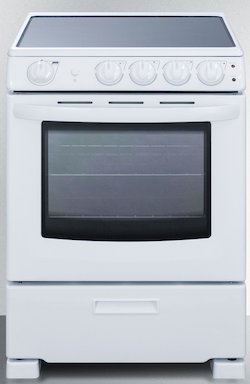 Features Comparison
Stovetop Features: All of the models in our review have two 6" plus two 8" elements. The GE and Haier models both have more powerful elements that may make them a better option if you want a nicely featured stove.

Oven Features: The Haier oven is a standout with fan convection. All models come with a broiler, and both the GE and Haier models come with steam clean options.

Look & Feel: Again, Haier and GE win here, with Haier coming in first overall thanks to the more helpful control setup. The Summit model has a basic appearance but comes with a digital clock and timer, which the GE model lacks.

Value for the Price: If you have the funds, the Haier model is probably your best option since it is nicely featured and looks great. The Summit model is probably the most basic-looking out of the three but could be a great option if you need a white 24" range.
Hopefully this blog helped point you in the right direction on your search for 24 inch electric range smooth top models. All three brands make great products, you'll just need to select the one with the right combination of features, color and pricing to meet your needs. The Summit model is the cheapest and has the least powerful stovetop elements, while GE offers a style upgrade and Haier offers the most well-featured oven out of the three.
If you're looking for a cheaper model, Premier is another brand to consider that offers more basic styling, but most 24 inch smoothtop ranges retail for at least $900. Whirlpool and Blomberg are additional brands to consider for this type of range.
Have any questions or want to share your experience with finding a 24 inch smoothtop range? Feel free to leave us a comment below. We'd love to hear from you!
Editor's Note: This blog was originally written in May of 2017 and has been completely revamped and updated for accuracy as of the publication date noted above.