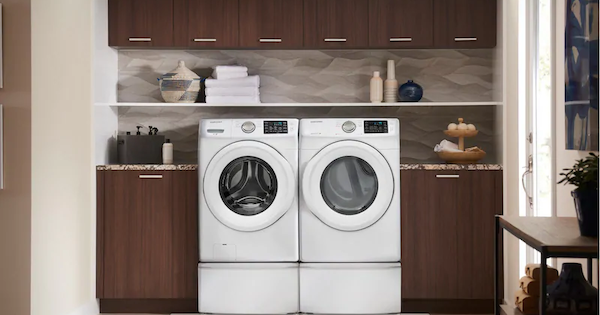 Front load washers have become very popular in the US market over the past two decades. Many consumers are drawn to these machines due to their large wash capacity and relatively low water usage. While top loading machines are making a resurgence in the market (in particular high efficiency impeller models), there is still a great deal of demand for front load machines. The cheapest front load washers start at around $700 to $900 before any promotional pricing or package deals kick in and come with advanced control panels and great wash options - so even these "entry level" models are high-quality.
If you are researching new washing machines, want to go with front load and don't want to break the bank - you have options. Reputable manufacturers Samsung and Maytag both offer inexpensive front load washers priced under $900! Let's take a look at these two competing models in our Maytag vs Samsung front load washer comparison.
Samsung WF42H5000AW - 4.2 cu ft - $799
First up: the Samsung WF42H5000AW, priced at $799, offers a 4.2 cubic foot capacity wash tub allowing you to wash very large loads - almost three full baskets at once. With no agitator, this front loader uses a tumbling action to gently wash and thoroughly clean your clothes.
The stainless steel diamond drum is designed for durability and it will never rust or snag your delicate garments. Samsung's Vibration Reduction Technology reduces noise and vibration so you can install this washer upstairs or anywhere in your home without being disturbed. You can use the Smart Care apps to easily troubleshoot any issues and errors so you don't have to wait for customer service. The direct drive motor is another great feature for reducing noise.
This washer features Samsung's Self Clean+ cycle, which keeps the washer tub fresh by removing dirt and bacteria with powerful water jets and high spin speeds - no extra washer cleaning products required. The washer will remind you to run the Self Clean+ cycle every 40 washes.
The warranty covers one year parts and labor on the full appliance, two years on the control board, three years on the stainless steel drum, and ten years on the direct drive motor. With this combination of price and features, this Samsung model is tough to beat for those seeking a low cost option for a front load washer.
Features:
8 Cycles: Normal, Heavy Duty, Bedding, Rinse + Spin, Quick Wash, Perm Press, Delicates, Active Wear

9 Options: Extra Rinse, Extra Spin, 4 Temperatures, 4 Spin Speeds, 3 Soil Levels, My Cycle, Delay End, Smart Care, Self Clean+

Vibration Reduction Technology

Direct drive motor

Maximum spin speed: 1,200 RPM

Smart Care troubleshooting app
Dimensions:
Width: 27"

Depth: 33"

Height: 38.75"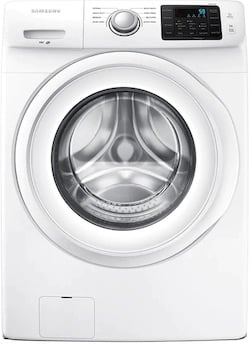 Maytag MHW5630HW - 4.5 cu ft - $899
New for 2019, Maytag has updated their ultra-popular entry level model MHW3505FW that was originally featured in this article with the Maytag MHW5630HW, pricing at $899. This 4.5 cubic foot washer is made in the USA and includes a stainless steel wash drum, a direct drive motor, and an internal water heater to boost stain-fighting power.
This year's model includes a 12 Hour Fresh Spin option that tumbles clothes after the wash cycle has ended to help prevent odors, so you can take your time switching the load over to the dryer. Equipped with Maytag's PowerWash system, which claims to be "the best cleaning in the industry," you can now add the Extra Power wash option to fight stains more effectively with hot and cold water. Other fan favorites include the PowerWash cycle and Steam for Stains - read more about steam cycle washers here.
The warranty covers 10 years on the stainless steel tub and direct drive motor. This model is slightly larger than the MHW3505FW, which had 4.3 cubic feet of capacity, and the Extra Power button and Fresh Spin option are new for 2019. The control panel has been rearranged slightly, but overall it has the same look and feel as the previous model. If you're comparing Maytag vs Samsung front load washers, this model has a lot of great features and a larger capacity without costing significantly more than the Samsung model.
Features:
10 Cycles: Normal, Heavy Duty, Whites, Bulky Items, Towels, Delicates, Quick Wash, Wrinkle Control, Drain & Spin, Clean Washer with Affresh

9 Options: Steam Clean, Delay Wash, Extra Rinse, Extra Power, 4 Soil Selections, 4 Spin Speeds, 4 Temperatures, Control Lock, 12 Hour Fresh Spin

Internal water heater

Direct drive motor

Maximum spin speed: 1,160 RPM

Steam option for fighting stains
Dimensions:
Width: 27"

Depth: 31.312"

Height: 38.625"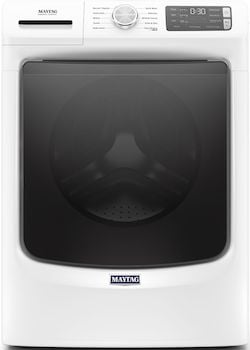 Features Comparison
Cycles & Options: Both come with handy cycles like quick washes and bulky item cycles. Maytag's tub cleaning cycle requires washing machine cleaner tablets, while Samsung's does not. Maytag offers a steam option, the Extra Power/Boost option, and the Fan Fresh option as well.

Look & Feel: Both are stackable and can be put on pedestals. The Maytag model has a slightly shallower depth at 31.2 inches compared to the Samsung model's 33 inches, so it may work better for shallow laundry installation areas like closets. The control panel setups are similar but Samsung offers typical front load washer styling while Maytag takes a different approach with a square tinted viewing window.

Warranty: Samsung warranties the control panel for two years and the wash tub for three years. Maytag covers the wash tub for 10 years but the rest of the appliance is covered by a one year parts and labor warranty. Both cover the direct drive motor for 10 years.
Which model is the best option for your needs? That depends. If easier troubleshooting and a chemical-free tub cleaning cycle appeals to you, you may prefer the Samsung model. If you're looking for extra wash power and features like steam and extended spins to keep clothes fresh, the Maytag model might be a great option for your needs. Check out our reviews of the best front load washers of the year for even more options!
Take a look at these two models when you go shopping and see if one of them will be right for your home and your budget. When it comes to Maytag vs Samsung front load washers, both brands offer interesting features and quality at great prices. We hope you enjoyed this review of two excellent washers. Please leave a comment below. We'd love to hear from you!
Editor's Note: This blog was originally written in May of 2016 and has been completely revamped and updated for accuracy as of the publication date noted above.