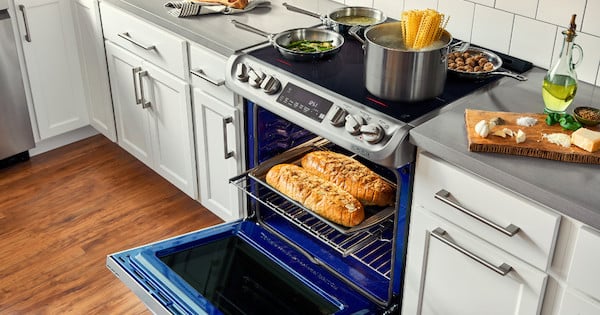 LG is relatively new to the appliances industry, but the brand has definitely made a name for itself! If you're shopping for a new electric range, you might be wondering what LG electric ranges have to offer. We'll go over the full LG electric range lineup to help you decide if this brand has what you're looking for!
What Makes LG Electric Ranges Different
As of this writing, LG offers four single oven smoothtop electric ranges as well as double oven models and a solid assortment of slide-in range models. All of these LG models feature ProBake Convection - LG was the first to offer freestanding rages that adopted commercial oven technology with a convection heat element and dual fan speed motor placed on the rear wall of the oven. The lower fan speed works for delicate baking while the higher speed works well for crispy roasts. LG's less expensive ovens have fan convection with a single heating element and the fan, while the more expensive true convection models incorporate an additional heating element. Putting the heating element and fan together on the back wall rather than locating the heating elements on the top and bottom of the oven is usually found only in luxury brands, so this convection design definitely stands out from the crowd. It's optimized for multi-rack cooking!
These ranges also come with EasyClean 10-minute steam cleaning - and the cleaning is easier since the heating element is not located in the bottom of the range, so drips won't bake onto the bottom of the oven cavity. These models also have very large capacities at over 6.0 cubic feet. The UltraHeat cooktop elements come in dual and triple element sizes (depending on the model) for quick boiling. SmoothTouch Glass Controls available on the upper-end models have a premium feel compared to typical touchpad controls.
LG also added some safety features. For example, the range door hinges are a two-step hidden type that won't snag clothes or dishtowels. Typically, there is a large gap between a double oven range's upper and lower ovens that can be dangerous if a child reaches their hands into it. LG's double ovens have a super slim gap between the oven doors to prevent this.
Select models are available in PrintProof stainless steel and matte black stainless steel. Most are available in black stainless steel as well (click the links to learn more about these color options).
Now, let's dig into the details of the LG's electric range lineup!
1. The Base Model: LG LRE3061ST - $799
This large 6.3 cubic foot capacity model is available in stainless steel for $799 or black stainless steel for $899. If you're looking for fan convection at a low price, it's hard to beat this LG model! Three convection cooking modes help you utilize this feature to the fullest - Convection Bake, Convection Roast, and Multi-Rack Convection Bake. Other helpful oven options include Proof, Warm, and Delay Clean.
On the cooktop you'll find four elements plus a 100W center warming zone. A dual 6"/9" element with up to 3,200W of power is one of the most powerful available on the market today! There are also two 6" 1,200W rear elements and a 9" 2,500W element. When it comes to the oven, you'll find a 6-pass 4,200W broil element and a 2,000W convection/hidden bake element.
Click here to read over 190 real customer reviews of this product!
2. The Next Level Up: LG LRE3194ST - $999
This is the first of the LG electric ranges with true convection, with a 3,400W 6-pass hidden bake element plus a 700W convection element (and a 4,200W 6-pass broil element, too). It has additional oven options like Pizza and Speed Roast. It expands the cooktop setup compared to the previous model with the addition of a triple expandable right front element that can go from 6"/1,100W to 9"/2,200W up to 12"/3,000W. It comes with a self clean option as well as the EasyClean steam clean option. So if you're looking for a solid oven that has true convection rather than fan convection, you may want to "level up" to this model!
The slide-in range LG LSE4611ST, priced at around $1,599, offers similar features but comes with one dual stovetop element and fan convection (read more about slide in ranges here). The glass touch controls and knobs are located on the front of the range at an angle for ease of use. It has a 3,200W convection element and a 4,200W broil element.
Click here to read over 55 real customer reviews of this product!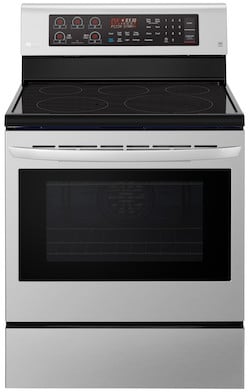 3. The High-End Model: LG LRE4213ST - $1,299
Now we're getting into LG's higher-end offerings. This model features glass touch controls rather than the typical touchpad controls that you have to push in with your finger. This model also has knob controls at the front of the cooktop surface, similar to a gas range, rather than on the backguard like the previous two models. That gives it a more commercial feel and it may be more intuitive to use as well if you're used to gas ranges.
The right front model is a 9"/1,700W and 12"/2,700W dual element rather than the triple element found on the previous model. You'll get the same left front dual element power burner as the previous models. This model comes with a handle on the storage drawer.
Within the oven you'll find a 6-pass 4,200W broil element and a 2,500W convection element on the back wall. This makes this model a fan convection model since it doesn't have an additional element for improved heat distribution. It offers the same settings as the previous model and also has a self clean option and EasyClean option.
The double oven LG LDE4413ST, pricing at around $1,599, offers the same cooktop configuration plus a 3.0 cubic foot upper oven with an exposed bake element and a 4.3 cubic foot lower oven with convection. Read more about double oven ranges here.
If you're looking for a slide-in model, the LG LSE4613ST, retailing for around $1,899, comes with a power burner plus the dual 9"/12" element. It has the same oven element configuration as the freestanding model.
Click here to read over 30 real customer reviews of this product!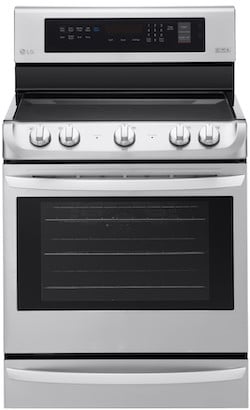 4. The Premium Model: LG LRE4215ST - $1,599
What else can LG do to impress us with its electric range lineup? This model includes an infrared heating system with the broiler to skip preheating and cut up to 22% off of your cooking time! So if you love the flavor of grilled food all year round, this model could be a good option.
This model features the 3,200W dual power burner as well as the triple expandable element found on #2 on our list for up to 12" in diameter and 3,000W. It has a warming drawer rather than a storage drawer.
The double oven version of this model is the LG LDE4415ST, retailing at $1,799 with Infrared Heating in the upper oven and ProBake convection in the lower oven.
Click here to read real customer reviews of this product!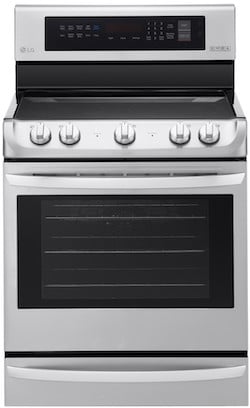 Looking for a Smart Range?
LG offers two premium slide-in models with Smart ThinQ technology, so you can control your smart oven from anywhere - start preheating or turn the oven off from your smartphone! You can check the timer from your smartphone, too. The first slide in model is the LG LSE4616ST, an induction range retailing at $2,799.
LG also offers model LTE4815ST, an electric double oven slide-in retailing for $2,499 that comes with the infrared grill broiler system and ProBake Convection.
In Conclusion...
LG electric ranges have a lot to offer and could be a great fit for your home. ProBake Convection and other thoughtful features allow you to do more when it comes to roasting and baking. The freestanding ranges are stylishly designed while the slide-in models offer a high-end built-in look. Check these ranges out in person and see how those glass touch controls feel to use!
Editor's Note: This blog was originally written in October of 2017 and has been completely revamped and updated for accuracy as of the publication date noted above.