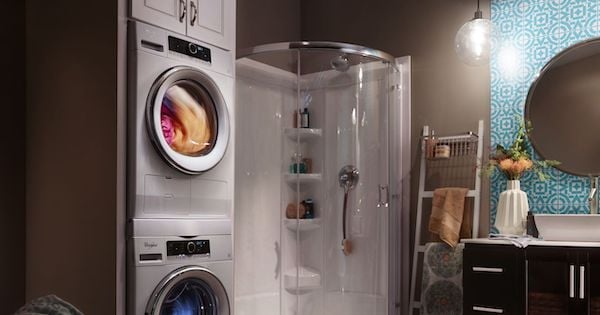 Ventless dryers are a go-to option for apartments, condos, and other living situations where outdoor venting isn't possible. In the US, we're used to seeing the steam outside of our window when the dryer is running, but in Europe these ventless dryers are more common than vented dryers by a huge margin. If you're looking for a new ventless dryer for your home, one of the options to consider is heat pump dryers.
Heat pump dryers are a newer type of ventless dryer. In general, ventless dryers are more expensive than vented options. The two major types are condensation and heat pump dryers, and heat pump dryers are more costly up-front than condensation dryers. However, the operating costs are lower - half or more the cost per load of a traditional vented dryer in gas or electric.
In this article, we'll explore heat pump dryers from Whirlpool. While many condensation dryers are compact dryers, Whirlpool offers these unique ventless models in both compact and full-size models, so they can be a great option for larger households as well as small ones! You can explore even more options for buying a new dryer in our dryer buying guide, too.
Table of Contents
How Do Heat Pump Dryers Work?
Many people choose ventless dryers for apartments and condos because all they need is a 220V outlet, no need to cut holes in the walls or run ducting. A water supply is optional for draining the water that collects with each load. If you're wondering: "How do heat pump dryers work, and how are they different from condensation dryers?" - Here's the quick version:
A condensation dryer pulls in outside air, heats it up with a condenser, and tumbles your clothes in that warm air, which will absorb moisture from your clothes. This warm, moist air is then pulled back to the condenser to cool down, which causes the moisture to condense out of the air into a drain hose or a reservoir. The cycle repeats until your clothes are dry.
A heat pump dryer takes a slightly different approach: rather than a condenser, you'll find a refrigerant system that can both heat and cool the air. This makes the process even more efficient: as the heat from the moist air diffuses, the heat pump reuses that diffusing heat to warm up more cool dry air from outside. This means less energy is wasted on the heating process.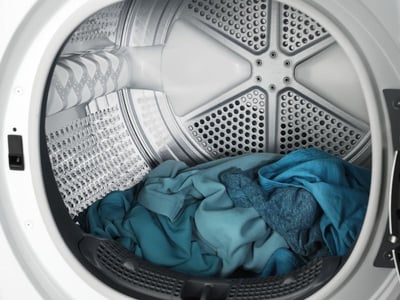 Advantages of Heat Pump Over Traditional Dryers:
Better energy efficiency, so less costly operation - could save up to $75-100 per year

Better fabric care because the temperatures are lower (although this means longer drying times)

No need to cut holes in the wall to vent to the outside
Heat pump dryers also put off less heat to the surrounding area than condensing dryers, since they're not constantly pulling in fresh air and exhausting hot air in its place.
Disadvantages of Heat Pump Dryers
Longer drying times - around 2 hours on average, but this varies depending on the load

More regular care required - for example, secondary lint filters need to be cleaned regularly

Higher upfront price compared to many basic vented dryers
Both types of ventless dryers take longer than conventional gas or electric vented dryers to dry clothes. If you're buying a heat pump dryer for the first time, read the owner's manual! Beyond the typical lint filter, these dryers typically have secondary lint filters and other parts that need to be cleaned regularly. Doing this kind of basic maintenance is necessary for the dryer to perform well and last as long as it should.
Whirlpool announced its hybrid heat pump dryer in 2014. We'll take a look at the current generation of heat pump dryers from Whirlpool: a 7.4 cubic foot full-size model and a 4.3 cubic foot compact model.
Whirlpool WHD560CHW - 7.4 cubic feet - $1,399
New for 2019, the Whirlpool WHD560CHW is an upgrade to the Whirlpool WED7990FW and retails at $1,399. It is a closet-depth dryer that can fit a 33-inch installation depth and under counters for a seamless and flexible installation. Of course, it's Energy Star rated. It's also ADA compliant and the door is reversible. This model features Whirlpool's "What to Dry" and "How to Dry" controls, which are also featured on their washers as "What to Wash"/"How to Wash." It gives you over 30 possible cycle combinations and offers an intuitive alternative to traditional dryer controls!
The powder-coated steel drum features a quad baffle design with four partial-width staggered baffles to keep small items from getting stuck "riding" the baffles and help larger items dry evenly. The tap touch controls will remember your last cycle and settings, and display the cycle time remaining. The advanced moisture sensing system uses three built-in sensors to monitor moisture levels inside the dryer and read the incoming and outgoing air temperatures to avoid over- or under-drying your clothes.
Customer reviews on this model are limited. Most of the reviews on Whirlpool's website, as of this writing, are 4-5 stars (but there are only 13 reviews total). If you're buying your dryer from a local appliance store, it may be worth checking that they have in-house service to cover any warranty issues. A salesperson familiar with the product can help you figure out if this model is right for you!
Features & Cycles Include:
What to Dry: Regular, Delicates, Bulky Items, Whites, Colors, Towels

How to Dry: Normal, Heavy Duty, Sanitize, Wrinkle Control, Gentle, Timed Dry, Quick

3 Options: 4 temperature settings, 3 dryness levels, Wrinkle Shield, Eco, Damp Dry Signal

Lint filter indicator
Dimensions:
Width: 27"

Depth: 31"

Height: 38.75"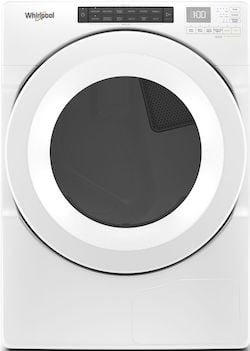 A higher-end heat pump dryer model is also available starting at around $1,899 for 2019: the Whirlpool WHD862CHC, replacing the WED9290FC. Compared to the previous model, it features a stainless steel dryer drum rather than powder coat, a Wrinkle Shield Plus option with steam, a more premium exterior design, and an interior light. It comes with an additional dryer program for Towels. Read more about steam dryers in our article! The main change for the 2019 model is that it now uses the "What to Dry"/"How to Dry" controls.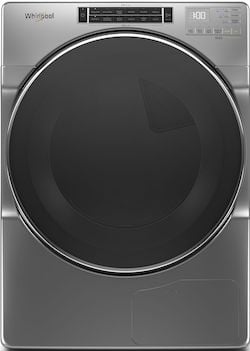 Whirlpool WHD5090GW - 4.3 cubic feet - $1,199
If you're looking for a compact heat pump dryer, the Whirlpool WHD5090GW at $1,199 might be for you. Unfortunately, you won't save much money by going for a compact model instead of a full-size model in this case! However, its ultra-small size makes it ideal for areas where space is limited, such as small apartments and condos. It has a reversible door and a durable stainless steel dryer drum.
It comes with a good variety of programs, including cycles for Wool and Synthetics. A Wrinkle Shield option adds intermittent tumbling for up to 12 hours after the cycle ends to help prevent wrinkles. The smooth touch control panel and central dial add a premium feel to this compact heat pump dryer.
Some of the customer reviews for this model seem to be from people who were not given a good explanation of the pros and cons of heat pump dryers. For example, some customers were unhappy with the cycle times, while others were not made aware of the need to clean additional filters and empty a water reservoir in cases where the dryer was not hooked up to a washer drain. Drying bulky items like sheets seems to be another pain point. More seriously, there are other reviews pointing out design flaws, and issues with the control panel and lint collection seem to be recurring problems.
Overall, we can't recommend this model at this time. If you are considering it, we recommend seeing if you have a local appliance retailer that offers in-house service and salespeople who can talk to you in more detail about this product.
Features & Cycles Include:
10 Dry Programs: Mixed, Wool, Heavy Duty, Bulky/Bedding, Normal, Air Dry, Synthetics, Refresh, Delicates, Timed Dry

5 Options: 3 dryness levels, X-Dry option (speeds up drying time), Steam, Delay Start, Wrinkle Shield

Lint filter indicator
Dimensions:
Width: 24"

Depth: 25.75"

Height: 33.6"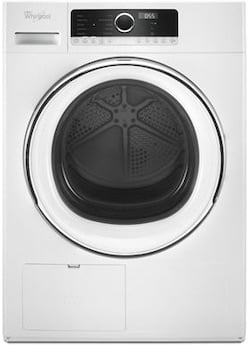 What do you think about the Whirlpool heat pump dryer? These models offer some truly interesting dryer technology and some serious efficiency gains. Their higher upfront price can be offset by the lower installation costs (if you would otherwise need to install venting and cut holes in the walls to do so) and the lower operating costs over the life of the dryer.
If you want to explore additional options, brands like Bosch and Samsung also make heat pump dryer models. Even with the higher upfront cost, the lower operating costs mean a heat pump dryer could start turning a profit in 6-7 years depending on how heavily it is used. The cost savings may stack up more quickly if you need to wash and dry clothes more often. Although drying times can be around double what you get with a vented dryer, the benefits of better fabric care and energy savings are pretty solid advantages.
If you already have an electric clothes dryer, you can divide the operating costs in half and see how quickly the savings will add up after owning a heat pump dryer for a few years. Especially if you are in an area with higher electricity costs or have a lot of laundry to dry, a heat pump dryer could be the best option for your laundry needs.
Please leave us a comment below - We'd love to hear from you!
Editor's Note: This blog was originally written in January of 2019 and has been completely revamped and updated for accuracy as of the publication date noted above.