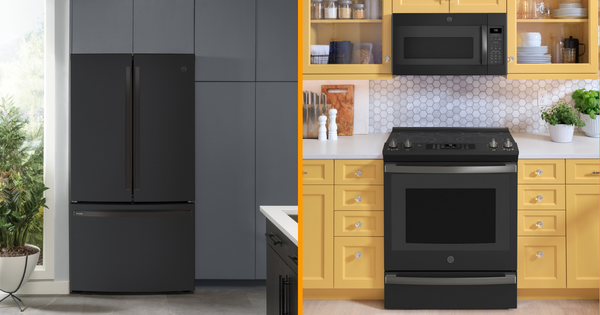 If you want to upgrade your kitchen with a distinctive and rich look for 2023, the black slate appliances by GE might be the perfect fit. They can help create a look that will WOW your family and friends. Although black stainless steel appears to be one of the strongest trends in over a decade, GE hasn't stopped trying out new colors on the market, ever since releasing slate a few years ago.
Table of Contents
CLICK HERE FOR THE PROS AND CONS OF BLACK STAINLESS STEEL
Overview: GE Black Slate
GE is one of the most innovative appliance manufacturers. They introduced slate several years ago throughout their lineup and the color has been very popular because it is unique in the marketplace - you can read more about it in our article on slate vs stainless steel appliances. Stainless steel has been the big trend for over a decade with every manufacturer offering virtually the same finish. GE, like other brands, has offered stainless steel but has been a trailblazer in offering slate. Now that the trend is heading toward black stainless steel, they have decided to pioneer black slate and other interesting new finishes.
GE's black slate is different and unique. It fits in with the trend away from traditional stainless steel toward black stainless steel but offers something unique. GE has been producing slate appliances for the past few years and is the only manufacturer offering this color.
Black slate is GE's answer to the black stainless trend (in addition to making their own black stainless steel appliances, too). It is...
A deep charcoal color

Matte finish

Fingerprint resistant

A baked painted finish, making it more durable than most black stainless steel finishes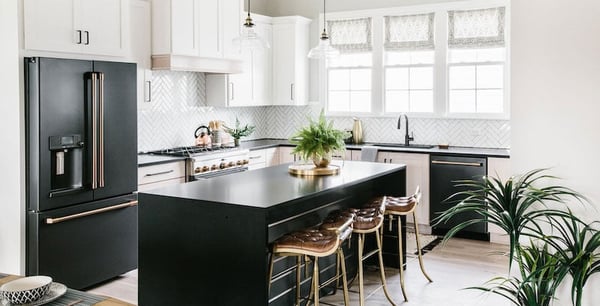 GE Appliances Available in Black Slate

Black slate was initially only available in GE's restaurant-inspired Cafe line, but it is now also available in their main GE Appliances line and GE Profile as well. GE Cafe offers the option of contrasting stainless steel bar handles or even customizable hardware, while the Profile and main line offer matching curved handles. In their Cafe line, black slate is being rebranded as black matte for their new Matte Collection (read more about the Matte Collection in our article).
Your options include...
Slide in and freestanding ranges, including double oven ranges

Over the range microwaves

French door, top freezer, and side by side refrigerators

Dishwashers

Wall mount chimney hoods and undercabinet hoods
CLICK HERE FOR ALL GE BLACK SLATE MODELS
GE's black slate appliances create a whole new look for your kitchen that is soft, elegant, and different. They are exceptionally beautiful products and a great alternative to regular stainless or black stainless steel appliances. Once you see them you might just fall in love with the look. Black slate has a long way to go to catch up with the popularity of traditional stainless steel or even black stainless. However, you might want something different than what all of your neighbors, family, and friends have. Sometimes being different might be better!
Take a look at black slate appliances. They are really a game changing item in the appliance industry. Even if you are not ready to buy yet, you might want to see them in person and experience the look. You may also be interested in the new GE Cafe matte white and matte black collection for an even more customized, unique appliance design!
Thank you for reading this blog. We hope that you found it informative and helpful. We encourage you to write a comment below. We value your input!
Editor's Note: This blog was originally written in January of 2018 and has been completely revamped and updated for accuracy as of the publication date noted above.