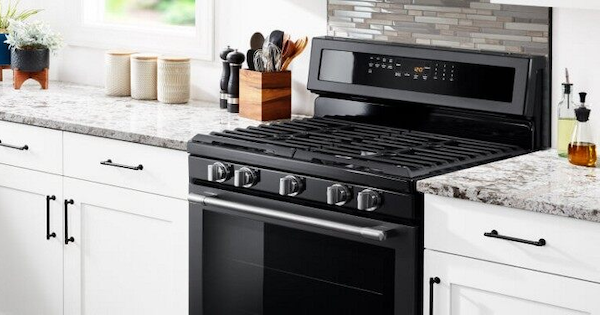 At a product show in September 2019, we got to take a look at an interesting new color from Maytag starting in late 2019: Cast Iron Black! As you may be able to guess, it's inspired by cast iron, and it's a great option for people looking for something durable and affordable when choosing new kitchen appliances.
Are you interested in matte finishes and choosing a new look for your kitchen, but don't want to dish out for high-end appliances? Many brands are offering black stainless steel and other interesting new colors mainly on their pricier models with more features. Maytag is approaching this differently, offering a finish starting with basic affordable models that's perfect for sticking to your budget while still giving you something fresh and new.
Watch our video to see Maytag Cast Iron Black in person!
While most manufacturers are coating stainless steel to achieve different effects, Maytag has created a plastic powder coat matte finish that definitely doesn't look like the textured "elephant skin" of black and white appliances of the past. This finish has grit mixed in for a tough and incredibly smudge-proof surface - it seems more fingerprint resistant than most smudgeproof stainless steel options out there! It's designed to hide smudges, scuffs, and minor dents, which can be part of normal wear and tear in any busy household. The stainless steel towel bar handles add contrast to the look.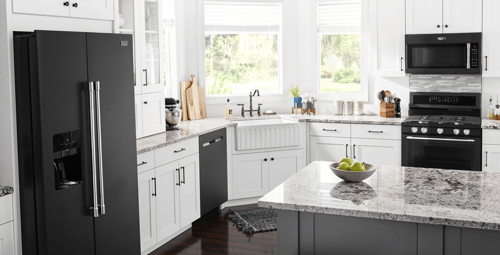 Maytag is rolling out this finish starting with side by side refrigerators. It should come to bottom freezer and top freezer models next, offering more appeal to the budget consumer. If you prefer an appliance suite without obvious brand badges, good news! Maytag's brand badge comes off with just a little dental floss.
As of this writing, Maytag offers the following models in Cast Iron Black:
If you're interested in a suite of Maytag appliances but aren't sure about how that works, check out our guide to appliance package deals and learn how they can save you $$$! We'll keep this article up to date with new models and customer feedback as Maytag rolls out this new finish across more of their lineup.
Have you seen Cast Iron Black in person yet? What do you think about this new finish and how it compares to metallic finishes? Leave us a comment below - We'd love to hear from you!
CLICK HERE TO VIEW ALL CURRENT MAYTAG APPLIANCE REBATES!
CLICK HERE TO VIEW ALL CURRENT PROMOTIONS!
Editor's Note: This blog was originally written in October of 2019 and has been completely revamped and updated for accuracy as of the publication date noted above.