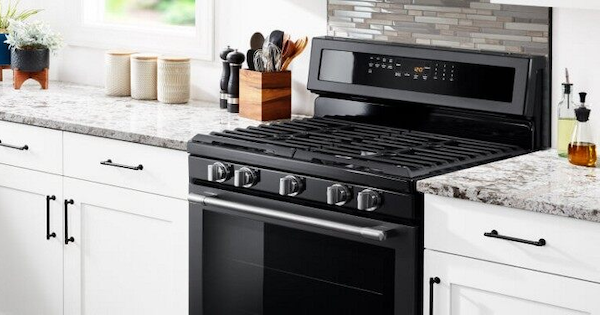 At a product show in September 2019, we got to take a look at an interesting new color from Maytag starting in late 2019: Cast Iron Black! As you may be able to guess, it's inspired by cast iron, and it was intended for people looking for something durable and affordable when choosing new kitchen appliances. However, as of April 2020 it's being discontinued.
Cast iron black was intended to be an alternative to black stainless steel and other interesting new colors for the budget conscious consumer. Maytag initially rolled out the finish to a side by side refrigerator (as well as other appliances to create a full suite) and planned to follow it with top freezers and bottom freezers, with French door models coming last.
Watch our video to see Maytag Cast Iron Black in person!
Rather than coating stainless steel to achieve different effects, Maytag created a plastic powder coat matte finish that definitely didn't look like the textured "elephant skin" of black and white appliances you typically see. This finish had grit mixed in for a tough and incredibly smudge-proof surface - it seemed more fingerprint resistant than most smudgeproof stainless steel options out there!
It was designed to hide smudges, scuffs, and minor dents, which can be part of normal wear and tear in any busy household. The stainless steel towel bar handles added contrast to the look. We hope that more manufacturers will consider durability in their appliance finishes in the future.
Alternatives:
GE Slate - GE's Slate finish is matte but definitely not black, and is available on a wide range of their appliances to suit any budget. It's also quite durable, as it is a baked-on painted finish similar to automotive paint. Click here to learn more about slate.

LG Black Matte & GE Black Slate - Two dark, matte finishes. Like black stainless steel, however, they are available on more premium appliances, so they're not accessible to the budget consumer. Click here to compare LG black matte vs GE black slate.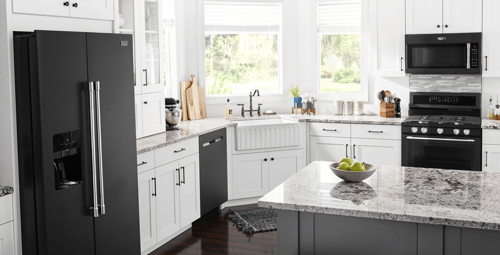 Maytag offered the following models in Cast Iron Black:
Side by side refrigerator model MSS25C4MGK

Top control pocket handle dishwasher with a 3rd rack, model MDB8989SHK

A similar dishwasher without a 3rd rack, model MDB7959SHK

Electric range model MER8800HK

Gas range model MGR8800HK

Over the range microwave model MMV4206HK

Over the range microwave with fewer features than the other model, model MMV1174HK
These models are all discontinued or in the process of being discontinued as of this writing. So long, cast iron black! We hardly knew ye.
If you're interested in a suite of Maytag appliances but aren't sure about how that works, check out our guide to appliance package deals and learn how they can save you $$$!
(Tip: If you prefer an appliance suite without obvious brand badges, good news! Maytag's brand badge comes off with just a little dental floss.)
Did you get a chance to see this color? What did you think about it? Leave us a comment below - We'd love to hear from you!
CLICK HERE TO VIEW ALL CURRENT MAYTAG APPLIANCE REBATES!
CLICK HERE TO VIEW ALL CURRENT PROMOTIONS!
Editor's Note: This blog was originally written in October of 2019 and has been completely revamped and updated for accuracy as of the publication date noted above.