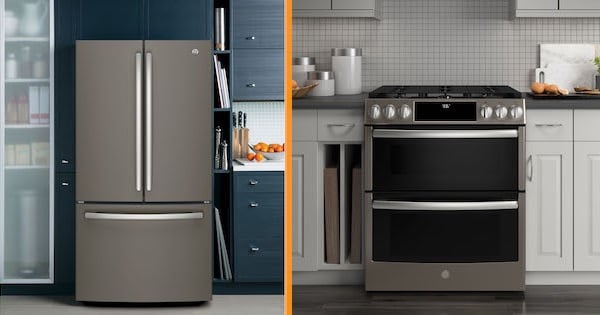 There are many new color options coming out in the appliance market, from black stainless to black slate and more. Consumer tastes seem to be changing, and more and more consumers are looking for an alternative to "plain" stainless steel. Stainless steel has dominated the high-end appliance market for almost 15 years, but its share of the market is now declining. With all of the new options now available, don't forget to include GE Slate appliances in your search.
GE began producing slate appliances around 2013, several years before the big surge in alternatives to stainless steel began to take hold in 2017. GE is the exclusive producer of slate appliances in the marketplace today. Even though the color isn't new, it deserves to be included in your color scheme choices when looking for new appliances. Let's check out the reasons why!
Table of Contents
What is GE Slate?
GE Slate appliances offer a stark contrast to stainless steel and black stainless steel. For one, slate is a stone-inspired matte finish, rather than the metallic, shiny finish of stainless steel (compare GE slate vs stainless steel here). Matte paint finishes are a strong trend in the high-end car market at the moment, and the trend is taking hold in kitchen appliances as well.
How it looks:
Stone-inspired, matte finish

Warm gray color with subtle bronze/brown undertone

Stainless steel handles for contrast

Fingerprint-resistant
The only other comparable "warmer-toned" finish on the market as of 2022 is Samsung's new Tuscan Stainless Steel finish.
Why you should consider it:
Proven track record in the marketplace with good positive feedback from consumers

May be slightly more durable than stainless steel and less likely to accentuate minor blemishes

More durable than most black stainless finishes on the market today, because it's a painted on finish rather than a transparent coating

Available in mid-tier GE Appliance brand and the high-end GE Profile brand

Magnetic - so you can still keep your vacation souvenirs on your refrigerator!
CLICK HERE TO VIEW ALL GE SLATE APPLIANCES!
Another thing to remember about slate is that it goes beautifully with white kitchen cabinets which are very popular in new construction and kitchen remodels at the moment. Slate can accentuate both earth tones and metallic tones in your kitchen, making it a versatile choice for a range of different color schemes and styles. Whether you are looking for a warm, inviting aesthetic or something more industrial, slate can work for either of them! The matte finish is also a great option if fingerprints and smudges on stainless steel drive you up the wall.
Appliances Available in Slate
It's currently available on over 40 GE products in both their main GE Appliances line and the more advanced GE Profile line, so you'll have access to a broad range of options to complete your kitchen appliance suite.
You can find a range of GE slate appliances, including...
Counter-depth and standard-depth refrigerators in French door, top freezer, side by side, and bottom freezer configurations

Gas and electric ranges, both slide-in and freestanding with single or double ovens

Single and double wall ovens

Built-in, over-the-range, and countertop microwaves

Front control and top control dishwashers

Chimney-style and under-cabinet range hoods
From basic models to premium and high-end options, you have a lot of choices when it comes to choosing a slate kitchen suite. To save even more, consider going for an appliance package.
Next, we'll go over what you can expect in terms of pricing and options for kitchen appliances in slate. If you want to skip that, click here to view all GE slate appliances! Otherwise, keep reading.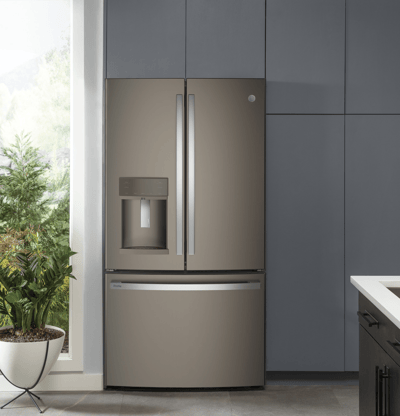 Click here for current GE appliance rebates!
Refrigerators
GE offers all refrigerator styles in slate: top freezer, bottom freezer, side by side, and French door models.
Pricing starts at around $998 MSRP for top freezer refrigerators and around $1,798 for French door, side by side, and bottom freezer models. From basic models to more advanced designs, you have a wide range of options to choose from! Most fully featured, nicely sized models are in the $1,599-$2,199 MSRP range.
One middle-of-the-road model is the 30" wide 21 cubic foot bottom freezer model GDE21EMKES at $1,998.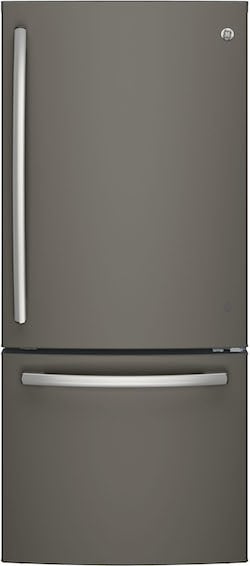 Dishwashers
Pricing starts at $728 MSRP for GE slate dishwashers with front controls, while top control models start at around $828 - learn more about top control vs front control dishwashers in our article! These models all look similar from the outside but vary in their internal controls and options. Many have stainless steel interiors and include features like bottle jets in the upper rack and more.
One top seller in slate is the GE GDT665SMNES, priced at around $998.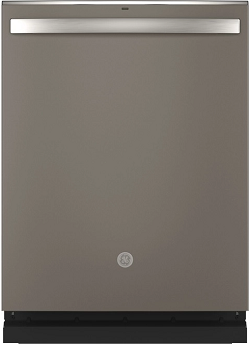 Ranges & Wall Ovens
Most of GE's slate ranges start at around $1,148 MSRP. Slide-in ranges start at $1,608.
Single wall ovens start at $2,776, and double wall ovens start at around $3,776. These are 30" wide wall ovens in slate.
For example, this slide-in electric range is priced at $1,608 - the GE JS645ELES.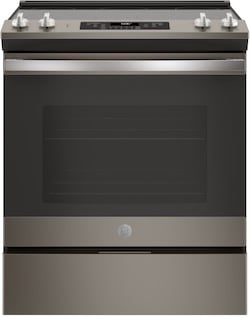 Microwaves & Range Hoods
An undercabinet range hood in slate will run you around $300 MSRP on average but can be priced as low as $198, while a wall-mount chimney style hood will be at least $658.
Over-the-range and countertop microwave ovens are around $378 and up. For a high-end option, you can find built-in convection microwave ovens in the GE Profile line.
One countertop microwave is the 1.1 cubic foot capacity GE Profile model PEM31EFES priced at $139.
We hope you've enjoyed this review of GE Slate Appliances. There are many colors to choose from in today's market, but slate should certainly not be overlooked. If you are looking for a complete overview of all the new colors on the market, check out our article - New Appliances Colors - Black Stainless, Black Slate, Black Matte & More. Can't get enough of GE? They recently came out with another new color selection with customizable hardware: the GE Cafe Matte Collection. Click the link to read more!
Please leave us a comment below. We'd love to hear your feedback on slate appliances!
Editor's Note: This blog was originally written in January of 2018 and has been completely revamped and updated for accuracy as of the publication date noted above.