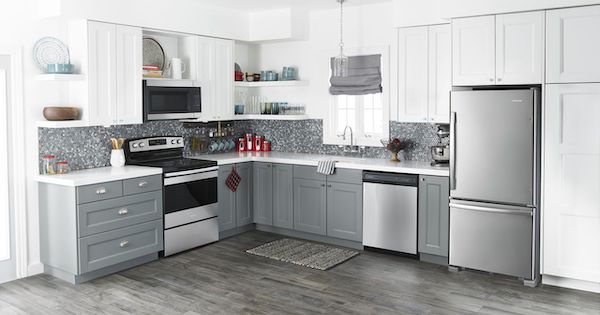 If your previous refrigerator was a top freezer refrigerator or the once-popular side by side style, you might be wondering about whether it's time to try a bottom freezer refrigerator. These models have been around for a while and have distinct advantages over top freezer and side by side styles: first, you don't have to bend over to access the fresh food section; and second, the refrigerator and freezer offer wide spaces for flexible storage. (Before we continue: check out our refrigerator buying guide for more info on choosing a new refrigerator!)
Table of Contents
Overview - Styling, Organization, Pricing, Pros & Cons
The main types of bottom freezer refrigerators are:
Traditional bottom freezer refrigerator with single refrigerator door, usually with a drawer-style freezer

French door refrigerator with two refrigerator doors and a bottom freezer
A less common type of bottom freezer splits both sections with four doors with a cupboard-style freezer rather than a pull-out freezer drawer. Cheaper bottom freezer refrigerator models may offer a cupboard-style freezer that really looks like you turned a top freezer refrigerator upside down, but the majority of bottom freezer models come with a drawer-style freezer.
All bottom freezer refrigerators put the fresh food section on top for better visibility. You don't have to bend down to access your most-used items! French door refrigerators are more popular - they're on-trend and come in a lot of styles with different feature packages. French door models come in many sizes, from 18 cubic feet to 36 cubic feet, and are available with or without ice makers and water dispensers.
Bottom freezer pricing starts at around $1,200 MSRP. The most popular models tend to be around $1,500-$1,800 MSRP. These prices can drop by 20% or more during holiday sales!
Traditional bottom freezer models offer less variety than French doors and are no longer as popular, but they still have some great advantages.
Advantages of bottom freezer models include:
Wide door storage area gives you plenty of room for big bottles, pitchers, and tons of condiments

They tend to have a smaller footprint (24-33" deep and 23-36" wide) than French door models (29-35" deep and 30-36" wide) - they are more space-efficient

There are more options in smaller sizes in the 18-20 cubic foot range, ideal for households that don't require an XL refrigerator capacity or need a narrow refrigerator width

If you need XL capacities, there are bottom freezer models as large as 28 cubic feet (Check out our reviews of the largest bottom freezer refrigerators here!)

More budget-friendly than a French door model - comparable options are generally cheaper with a full-width single refrigerator door than French doors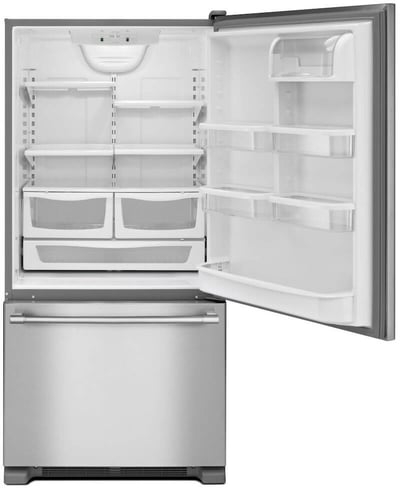 The downsides include:
External ice and water dispensers are not available like they are in French door models

Less variety overall than French door models, but there are still dozens to choose from

Not a good choice for narrow kitchens that would benefit from a fridge with a narrower door swing (if that's the case, try a side by side if you're on a budget or a French door if you want something trendy and versatile)

Few options in XL capacities over 25 cubic feet

Counter depth options are rare if you're looking for a higher-end feel
Review: Two Top-Selling Bottom Freezer Refrigerators
What can you expect to get for your money? Several of our most popular models are in the $1,599 price range, so we thought we would look at two examples to help you get a better idea of the options available at this price point. Bottom freezer refrigerators start at around $1,200 and range up to about $2,800. Two top-selling models from Maytag and LG are available at the $1,599 price point. Let's take a closer look!
The Maytag MBF1958FEZ - 30" Wide - $1,599 MSRP
The Maytag MBF1958FEZ is a 19 cubic foot 30-inch wide bottom freezer refrigerator that is perfect for narrower refrigerator openings. It comes in fingerprint resistant stainless steel with commercially-styled towel bar handles for a sleek and stylish look. Like the majority of today's refrigerators, it's Energy Star rated. Maytag offers industry-leading warranties on core components of its appliances, and in this case you'll find a 10-year limited parts warranty on the compressor.
In the refrigerator section you'll find humidity-controlled crispers, a full-width pantry drawer, and four adjustable half-width shelves. The door storage is spacious, with a covered dairy bin, four adjustable half-width bins, and a fixed full-width bin at the bottom. The electronic temperature controls are pretty basic: adjust the refrigerator and freezer sections from 1-7, with 4 being the recommended setting and 7 being the coldest. You can also turn on humidity control if you notice moisture on your refrigerator door hinge seal or if you live in a humid area. In the freezer section, you'll find wire bins and a factory-installed icemaker.
Overall, this is a basic model with a basic set of features. Maytag offers more advanced digital temperature controls and options on their higher-end French door refrigerators, while they keep their bottom freezer models pretty simple. This bottom freezer offers good storage customization with basic plastic bins and glass spill-proof shelving. Factors like a single evaporator for both the fresh and frozen food sections mean it won't perform quite as well as a dual evaporator refrigerator, but at that price you're getting a model that looks great on the outside and has good, simple features on the inside.
Maytag also offers a 33-inch wide, 22 cubic foot model with similar interior features and options for the same price, the Maytag MBF2258FEZ.
Click here to read over 210 real customer reviews of this product!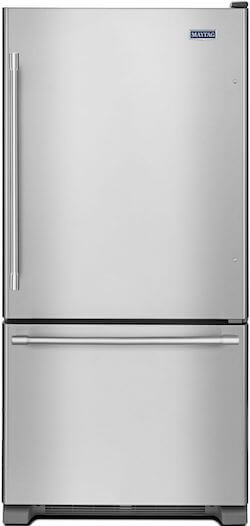 The LG LRDCS2603S - 33" Wide - $1,599 MSRP
Next up: a top-selling $1,599 model from LG, the LG LRDCS2603S. Right away, this model stands out with a 25.5 cubic foot capacity packed into a 33-inch width, making it one of the largest bottom freezer refrigerators on the market. Other brands max out at around 24-25 cubic feet so LG has a slight edge!
LG seems to do a pretty good job of creating thoughtful smart features for their appliances, and this bottom freezer model is no different. This refrigerator's LoDecibel quiet operation is a great feature for open floor plans or small homes. With the LG Smart Cooling system, the linear compressor responds quickly to temperature changes, and strategically placed vents help ensure even temperatures throughout the refrigerator. Multiple temperature sensors help prevent hot or cold spots so your food stays fresher longer. Plus, that efficient linear compressor comes with a 10-year limited parts warranty!
The fresh food section features two adjustable full-width tempered glass shelves, two humidity-controlled crispers, and a full-width Glide-N-Serve drawer. The door storage includes three full-width bins, one flip-up bin, and one covered dairy bin - none of which are adjustable, although the flip-up bin makes it possible to fit tall items on the shelf below, like wine bottles. The freezer has two-tier organization with solid plastic bins and a factory-installed icemaker. The digital temperature controls are pretty simple and include a door alarm and an Ice Plus option to boost the ice maker's production.
This model offers less adjustable storage than the Maytag model above, but it has a comparable warranty on the compressor and a more complex cooling system. Plus, SmartDiagnosis can help make troubleshooting any issues easier. Check these models out in person if possible and compare things like the controls, the shape and feel of the crisper bins, and other factors!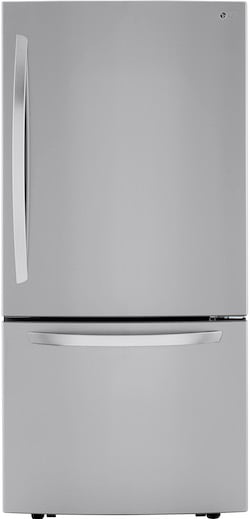 We hope this article helped you decide if a bottom freezer refrigerator is right for you! As you can see, you can get a pretty nice selection of features and options at a reasonable price with this refrigerator style. Whirlpool Corporation is the main brand still offering bottom freezer refrigerators - they own Maytag, KitchenAid and Amana, which all offer bottom freezer models. LG and GE also make an assortment of bottom freezer models, and Fisher & Paykel is a great source for integrated and counter depth options. Check out our reviews of the best bottom freezer refrigerators of the year if you want to explore your options!
Have a question about bottom freezer refrigerators? Leave us a comment below - We'd love to hear from you!
Editor's Note: This blog was originally written in November of 2016 and has been completely revamped and updated for accuracy as of the publication date noted above.