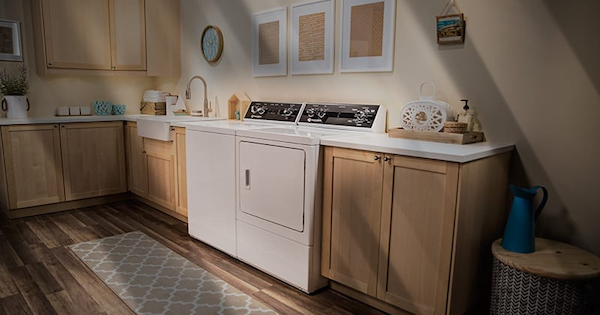 It's challenging to make the right decision about what type of clothes washer to purchase. With all of the new washer designs that are so different from the older models, how do you know which one you will like? Does a high efficiency low water wash model or a traditional manually adjustable water level model fit your needs? The following information may help answer some commonly asked questions and point you in the right direction.
Table of Contents
HE Impeller Washers vs Traditional Agitator Washers
High Efficiency (HE) washers have become today's favorite washer due to the rising costs of town water and sewage. These washers figure out how much water to add to each load based on the weight of the clothes and by measuring the resistance of the clothes when the tub spins. No guesswork here! Many HE washers are capable of washing without the use of an agitator, and instead utilize a triple or quadruple paddled disk called an impeller. We've seen tub capacities increase a lot with HE washers, with many being 4.5 cubic feet or more. That means you have to run fewer loads each week! The average HE washing machine uses 18 to 28 gallons of water per use, depending on cycle and options selected.
As for traditional top loading agitator washers, there is still a small number of these models being produced and their capacities range from 3.3 to 4.7 cubic feet on average. Some consumers prefer the ability to select their water level of choice rather than it being automatically controlled via sensors and pressure detectors. Most traditional-styled washers can consume 18 to as much as 44 gallons of water per use. Selected cycles, options, and extra rinses will affect the amount of water being used.
| | |
| --- | --- |
| Agitator Washers | HE Impeller Washers |
| May offer auto fill or load size selections (many offer a deep fill option) | Use auto fill technology (although deep fill options are available on some machines) |
| Use 18-44 gallons of water per cycle | Use 18-28 gallons of water per cycle |
| Capacities tend to be smaller, around 3.3-4.7 cubic feet | Capacities tend to be larger, around 4.5-5.5 cubic feet |
Let's take a look at high efficiency and traditional models from LG and Speed Queen. These are two of the best top loading washers available today! LG is a top manufacturer of high efficiency washers and their products are among the most efficient and best-performing in the industry. Their washers are designed without agitators, giving them larger load capacities.
Speed Queen is a manufacturer of commercial-quality washers that are a little less efficient but tend to be more durable - they're made to be easy to repair, and are designed to last 25 years (while most residential clothes washers last 6-10 years on average). They use more water than the high-efficiency models of other manufacturers but they give the operator the flexibility of selecting the desired water level. These washers have agitators and are a little smaller in capacity but still large enough for big loads.
The HE Model: LG WT7150CW - $949
The LG WT7150CW is a 27" wide, mammoth 5.0 cubic feet stainless steel tub machine with SmartDiagnosis that helps you diagnose and solve issues with your appliance. The 8 wash options will allow you to take proper care of every fabric, and you can customize almost every cycle to fulfill your laundry care requirements. It has 6Motion™ Technology that includes rolling, stepping, swinging, scrubbing, filtration and tumbling. A combination of these motions can happen depending on the needs of the clothes.
It has three water temperature settings, which will allow you to select the proper setting to control fading and shrinking and to properly activate today's HE detergents. Automatic water levels and three adjustable soil levels for different types of soil cleaning are readily available at the touch of a button. It also has a variable speed of up to 800 RPM.
The slam-proof lid is a nice touch for a top loader, and this model also comes with LG's TrueBalance™ Anti-Vibration System, so it's a great fit for laundry rooms near living areas.
This Energy Star rated washing machine has a ten-year direct drive motor warranty, while the remaining unit is covered for one year parts and labor plus three years on the drum. Pricing at $949, this washer is a great choice for many consumers.
Cycles & Options:
8 Programs: Normal, Heavy Duty, Deep Wash, Waterproof, Bedding, Delicates, Speed Wash, Tub Clean


9 Options: Soak, Extra Rinse, Signal, Delay Wash, Control Lock, Water Plus, ColdWash™, Rinse+Spin, Spin Only

3 Wash Temperatures

3 Spin Speeds

3 Soil Levels
Click here to read over 250 real customer reviews of this product!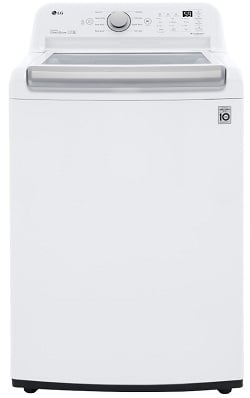 The Commercial-Grade Model: Speed Queen TR5003WN - $1,199
What can you get at a similar price point from Speed Queen? The Speed Queen TR5003WN is a commercial-grade washing machine that has been designed to last longer than most other machines and can handle almost any wash load. This is their mid-tier model and one of our best sellers. The build is absolutely solid: a 1-horsepower motor plus a solid mount suspension system with a full steel base and heavy-duty springs provide best-in-class out-of-balance performance and decrease vibrations. The max spin speed is 820 RPM - a standout among agitator washers!
Speed Queen's Perfect Wash system offers a better design for agitator washing machines: the 3.2 cubic feet tub and agitator can both rotate to more effectively push water and detergent through clothes. The Speed Queen team found that this new technology cleans about 5% better while being about 25% gentler on fabrics than their previous wash mechanism! Fans of Speed Queen also appreciate the water level/load size options you can set yourself, or you can use the auto fill option as well.
All of Speed Queen's machines are tested to 10,400 cycles - enough cycles to last you 25 years! Their industry-leading warranty covers five full years on parts and labor for true peace of mind plus a lifetime parts warranty on the wash tub and outer tub.
Cycles & Options:
6 Cycles: Heavy Duty, Normal Eco, Perm Press, Delicates, Handwash, Spin Only

4 Load Sizes: Small, Large, Auto Fill, Auto Fill + Extra Rinse

Heavy Soil option

4 Wash Temperatures: Cold, Cool, Warm, Hot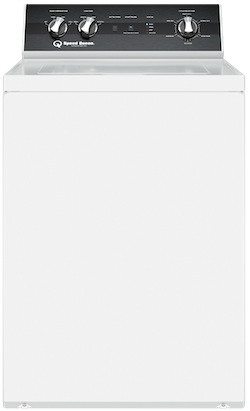 Features Comparison
Cycles & Options: LG wins here with sheer numbers - 8 programs and 9 options is kind of a lot! If you find that to be overwhelming, however, you may prefer the Speed Queen's simpler control setup. If manual water levels are a must-have, you'll definitely prefer the Speed Queen model.

Look & Feel: The LG model is more contemporary with a modern electronic control panel, but Speed Queen has a commercially-inspired style of its own. LG definitely wins in terms of capacity with more cubic footage than the Speed Queen TR5, in part thanks to its low-profile impeller.

Warranty: LG follows the industry standard of one year parts and labor plus a bonus ten years parts only on the motor, while Speed Queen offers a full five-year parts and labor warranty on the full machine plus lifetime parts warranty on the stainless steel tub and outer tub. Which option is better depends on what you would rather have covered. Having full coverage on the washer for five years is pretty impressive.
If you have seriously dirty clothes made from heavy-duty fabrics, you may want to consider the Speed Queen TC5, a "throwback" model released for 2019 that features the old-fashioned agitator that moves independently from the tub (compared to the unified agi-tub design of the 2018 TR models). Although the new TR series has a lot of positive reviews, the agi-tub style elicited complaints from the brand's long-time fans that preferred a rougher wash action.
We hope you've enjoyed our comparison of two of the best top loading washers from LG and Speed Queen. If you like to keep it simple and stick to traditional washers that work, you'll love Speed Queen. If you want to try a new larger-capacity washer with more bells and whistles that will save you water, check out the LG model! Of course, there are plenty of options in between. Impeller washers start at around $700 and come with different feature configurations and options. Agitator washers can be found more cheaply, but Speed Queen is definitely top of the line for agitator models.
Please leave a comment below. We'd love to hear from you!
Editor's Note: This blog was originally published in January of 2016 and has been completely revamped and updated for accuracy as of the publication date noted above.