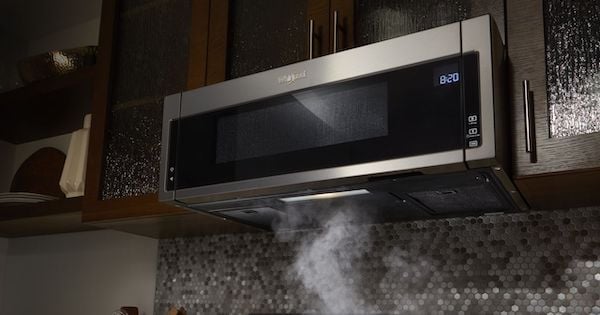 Microwaves have historically come in two basic categories: standard over-the-range microwaves and countertop microwaves. Over-the-range microwaves are designed to fit nicely above your range and have standard 30" widths. Height-wise, they are typically between 16" and 18", and they generally offer a capacity in the 1.7 to 2.0 cubic foot range. Over-the-range microwaves are practically standard issue in most modern kitchens, and the cabinetry and layout in modern homes generally work well for these products.
The dilemma comes when you don't have a cabinet layout that will accommodate a standard over-the-range microwave, or don't have the counter space for a countertop microwave but hate the "visual bulk" of OTR microwaves. Whirlpool and KitchenAid have a solution: their low profile microwave models are just what you need to solve this problem!
Table of Contents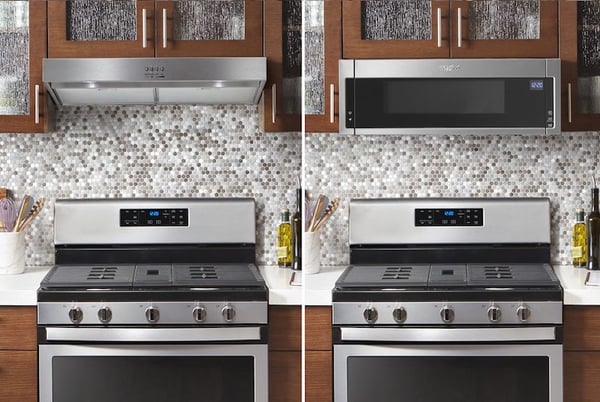 What is a Low Profile Microwave?

A low profile microwave is a revolutionary product introduced in 2018 designed for constrained spaces above the range that would normally only work with a range hood. If you want the advantages of an over the range microwave but your cabinetry configuration is too low for most over the range microwaves, this microwave is for you!
A low profile microwave measures approximately 10.25 inches in height, a full 6 inches less than the average over the range microwave. In fact, every other OTR on the market that we could find is 16-17" tall.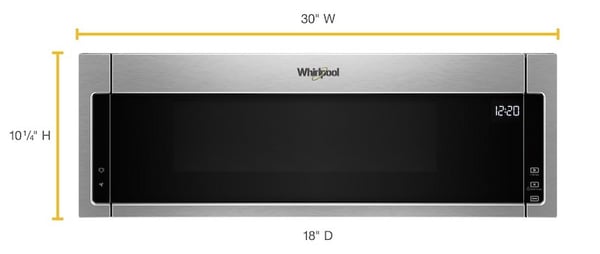 The exciting news is that a low profile microwave can still provide you with all the features of a standard over-the-range microwave, including:
Powerful and versatile microwave cooking capabilities

Ventilation capabilities (both internal recirculating and external venting)

High quality surface lighting for your range top or cook top surface
The interior height is 6 7/8" from the top of the turntable, giving you plenty of space for a range of items. Note that these microwaves cannot be installed flush with cabinets. They are designed to stick out slightly over the stovetop so the ventilation system can be more effective.
New for 2021: Built In Style Low Profile Microwaves!
Whirlpool is now offering a built-in style microwave with a trim kit. There are two model types: the WMT50011KS and KBT5011KSS, which come with a "slim" trim kit, and the WMT55511KS and KMBT5511KSS models, which come with a "standard" trim kit. The slim kit has an overall height of 14", while the standard trim frame has an overall height of 19 1/8". These models can be installed over a wall oven with only 3" of space required between the wall oven and microwave cutout.
If you've been looking for a replacement for your microwave and trim kit but have struggled to find a microwave that is short enough, this option is for you! The closest competitor that we could find is the GE Profile PEM31SFSS, with dimensions of 24" wide, 12.125" high, and 12.875" deep. The 30" trim kit JX830SFSS gives it an overall height of 16.5", which may not work for more compact cabinetry configurations. If you need a microwave for a shallow cutout, the GE is still one of the best options.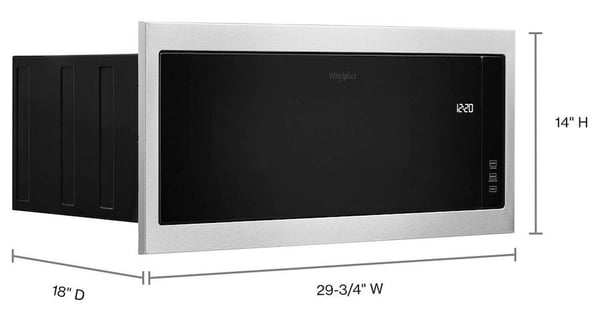 Cabinet Opening Dimensions for Slim Trim Kit:
Minimum cabinet opening width: 30"

Width of cutout: 28.5"

Height of cutout: 12"

Minimum depth of cutout: 21.75"
This microwave cannot be installed completely flush - it is designed to stick out about 7/8" from the cabinetry.
This built-in style option with trim kit is brand new, so we are excited to see what customers think about it!
Whirlpool is also rolling out a 360 CFM version of their low profile microwave, model WML35011KS, in black or stainless steel. It will have the same MSRP of $499 as the 400 CFM models we review below, but will help homeowners avoid the Make-Up Air requirements for 400+ CFM ventilation in some areas.
Is a Low Profile Microwave Right for You?
While a low profile microwave can be installed just about anywhere a normal over-the-range microwave can be installed, certain consumers will find it most appealing. The product was developed mainly for consumers that have an existing range hood over their cooking surface and have cabinetry built to accommodate a hood but not a standard over the range microwave. It is ideal for consumers that don't have enough height clearance between their cooking surface and the bottom of a standard over the range model. Whirlpool allows you to install their low profile microwaves as low as 24" above the top of a range or cooktop.
The new Whirlpool and KitchenAid models we review below are designed as the perfect replacement product in this case. They allow you to kill two birds with one stone: replacing your old hood and getting that undesirable countertop microwave off your counter. Low profile microwaves are two appliances in one!
Low Profile Microwave Reviews
Now, we'll take a closer look at three awesome low profile microwave models. Whirlpool has introduced models under their popular Whirlpool Brand and their premium brand KitchenAid. As of this writing, Whirlpool is the only brand offering low profile microwaves.
1. Whirlpool WML55011HS - $499
Whirlpool offers two low profile microwave models. The base model, the Whirlpool WML55011HS, is a 1.1 cubic foot microwave with a powerful 400 CFM fan and 1,000 watts of cooking power.
See this Whirlpool low profile microwave in action in our video below!
Whirlpool Low Profile Microwave Video
This Whirlpool model comes in black, white, and stainless steel. It has concealed touch controls that are only visible when the door is open for a modern look, and an easy tap to open door rather than a handle or button. It can even be installed next to a wall if necessary, thanks to the 90-degree hinge door. You can turn the turntable rotation off for heating large dishes, and use a variety of microwave presets to quickly heat and defrost things.
The ventilation system offers three speeds and can be converted to ductless/recirculating installation or vented to the outside.
Click here to read over 530 real customer reviews of this product!

2. Whirlpool WML75011HZ - $549

For just $50 more, you can upgrade to the Whirlpool WML75011HZ. This model is available in a wider variety of color choices. For starters, the stainless steel model ending in the letter "Z" is Whirlpool's fingerprint resistant stainless steel. It's also available in black, white, and black stainless steel.
This model comes with all of the features of the basic Whirlpool model but also comes with the following enhanced features:
CleanRelease® non-stick interior

Sensor cooking

Fingerprint resistant (stainless steel model)

LED cooktop lighting

Steam cooking
Click here to read over 275 real customer reviews of this product!

3. KitchenAid KMLS311HSS - $849

If you are looking for a low profile microwave in the flagship KitchenAid line, you're in luck. Whirlpool has recently introduced the KitchenAid KMLS311HSS. It is available in four great color options, including white, stainless steel, and the premium black stainless steel. Read more about black stainless in our article - Black Stainless Steel - Pros & Cons. This great 1,000W model has the highly recognizable KitchenAid badge.
Like the Whirlpool models, it has hidden controls, but has touch metal power buttons instead of plain buttons. You'll find a 4-speed 500 CFM Whisper Quiet® ventilation system (100 CFM more than the Whirlpool models), and two LED task lights. It has similar microwave options, with a range of preset controls.
Click here to read over 95 real customer reviews of this product!

We hope this article helped give you a quick overview of what low profile microwaves are, how they compare to conventional over the range microwaves, and which features you need to know about. The low profile microwave design really makes you think about whether you actually use all of the vertical space in your microwave.
If you'd like to save counter space but would prefer a standard over the range model, check out our reviews of the best over the range microwaves of the year!
What do you think about low profile microwaves? Is this style getting rid of "dead space" that never gets used anyway? Are you planning to upgrade to one of these models? Leave us a comment below - We'd love to hear from you!
Editor's Note: This blog was originally written in October of 2018 and has been completely revamped and updated for accuracy as of the publication date noted above.