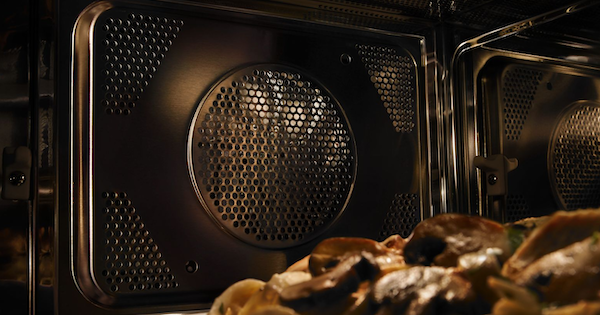 One of the most convenient kitchen appliances found in almost every home is the popular over-the-range microwave, more commonly known as an OTR microwave oven. Many consumers nowadays are looking to have the option of cooking with convection right in their over the range microwave as well.
We are going to take a look at the top five models on the market today to see which is the best convection microwave for over the range, but first we'll fill you in on a little background about these products in general.
Looking to Learn More? Watch Our Microwave Buyer's Guide Video!
Over the Range Microwaves & Convection Microwaves - An Introduction
The OTR microwave has taken the place of the countertop microwave and hood assembly, which saves space by combining both products into one handy package. Power capacities can vary from 850 watts for reheating or up to 1,200 watts for cooking of full meals.
Just about every model is manufactured with a recirculating or outdoor vented multiple speed fan assembly and a light to illuminate the cooking surface below. The built-in exhaust fans will vary from a quiet 170 CFM (Cubic Feet per Minute) to power-boosting 400 CFM fan velocity to pull odors, steam, smoke, oil mists and heat through the grease and/or charcoal filters. Many models have heat sensors built into the body that will automatically turn on the exhaust fan to cool the components and get rid of excessive heat if it recognizes an overheated interior cavity or too much heat build-up from the cooking surface.
Like an oven, a convection microwave can be preheated, and it uses a fan to improve heat circulation. The convection microwave can behave like a microwave or like a miniature oven. You can actually brown and crisp foods with a convection microwave!
Let's take a look the top five best convection microwave oven models to see which one is going to be the best for your kitchen!
1. Frigidaire Professional FPBM3077RF - 1.8 cu ft, 1,050W - $749
The Frigidaire FPBM3077RF 2-in-1 convection oven/microwave has a large stainless steel 1.8 cubic foot interior that's designed for optimum cooking results. The diamond pattern rear wall along with the 14 3/16" turntable is specifically designed for dispersing microwave energy evenly throughout the cavity rather than spot cooking or heating.
This model features a four-speed ventilation fan, LED interior and cooking surface lighting. The blue-light glass touch bottom controls are conveniently located at eye level for easy selections. Microwave cooking power of 1,050 watts is more than practical for everyday cooking and reheating and the convection cooking feature handles most large foods, such as roasts or a whole chicken, and is capable of cooking an entire family meal. Nine Auto Cook options are available for foods from eggs or vegetables, to meatloaf and baked fish.
Frigidaire also includes a removable interior wire rack for multi-level reheating and cooking. This Frigidaire Professional model has great styling and many more features and is available at $699.
Click here to view over 470 real customer reviews of this product!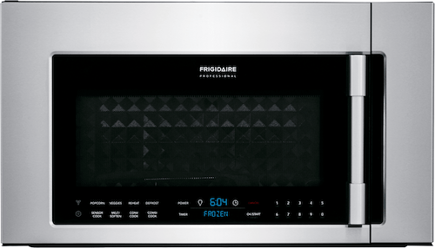 2. GE Cafe CVM517P2MS1 - 1.7 cu ft, 950W - $949
Next on the list of best convection microwave oven models is a 2.1 cubic foot capacity option from GE's Cafe customizable hardware collection. This model comes in matte black or matte white as well as in stainless steel with customizable bronze, stainless, black, or copper hardware. The Cafe CVM517P2MS1 combination convection microwave comes with Fast Cook and 950 watts of microwave cooking power to provide various levels of cooking strength. The 13.5" turntable is adequately sized for most dinner plates and casserole dishes.
Convection Cooking Controls have quick option settings for Convection Bake, Combination Fast Cook and Roasting capabilities. General Electric added convenient sensor settings for proper power and cooking times for steam cooking, popcorn and beverages. A three-speed 300 CFM fan assembly takes care of venting with external venting or recirculating options through the included grease filters, which captures any fine airborne oils and grease. Use the Chef Connect smart appliance feature to automatically activate vents and lighting when your stovetop is in use.
GE includes a 1 year parts and labor warranty with this microwave. Priced at $949, this microwave has all the power to handle full meals for the entire family.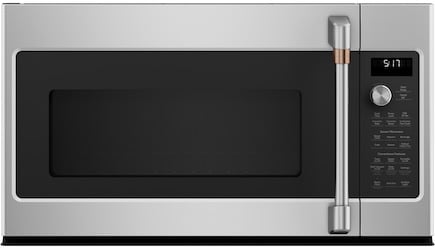 3. Maytag MMV6190FZ - 1.9 cu ft, 1,000W - $629
Batter up with a great model by Maytag. Model MMV6190FZ is their convection microwave oven version with a 1.9 cubic foot stainless steel oven cavity and a two-level cooking rack. Power is 1,000W microwave and 1,600W convection plus a 400 CFM fan assembly easily handles your cooking and ventilation needs. The 14" turntable is adequately sized for family-size meals or even a casserole dish.
When it comes to convection cooking foods, Maytag's developed baking system allows cooking or baking a roast or other such foods both inside and out at the same time, to not only speed up the process but also seal in juices for restaurant-quality meals. It can also handle something more on the simple side, such as browning or crisping a side dish of mashed potatoes.
A 10-year part warranty on the magnetron tube is in addition to Maytag's 1-year all-over coverage. Pricing at $629 in stainless steel, this may be the one for your family's needs.
Click here to read over 12 real customer reviews of this product!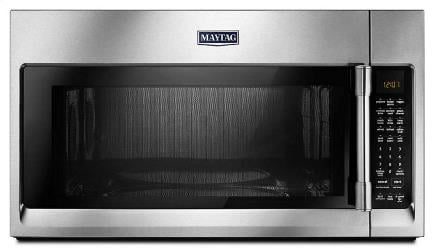 4. Samsung MC17J8000CS - 1.7 cu ft, 950W - $499
This one won't surprise anyone who's familiar with Samsung appliances. Leading-edge technology has been incorporated into every product built by this company and their microwaves are no exception. The Samsung MC17J8000CS has a 1.7 cubic foot ceramic enamel coated cavity which allows it to be steam cleaned. Cleverly designed, this microwave allows you to pour two ounces of water into a dish and after six and a half minutes of operation… voila! A perfectly steam cleaned cavity that just needs a quick wipe down with a soft towel once it's cooled.
This microwave's 950 watts provide a great opportunity for the chef in you to showcase your skills. Ten power levels on the glass touch control panel really should cover any meal heading its way, all while sitting pretty above your stove. Halogen interior and LED cooking surface lighting is great for the user's visibility in and out. Samsung installed a 300 CFM ventilation blower to get rid of any steam and smoke from the cooking surface via the charcoal recirculating filter or outdoor venting option.
The magnetron tube has a 10-year parts warranty and the entire unit has a one-year parts and labor warranty. Keep this unit in mind when shopping for a new microwave oven. This model is priced at $499 in fingerprint resistant stainless steel and $549 in premium black stainless steel.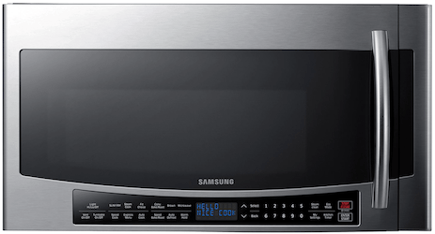 5. LG LMVH1711ST - 1.7 cu ft, 950W - $599
LG, also a well-known appliance company, competes in this category with Model LMVH1711ST, featuring a 1.7 cubic foot stainless steel interior cavity with a 13 1/2" turntable and removable, height-adjustable wire rack. Cooking powers consist of 950 microwave and 1,500 convection watts. Six auto cook, seven sensor cook and custom settings give the user plenty of cooking options along with the many standard settings such as Popcorn, Defrost and Melt/Soften which are commonly found on today's microwaves. The VFD 2 line scrolling display should walk every user through selections for many foods, whether reheating or cooking.
LG's hidden vent system has great styling that works with today's kitchens and products. A charcoal recirculating filter is included and if desired, the 300 CFM blower can be reversed to accommodate outdoor venting through the bottom of the cabinet or straight out the back side of the microwave. Available in stainless steel, this LG model is priced $599.
Click here to read over 15 real customer reviews of this product!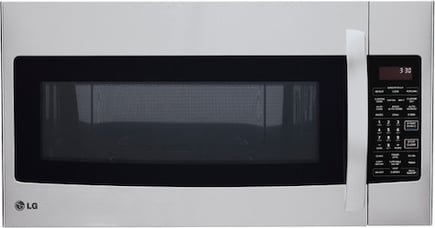 We hope you enjoyed our review of the 5 Best Convection Microwave Oven Models for 2019. If you're interested in unique styling, check out the Samsung model (#4 on our list) and Frigidaire Professional model (#1) with their uniquely placed controls, or the models with industrial-style bar handles, including the models from Maytag, GE Cafe, and Frigidaire Professional. The Maytag model (#3) offers the largest capacity microwave oven at 1.9 cubic feet, and ties for the highest CFM blower at 400 CFM with the Frigidaire Professional model.
Now you can head out shopping and see which model fits your needs. Please leave us a comment below. We'd love to hear from you!
Editor's Note: This blog was originally published in August of 2016 and has been completely revamped and updated for accuracy as of the publication date noted above.