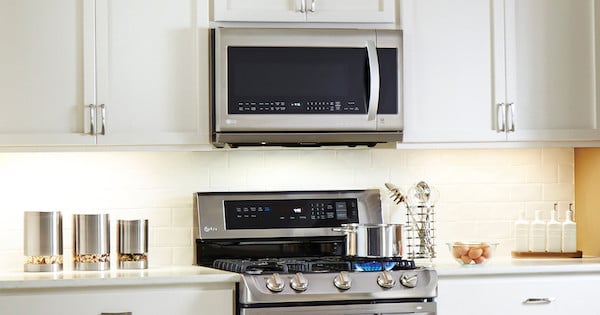 One of the most convenient kitchen appliances found in almost every home is the popular over the range microwave oven, more commonly known as an OTR microwave oven. The OTR microwave has taken the place of the countertop microwave and hood assembly, saving space by combining both products into one handy package. Power capacities can vary from 850 watts for reheating or up to 1,200 watts for cooking full meals.
Most of these models are manufactured with a recirculating or outdoor vented multiple speed fan assembly and have built-in lighting to illuminate the cooking surface below. The built-in exhaust fans will vary from a quiet 170 CFM (Cubic Feet per Minute) to a power-boosting 400 CFM fan velocity to pull odors, steam, smoke, oil mists and heat through the grease and/or charcoal filters. Many models have heat sensors built into the body that will automatically turn on the exhaust fan to cool the components and get rid of excessive heat if it recognizes an overheated interior cavity or too much heat from the cooking surface. For more info on microwave features, check out our microwave buying guide!
Let's take a look at the top five models available on the market today and try to identify the best over the range microwave for you. Prices range from $379 to $699 MSRP, and all models are at least 1,000 watts.
Table of Contents
Learn more about choosing a new microwave in just 8 minutes!
1. Frigidaire FGMV17WNVF - 1,000W, 1.6 cu ft - $379
The popular model Frigidaire FGMV17WNVF is a 1,000 watt, 1.7 cubic foot capacity oven. This is considered midsized in the industry, but don't let its "average" size fool you! It has plenty of space for a 13x9" baking dish thanks to the 13.6" turntable!
This is a quiet appliance that has plenty of nice options for its price of $379 in stainless steel. The control panel has auto sensing selections such as Popcorn, Potato, and Beverages, while Sensor Reheat and Defrost are also available at the touch of a finger and allow you to quickly prepare last night's leftovers or tonight's oven roast. A metal rack is included for heating multiple items at once. The interior has a special coating that makes it easy to wipe down.
The 105/300 CFM fan assembly removes steam, smoke, and odors effortlessly using grease filters and a charcoal filter. Additional features like the option to disable turntable rotation, a kitchen timer, two-stage work surface LED lighting, an interior LED light, and multiple power levels complete this great package. With a one-year warranty covering parts and labor, this Frigidaire model packs a strong punch. It's also available in black stainless steel at $479.
Features
Height: 16.4"

Depth: 15.03"

13.6" turntable

2-speed 300 CFM fan assembly (ducted/recirculating)

2-stage work surface LED lighting and LED interior light

Auto-start heat sensor

Effortless Clean interior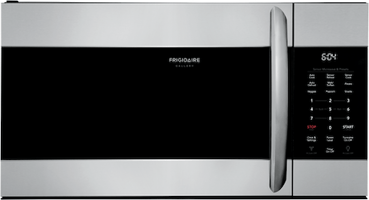 2. KitchenAid KMHS120ESS - 1,000W, 2.0 cu ft - $699
The KitchenAid KMHS120ESS is a great contender for the best OTR microwave of 2020 due to its professional design and well-featured control panel. Also cooking with 1,000 watts, its distinct obvious physical difference compared to the previous model is the larger 2.0 cubic foot oven interior and 14" turntable.
The recirculating exhaust fan is rated at 300 CFM for quick removal of smoke and odors, also incorporating a charcoal filter. The cooking surface Lo/Hi halogen bulb produces bright, crisp lighting for cooking and comes in handy as a kitchen night light for the midnight snacker. KitchenAid's Cookshield Finish on the interior cavity helps make the microwave easy to wipe clean.
A convenient turntable on/off selection allows the user to disable the turntable's rotation of oversized cookware, such as casserole dishes that are too wide to rotate. Time-saving pre-programmed and sensor features like an Add 30 Seconds button, Beverage, Defrost, Dinner Plate, Frozen Entree, Pizza Reheat, and Warm Hold help you handle any type of food preparation.
KitchenAid offers a full one-year warranty of the entire microwave oven, a five-year parts-only warranty on Solid State touch control system parts and a 10-year parts warranty on the stainless steel oven cavity and inner door liner. Available in white and stainless steel for $699, and now also in black stainless steel at $749, this model will do a lot to save you time in the kitchen.
Features
Height: 17.125"

Depth: 16.75"

14" turntable

3-speed 300 CFM fan assembly (ducted/recirculating)

2-stage halogen work surface light

Tons of sensor cooking options!
Click here to read over 1,140 real customer reviews of this product!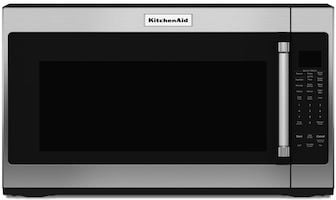 3. LG LMHM2237ST - 1,000W, 2.2 cu ft - $499
Another brand worth considering is LG. LG has been a large player in the cooking industry for many years now, and the LG LMHM2237ST has been a hit with many consumers due to its sleek SmoothTouch glass controls, EasyClean interior, and ExtendaVent technology. It comes in stainless steel at $499 and black stainless steel at $549.
The extendable ventilation system offered with this OTR microwave ensures coverage of your entire cooktop. You may have noticed that most over the range microwaves don't stick out enough to cover the entire cooktop surface, so they can have trouble pulling smoke, steam, and odors from the front burners. The LG ExtendaVent aims to solve this problem with a telescoping vent. You can still operate the vent system as usual without using the vent in the slide-out position, too.
Other cool features include the EasyClean interior, a special coating that helps keep splatters and spills from sticking so it wipes clean with little effort. The microwave is covered with a one year full parts and labor warranty plus 10 years on the Magnetron.
Features
Height: 17.9"

Depth: 15.8"

14.2" turntable

4-speed 400 CFM fan assembly (ExtendaVent; with charcoal filters)

2-stage LED lighting

10 power levels and plenty of auto cooking options


EasyClean interior resists stains and buildup and is easy to wipe down
Click here to read over 100 real customer reviews of this product!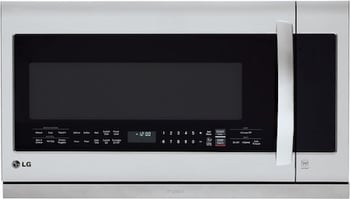 4. GE JVM7195SKSS - 1,100W, 1.9 cu ft - $469
The GE JVM7195SKSS is one of our consumer favorites due to its traditional styling, outstanding performance, and features for the money. Let's start with the 1.9 cubic foot oven cavity with an included metal oven rack for multi level cooking. We're already a step ahead of the average microwave! Then let's turn to its 1,100 watts of cooking power with 10 adjustable power levels, which is above-average in the industry and will cook and heat faster than its 1,000 watt competitors. Be aware that due to the higher wattage, paying closer attention to heating instructions found on food packages is necessary.
Its two lines of scrolling display make it easier to read cook times, power levels, fan speeds and lighting positions. The two-stage cooking surface halogen lights are perfect for over the range lighting. The exhaust system features an astounding power-boosting 400 CFM three-speed fan assembly with heat sensor activated cavity and surface detection will do a great job of getting rid of smoke and odors from your kitchen. The fan assembly can be adjusted for recirculation or outdoor venting.
This GE model has a 14.25" recessed turntable with the option to disable rotation for oversized cookware. And how's this for handy controls? Beverage, Defrost, Popcorn, Potato, Reheat, Melt and an Add 30 Seconds button are all included to speed up the cooking process.
The manufacturer's warranty consists of one year on parts and labor. This unit prices at $419 in white or black, $469 in stainless steel, and $519 in GE slate, black stainless steel and GE black slate.
Features
Height: 16.5"

Depth: 15.5"

14.25" recessed turntable

3-speed 400 CFM fan assembly (ducted/recirculating)

2-stage halogen work surface lighting and incandescent interior light

Two display lines for easy reading of power levels and other settings
Click here to read over 330 real customer reviews of this product!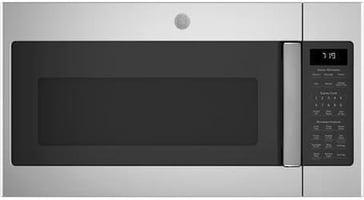 5. Samsung ME18H704SFS - 1,000W, 1.8 cu ft - $319
Samsung has amazed us with their most popular model ME18H704SFS that's loaded with user-friendly features. Try this out for size: a 1.8 cubic foot ceramic enamel coated oven cavity with a 14.2" turntable and metal interior wire rack, rounded out with 1,000 watts of cooking power!
For ventilation, it has a four-speed 400 CFM convertible vent fan to reduce odors with a Simple Clean Grease Filter that only needs the push of a finger to eject from its slide-out frame for cleaning or replacement. It's designed to operate quietly, too.
This unit has six sensor cooking settings, including Popcorn, Potato, Pizza, Cook, Reheat and Veggie as well as six additional auto presets which save you time and effort on cooking and reheating. It also has an easy-to-read Ice Blue LED Display, another great touch. Keeping the interior clean is easier than ever - the enamel coating found inside this microwave is known for easy clean-up! If a boil-over or spatter occurs, simply wipe up with a damp cloth. This coating normally will not allow foods to stick or adhere to the surface.
Samsung covers this product with a one-year parts and labor warranty and 10-year parts warranty on the Magnetron. It is priced at $299 in white, $319 in stainless steel and $369 in black stainless. Don't forget to add this one to your shopping list!
Features
Height: 17.06"

Depth: 15.56"

14.2" turntable with metal rack for multi-level cooking

4-speed 400 CFM fan assembly (ducted/recirculating) with Simple Clean Grease Filter

2-stage halogen work surface lighting and halogen interior lighting

Ceramic enamel interior coating for easy cleaning
Click here to read over 470 real customer reviews of this product!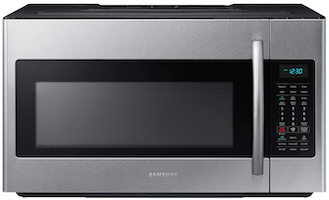 We hope you enjoyed our review of the five best over the range microwave models on the market from some of the top kitchen appliance brands. Samsung (#5) offers a lot of great features at a low price, while the Frigidaire model (#1) is a solid value pick. Explore new features with LG's ExtendaVent (#3), or go big with the KitchenAid's large capacity (#2). If you want an OTR microwave that will blend in more with your kitchen, consider a low profile microwave. Now you can head out shopping and see which model fits your needs!
Please leave us a comment below - We'd love to hear from you!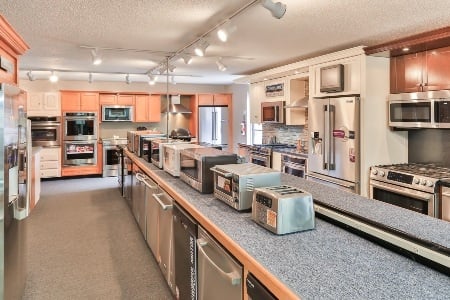 Editor's Note: This blog was originally published in February of 2016 and has been completely revamped and updated for accuracy as of the publication date noted above.