In a Hurry? Check Out Our Video on Choosing the Perfect Microwave!
Overview - Sizes, Pricing, & More
---
There are a wide variety of sizes and styles of microwave ovens available, pricing from $50 to $900, with lots of prices in between. Over the range microwave pricing starts at around $199, while countertop microwaves start at around $50. Built-in models tend to cost at least $300.
Microwaves may be anywhere from 0.5 cubic feet up to 2.2 cubic feet. The average capacity is around 1.2-1.5 cubic feet. However, you'll want to pay attention to the interior dimensions and turntable size as well. The overall height and width available will determine what items will fit inside. Larger microwaves may claim that they can fit a 13x9 inch casserole dish or a full-size coffee cup. There's nothing worse than trying to microwave a tall travel mug or big container only to find that it won't fit (okay, there are plenty of worse things, but it's certainly annoying).
The more expensive models tend to have improved sensor cooking, higher wattage, features like convection, and sleek exterior styling.
There are a few different types of microwave styles. Which type is right for you generally depends on your countertop space, current configuration of cabinets and cooktop ventilation, and aesthetic preferences.
Countertop Microwaves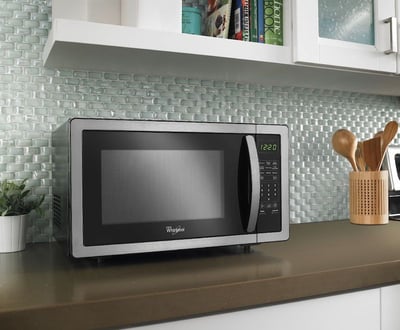 Countertop microwave ovens are designed to fit anywhere on a counter in a home, office, dorm, or any other space. They come in a variety of sizes from 0.5 to 2.0 cubic feet to fit any area. The cheapest microwaves are in this category, and the prices start as low as $50 and go all the way up to $900 or so.
Compact microwave ovens are small to fit in small areas like dorm rooms, small offices and tiny apartments. These microwave ovens generally have lower wattage (usually around 700 watts) and will take a little longer to cook or reheat. They offer around 0.5 to 0.9 cubic feet of capacity and are typically under 11 inches high by 18 inches wide by 14 inches deep.
A midsized microwave of around 1.0 to 1.5 cubic feet will typically be around 12 inches tall by 24 inches wide by 12 or more inches deep. The cooking power of these models is typically around 1,000 watts, so they will cook items more quickly.
Large countertop microwaves may be up to 2.2 cubic feet with 1,200 watts of cooking power on average. They are typically 12 or more inches tall by 18 inches or more deep by 24 inches wide.
You can also buy a matching trim kit to make a countertop microwave look built-in if it's placed in an existing cabinet or open shelf. Some microwaves come with kits to mount them to the underside of a cabinet as well.
Over the Range Microwaves
Over-the-range microwave ovens, commonly called OTRs, are made to go over a cooking surface and are designed with an exhaust fan to vent the range as well as task lighting for the cooking surface. These models save counter space but require more complex installation. Hiring a professional to replace an old or broken OTR microwave can cost over $100 on top of the purchase price of the new microwave.
This type of microwave can usually be converted to either a recirculating ventilation system or external venting, depending on the existing installation. The dimensions are more standardized than countertop microwaves: they are typically available in 30-inch wide or 36-inch wide configurations to match the width of the stove or cooktop. They are usually about 15-17 inches tall and 15-16 inches deep. Low profile microwaves are a new option that aim to provide the same capacity while shrinking the height for a sleeker look.
Beyond the general features like capacity, sensor cooking, and wattage, when it comes to an OTR microwave you'll also want to see how powerful the fan system is, what type of lighting is used, and what the options are for using each.
Built In Microwaves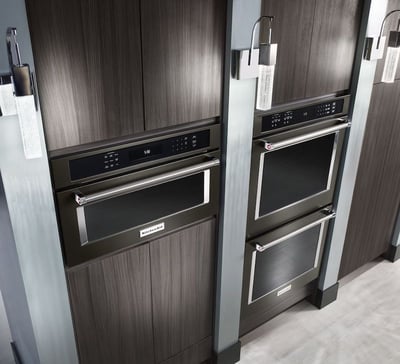 There are two main types of built-in microwaves: wall models and microwave drawers. Wall models can be built into the cabinets anywhere in the kitchen, and are sometimes placed over a single wall oven. They usually have a drop-down type door rather than a side-swing. They are designed to fit standard cabinet widths, with 24 inches wide being a common option to match a wall oven. Heights range from 19 to 22 inches, while the depth can be 18-24 inches depending on the intended installation location. Capacity varies from 1.0 cubic feet to over 2.0 cubic feet, with an average of around 1.2-1.5 cubic feet.
Wall cabinets are typically 12 inches deep, while floor cabinets and wall oven cabinets are generally 24 inches deep. The installation location will impact the ideal dimensions for your new built-in microwave.
Microwave drawers are built-in below the countertop, usually in an island, and slide out for use like a drawer. They come in 24 and 30-inch widths and are priced starting at around $900. They typically offer about 1.2 cubic feet of capacity.
Wattage - How Much Power Do You Need?
---
Although microwave wattage ranges from 600 watts up to 1,200 watts or even more, we think that the sweet spot is about 1,000 watts, so you have a good amount of power at your disposal to heat things up more quickly. Smaller microwaves tend to be around 700 watts. Usually the larger models try to offer a lot of higher-end features so you're more likely to have higher cooking power in a larger model.
When combined with sensor cooking or convection, you can get the most out of those watts and get improved results - no more exploding meals or soggy reheated pizza!
Terms & Features - Options to Consider
---
Next up - What should you look for in a new microwave? Browse through these common features and terms and take note of anything that makes you nod and think "Yes! I want that!"
Turntable
Beyond the microwave's internal dimensions, the size of the turntable will impact the size of the dishes and containers you can heat in your microwave. You may also want to consider the supports underneath the turntable, which keep the turntable balanced. With some microwaves you can also set the turntable rotation on or off.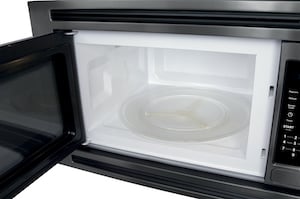 CFM (Cubic Feet per Minute)
The velocity of the fan in an OTR microwave oven to vent the range or cook top. The average is around 300-400 CFM, even for high-end over the range models. This may not be enough for high-powered gas ranges.
Sensor Cooking
The use of a sensor or several sensors to monitor the steam released by the foods being cooked will allow the microwave oven to automatically shut down when the food is done. You can avoid cold spots and exploding meals with this feature! Many microwaves with this feature offer preset sensor cooking buttons for different foods to make the process even more seamless.
Convection
Microwaves with convection allow you to brown and crisp food for extra flavor and great texture. Microwave convection works similarly to an oven by circulating hot air. Some models let you use the convection feature alone to bake or roast in the microwave, while others combine convection and microwave methods to cook your food and seal in flavor at the same time. Some brands have even taken it a step further with options for frying or grilling!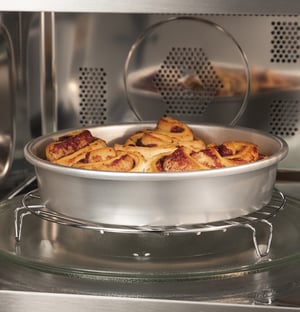 Racks
Some microwaves (usually larger capacity models) come with a removable rack, similar to an oven rack, so you can cook on two levels. You can place items on this rack for improved defrosting or to cook them more evenly.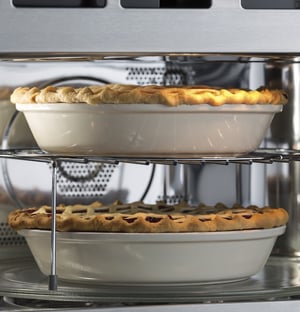 Inverter Heating
What happens when you set your microwave to a lower power level? Usually, it runs at full power intermittently to achieve a less intense cooking effect. This can result in uneven cooking and defrosting. An inverter microwave actually modulates the power so that your microwave will run consistently at the power level you choose. If you want to defrost meats without ending up with cooked edges, an inverter microwave is worth considering!
Easy Clean Interior
Some brands offer microwaves with porcelain-enameled interiors or other materials to make wiping down the inside much easier. This coating will resist stains and bacteria and won't "cling" to food spatters.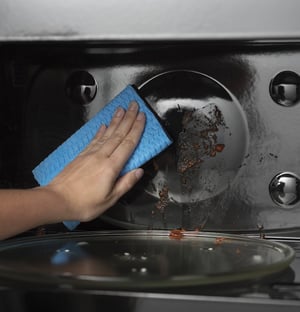 Presets & Control Panel
What kinds of presets are included? Going beyond Defrost, some microwaves offer settings for pizza, potatoes, vegetables, meats, and more. While you're at it, take a look at the buttons and how you are expected to operate the microwave. Is it intuitive? Are the buttons easy to push and clearly identified?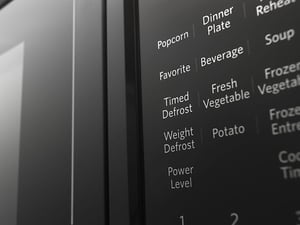 Child Lock

Especially if you're considering a microwave drawer, a child lock can be helpful if your home has children that are tall enough to reach the microwave but not yet old enough to be trusted with using it!

Smart Technology

There are a few smart microwaves on the market, too. For example, microwaves from the Whirlpool connected appliances line use Scan to Cook technology to cook frozen meals.
How to Choose the Right Design
---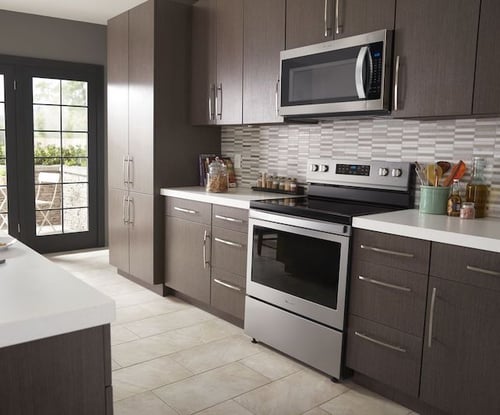 If you are building a new home or remodeling your kitchen, you will need to consider some different microwave styles like built-in microwave ovens or drawer microwave ovens. Consult with your kitchen designer and see which style will work best for you. It could be an OTR that does the job. If you are replacing a countertop microwave oven, consider upgrading to an OTR and getting it off the counter. Whichever way that you decide to go, you should consider the following things:
How big of a countertop microwave oven will you be able to fit without taking up too much of your counter space?

Is your countertop microwave oven taking up too much space? Options like drawers and OTRs can solve that problem.

If you have an island planned for your new kitchen, would you consider a drawer microwave oven? It might work best for you.

Are you able to accommodate an OTR microwave in the space that you have over your range? You need at least 30 inches of width and 30 inches of height from the cooking surface to the bottom of the mounting cabinet.

Would you like to have a second oven? If that appeals to you, a convection microwave oven might be just what you need.

If you are just interested in replacing what you have in a microwave oven, you will still need to know the physical size of the one that you are replacing so that it will fit in the same area.
If you are considering going to an OTR microwave, make sure that you have a sturdy cabinet over your range and a 115-volt electrical outlet in the cabinet to connect it to. Most stores will have installers who can install it for you. If you use a microwave oven for mostly reheating and defrosting, you can buy any basic model and it will do the job well.
Microwave ovens have a lot of new technology and features just like all other new appliances, so don't buy without looking at what's new! You may be surprised at the useful features that are available.
When shopping for a new microwave oven, there are a lot of things to consider before making your purchase. There are many brands available and many styles to choose from. Some brands are quieter than others, some have better lighting and some have better warranties. Take a good look before you buy and choose the right product.
Microwave ovens will last for about 8 to 10 years, depending on the brand that you buy and the way you take care of it. Most brands offer reliable products and have service available if you need it. Brands such as Frigidaire, GE, LG, Samsung and Whirlpool are good options to consider.
To summarize, here's what you should know before going shopping for a new microwave:
The type of microwave you are shopping for

The dimensions of the area in which it will go or the ideal external dimensions of the microwave you need

If you are replacing an existing OTR or if you are doing a new OTR installation, decide whether you want it installed by the dealer, if you will install it yourself, or have a friend or family member install it for you

Do a little research and decide what features you may be interested in having in your new microwave oven

Have an idea of your budget
If you like what you've read here, download the free PDF version of this guide so you can access it anywhere!