LG and Samsung have become two of the top names in appliances in a short time due to their reputation for making great products in the cell phone and flat screen TV businesses. They make innovative appliances with thoughtful features, and their microwave ovens are no exception.
Microwave ovens are the one appliance that people hate to be without. When the old one breaks down, it needs to be replaced quickly and people sometimes make hasty decisions based on price to replace them. Take a look at some of the great features of these two reasonably priced brands and you may be pleasantly surprised! (For more info on choosing a new microwave, check out our microwave buyer's guide!)
Learn more about choosing a new microwave in our video!
The LG LMV1764ST - 1,000W, 1.7 cu. ft. - $249
LG LMV1764ST is a 1.7 cubic foot 1,000 watt over the range microwave with a great feature package. Selling for $249 in stainless steel, it fits easily into the budget. With 1,000 watts of cooking power, you can handle anything from quickly reheating a cup of coffee to fully cooking a meal.
Its quick and simple pre programmed settings allow you to cook foods like chicken nuggets and popcorn, heat water for coffee or tea, and reheat leftovers at the touch of a button. The 30-second button allows you to quickly add cooking time to heat up foods by just touching the button once for 30 seconds, twice for 1 minute, and so on.
The turntable diameter is 12.6", large enough for most dishes, and the rotation can be turned off for large items. It comes with a two-speed 300 CFM fan assembly and LG's EasyClean interior that resists stains and buildup. Use the Energy Savings option to turn off the display when the microwave is not in use, saving electricity.
Dimensions:
Height: 16.4375"

Width: 29.875"

Depth: 15.6875"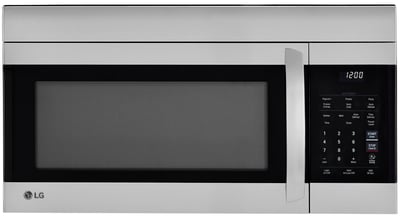 The Samsung ME19R7041FS - 1,000W, 1.9 cu. ft. - $349
Samsung Model ME19R7041FS is a 1.9 cubic foot OTR microwave with sensor cooking and a durable ceramic enamel interior that's easy to clean. You can buy it for $349 in stainless steel, $399 in fingerprint resistant Tuscan stainless steel or black stainless steel, or $329 in black or in white. It offers a lot of features for its price range. Whether you are reheating last night's leftovers, heating up a beverage, or cooking a frozen dinner, sensor cooking takes the guesswork out of it for you so you can get perfect results every time.
This oven vents the cooktop surface with a powerful 400 CFM fan. The filter is designed to be easily removed from the vent, and the fan has four speeds in total. It has a Turntable Off option and a 30-second button for quick and easy reheating. The "Eco Mode" option conserves power by turning off the display when the microwave is not in use.
If you're looking for a powerful microwave, check out this Samsung model when you go shopping!
Dimensions:
Height: 17.0625"

Width: 29.875"

Depth: 16.5"
Click here to read over 115 real customer reviews of this product!


Samsung Model ME19R7041FS - $349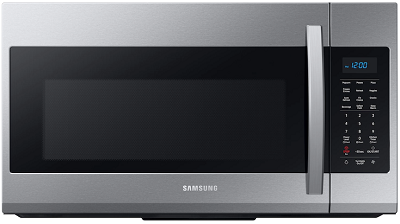 Features Comparison
Options & Controls: Both models have similar control options like sensor cooking presets, a turntable on/off option, energy saver options, and an add 30 seconds button.

Look & Feel: Both have sleek, modern designs that would fit in well with any kitchen. They also both have coated interiors for easy cleaning. The Samsung model is available in more colors and finishes.

Ventilation: Samsung wins here with a more versatile 400 CFM fan with four speeds, compared to LG's two-speed 300 CFM fan.

Pricing: The LG model is less expensive at full price than the Samsung model, and both come with a one-year parts and labor warranty plus 10 years on the magnetron. So if you want to spend less on a stainless steel microwave, the LG model is the way to go!
Most people don't need a lot of features in a microwave. They are primarily used for convenience cooking and reheating, but there are a lot of new features that may be good for you. The Turntable Off feature on these models is one example of a simple upgrade that can really come in handy! It's worthwhile to consider some of these new designs and features.
Be sure to look at these two brands when you go shopping and you may find the perfect microwave oven for your family. You can discover more OTR microwave reviews in our list of the best over the range microwaves of the year!
Editor's Note: This blog was originally written in January of 2016 and has been completely revamped and updated for accuracy as of the publication date noted above.