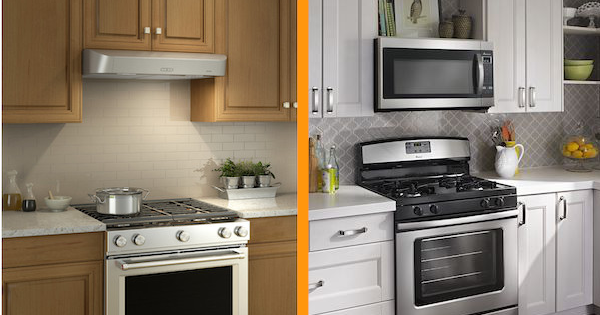 Your home may have come with a range hood or over the range microwave already installed. If you're considering swapping one for the other, you'll want to know the advantages and disadvantages of these ventilation methods.
A Note About Ductless/Recirculating Ventilation
If you have a ductless vent hood or OTR, much of what we discuss about ventilation capabilities doesn't apply. Ductless ventilation isn't ideal, but it's better than nothing. Just make sure to replace the charcoal filters periodically - usually around every 6 months.
The vast majority of vent hoods and microwaves are easily convertible from ductless to ducted venting - they are designed to do either.
CFM means "Cubic Feet per Minute," and it's a measure of how much air a ventilation system can move. 250 CFM is about the minimum we recommend - you can find more information in our ventilation buying guide.
OTR Microwave Pros & Cons
The main advantage of an OTR microwave is that it frees up counter space that would ordinarily be taken up by a countertop microwave while still providing task lighting and ventilation like a range hood. However, in general, these venting microwaves don't ventilate as well as a good range hood. They tend to be less powerful - maxing out at around 400 CFM - and may not provide good coverage of the cooktop surface. LG's ExtendaVent OTRs are an attempt to address this problem.
OTRs are also taller than range hoods. Depending on your cabinetry, an OTR might make it harder to access your cooktop or be mounted too high for some household members to reach. Reaching up to load and unload a heavy dish or bowl can pose a hazard. Another downside: any time you combine two appliances into one, repairs tend to get more complicated and you lose out on two functions if the appliance breaks down.
Over the range microwaves are a good fit for...
Electric stovetops/cooktops, since they tend to be less powerful than gas stoves

Households that don't cook on the stove often (never or rarely frying)

Cabinetry that allows for enough clearance between the bottom of the microwave and the cooktop

Small kitchens with limited counter space for a microwave
OTR Microwave Alternatives
If you don't have enough cabinet height, possibly because your kitchen was designed with a range hood in mind, a low profile microwave could be a great option. These models are a little over 10" high, so they really blend in. If you are doing a high-end remodel, you could also consider a built-in microwave or an undercounter drawer microwave.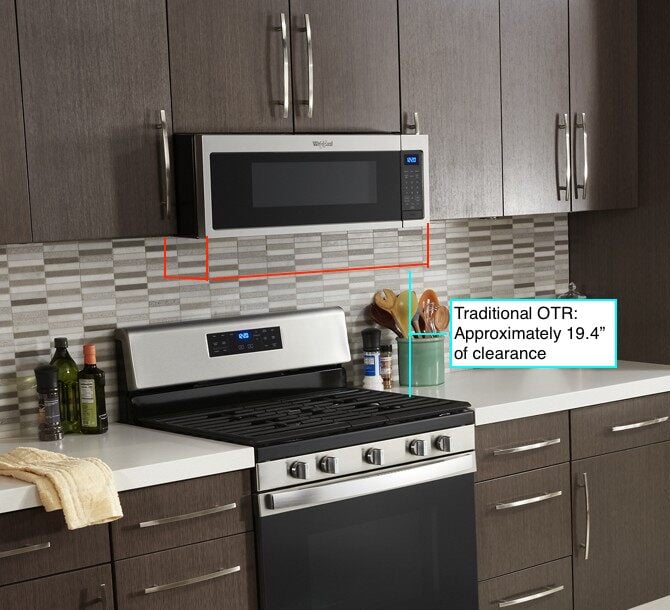 Range Hood Pros & Cons
Range hoods from brands like Broan, XO Ventilation, and Zephyr are known for quality designs and great performance. Mainstream appliance brands also offer chimney hoods if you want an exact color match for a kitchen suite. The cheapest range hoods cost less than the cheapest over the range microwaves. Since they extend further out over the cooktop, they do a better job at capturing smoke, steam, and odors from the front two burners. They are also available in 36" and even 48" widths for professional gas ranges.
They can also be more powerful than OTRs. There are many 400-600 CFM models and even 1,000+ CFM models.
Range hoods are a good fit for...
Gas stovetops/cooktops due to their heat output, especially a professional- or commercial-style range

Households that cook on the stove often, especially wok cooking and deep frying

Lower cabinet configurations

A sleeker aesthetic - more professional/high end
Conclusion
OTR microwaves are a fine option if you don't cook often, but a range hood is usually the better choice, in particular with the high heat output of gas burners. We recommend brands like Broan, Zephyr, and XO Ventilation for range hoods. Mainstream appliance brands like Whirlpool, Frigidaire, GE, and LG all make over the range microwaves. Check out our reviews of the best over the range microwaves to compare your options.