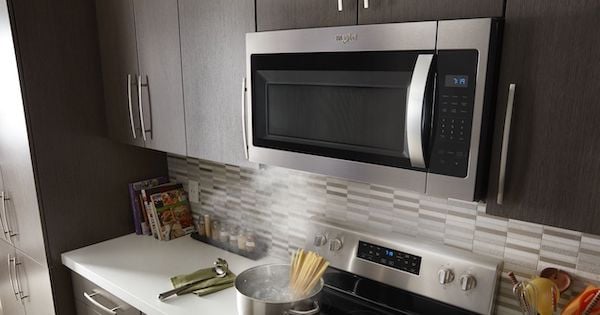 Most of us rely on microwave ovens to quickly reheat and cook foods and beverages throughout our busy day. Whether we're cooking full meals or simply reheating our coffee, we depend on their quick response! If you're looking for a new over the range microwave, Frigidaire and Whirlpool offer nicely featured basic models at reasonable prices.
Let's take a look at microwave reviews for two top sellers from these famous manufacturers retailing at under $400! (For more info on choosing a new microwave, check out our microwave buying guide!)
Table of Contents
Learn more about choosing a new microwave in our video!
The Frigidaire FGMV17WNVF - 1,000W, 1.7 cu. ft. - $379 MSRP
The Frigidaire FGMV17WNVF provides 1.7 cubic feet of capacity with 1,000 watts of cooking and heating power along with sensor cooking. The 13.5" stoppable turntable is large enough for over-sized plates and the ability to turn off the turntable's operation is great for an oblong-shaped item, such as a casserole dish, that may be too long to make a full rotation. The included SpaceWise rack comes in handy for multi-level cooking.
Sensor cooking options automatically adjust power levels and cooking times to cook and reheat a wide variety of foods effortlessly. Overall, this microwave oven has 30 heating combinations to accommodate any cooking or heating needs.
Two LED work surface lights have multiple levels of brightness for working and can also be useful as a nite-light. Adjacent to these are the included washable grease filters that help clear the air of airborne oils and grease from cooking. The two speed ventilation motor tops out at 300 CFM. The air can be vented outdoors or recirculated through the supplied charcoal air filter depending on your installation.
This Frigidaire over the range microwave is available in smudge-proof stainless steel at $379 MSRP or black stainless steel at $419 MSRP.
Frigidaire FGMV17WNVF - $379 MSRP - CLICK HERE FOR CURRENT PRICING!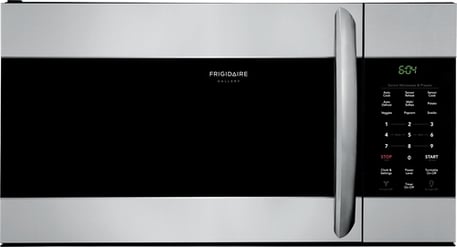 The Whirlpool WMH31017HZ - 1,000W, 1.7 cu. ft. - $339 MSRP
The Whirlpool WMH31017HZ also offers a 1.7 cubic foot capacity and 1,000 watts of power to heat and cook food items. This model's turntable size is 12" and cannot be shut off to disable the rotation. Popcorn, Potato and Pizza are a few quick press options that are pre programmed from the manufacturer to run estimated cook times per selection.
The control panel is quite easy to navigate through and cleans up easily. A two-level single work surface light and two-speed 300 CFM ventilation system will not only light your cooking area but also allow the user to match the right amount of ventilation to the dish being prepared and whisk away any smoke, odors and airborne oils. You can recirculate through the included grease and charcoal filters or divert the fan outdoors for optimum air clearing.
This model prices at $339 MSRP in fingerprint resistant stainless steel, $319 in stainless steel and $269 in white or black.
Click here to read over 625 real customer reviews of this product!
Whirlpool WMH31017HZ - $339 MSRP - CLICK HERE FOR CURRENT PRICING!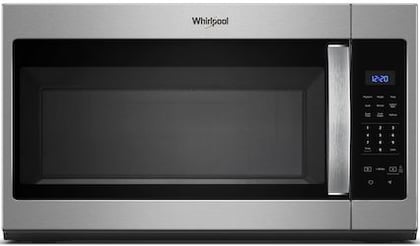 Features Comparison
Controls & Options: Both models have a similar array of one-touch presets. However, the Frigidaire model comes with a rack included for multi-level cooking, and has a stoppable turntable.

Ventilation: Both models have 300 CFM two-speed ventilation systems that should operate pretty similarly.

Look & Feel: Frigidaire has a slightly more sleek style overall. Both models win points for being available in fingerprint resistant finishes, but the Frigidaire model comes in black stainless while the Whirlpool option does not.
Be sure to look at these two great models when you go shopping for your next microwave. Compare and contrast the features and pricing and decide which is best for you. Do you want to be able to cook on multiple levels or reheat bulky dishes, or do you just want a basic microwave setup? The Whirlpool model keeps it simple, while the Frigidaire model has a few extra features packed in.
Please feel free to leave us a comment below - We'd love to hear from you!
Editor's Note: This blog was originally written in October of 2016 and has been completely revamped and updated for accuracy as of the publication date noted above.