This model comes with a grounding plug so it does not need to be hardwired. The warranty covers one year parts and labor with in-home service, and a limited five-year parts warranty on the magnetron tube. Don't overlook the Sharp microwave drawer if you are going to consider this style.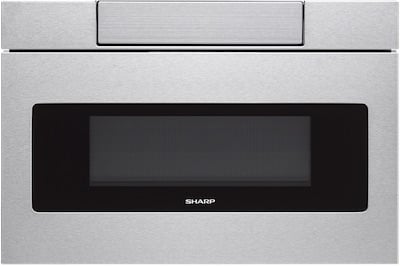 2. KitchenAid KMBD104GSS - $1,599

The KitchenAid KMBD104GSS is a more expensive microwave drawer model with a sleek stainless steel frame and black glass panels. The controls are fixed above the drawer - no 45-degree angle on this one! Just touch a button to open and close the microwave drawer and feel free to set the control lock if there are little kids in the home - just press and hold the designated Control Lock button. With various sensor settings, including a reheating mode, and programs for Keep Warm and Timed Defrost, this undercounter microwave makes cooking and reheating easier than ever.
Like the Sharp microwave drawer model, this microwave is 950W and has 1.2 cubic feet of capacity. However, it lacks the the angled flip-out controls. Some customers find that the non-backlit controls are hard to see.
Click here to read over 65 real customer reviews of this product!
KitchenAid KMBD104GSS - $1,599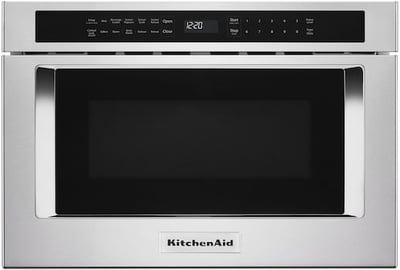 3. Bosch HMD8451UC - $1,499

This last microwave drawer review comes from Bosch. Similar to the Sharp model, the stainless steel and black glass model HMD8451UC offers a sleek flat-face design. Automatic sensor programs take care of perfectly defrosting, reheating, or cooking for you. It comes with a control lock and glass touch controls. The white LCD matches Bosch wall oven controls for that high-end look. It opens with the touch of a button.
Bosch offers a simple Panel Lock option: press and hold the Panel Lock button for three seconds to toggle the control lock on and off. The Bosch model also offers multiple sequence cooking and has room to hold a 20-ounce tall coffee cup or a 4-quart casserole dish with ease.
Click here to read over 75 real customer reviews of this product!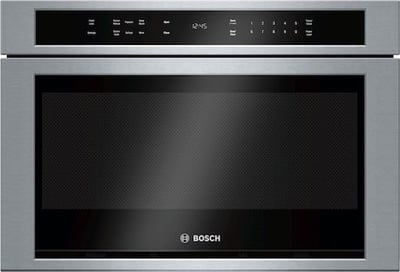 We hope this article helped give you a quick overview of what undercounter microwaves or microwave drawers are, how they compare to conventional microwaves, and what features you can expect in a typical microwave drawer. If you'd like to save counter space but would prefer an over the range model, check out our reviews of the best over the range microwaves of the year!
Editor's Note: This blog was originally written in September of 2018 and has been completely revamped and updated for accuracy as of the publication date noted above.