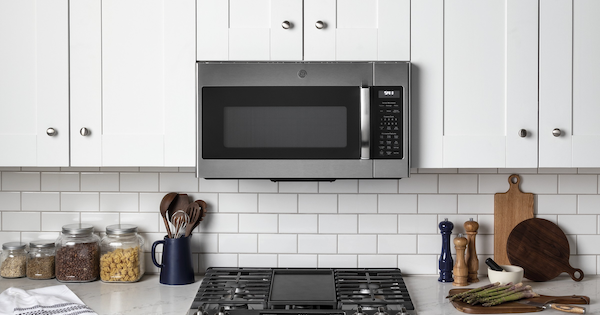 It's not every day that you are shopping for a microwave oven. In fact, if you are in the market for a new unit, it's most likely due to a catastrophic cooking failure or because your old one is worn out past the point of repair. So, what types of features would you like on your new microwave oven? With so many manufacturers promoting what they believe to be the best features and all the different price ranges, where do you begin? What are the features that you'll actually use and what makes one microwave oven better than another? This blog is designed to help you to answer all of these questions to choose the best over the range microwave for your needs.
If you're looking for a higher-end, over the range microwave in the $550-600 range, LG and GE over-the-range microwaves have some great features that make these models easier to use for microwaving and stovetop ventilation as well as easier to clean. Let's take a look at two of these two models and see which one has the right combination of features for you!
Learn more about choosing a new microwave in our video!
The GE JVM7195SKSS - 1,100W, 1.9 cu. ft. - $528
The GE JVM7195SKSS is a 1.9 cubic foot microwave with 1,100 watts of cooking power. That's 10% more cooking power than the average competitor's 1,000 watt unit! Quicker heating results and more heating options are available as this microwave has 10 power levels to choose from.
An interior wire rack is included for those who like to reheat more than one plate at a time. The enamel interior is easy to wipe clean and the recessed turntable can be set on or off for handling large items. The electronic control panel offers 9 sensor cooking options, including melt, popcorn, potato, and more. It will also notify you when it's time to replace the up-front charcoal filter in the ventilation system.
Alongside the halogen surface lighting, you'll find a Nite-Light timer that can be programmed to turn on and off at the times you like - perfect for midnight snackers! The powerful four-speed exhaust fan is rated for 400 CFM (cubic feet per minute), while most competitors are offering 300 CFM.
This model also comes in a stunning array of colors, including:
Stainless steel - $528

Black stainless steel - $519

Slate or black slate - $578

Black or white - $478
Click here to learn more about slate, black slate, and black stainless steel!
Click here to read over 1,505 real customer reviews of this product!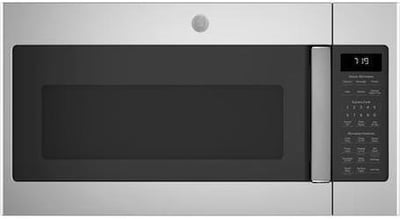 The LG MVEL2137F - 1,050W, 2.1 cu. ft. - $599
LG makes the list with their LG MVEL2137F, which brings features that the industry has never seen before. To start with, it has a 2.1 cubic feet Easy Clean dark gray interior that's easy to wipe clean and also hides stains and marks in the meantime compared to a white interior.
One limitation of OTRs is that the ventilation system sits too far back from the edge of the cooktop to effectively pull smoke and odors from the front two burners of the stove below. LG addressed this with the ExtendaVent 2.0, a retractable, telescoping exhaust vent that provides greater coverage not only for the front of the stovetop, but all over the stovetop to keep your kitchen clear of odors and steam. It covers about half of the front burners, so you don't have to worry about bumping your head on it! The blower is 400 CFM and four speeds, and an air recirculation charcoal filter helps scrub odors and oils from the air. The surface lighting uses LEDs for bright light that will last for years.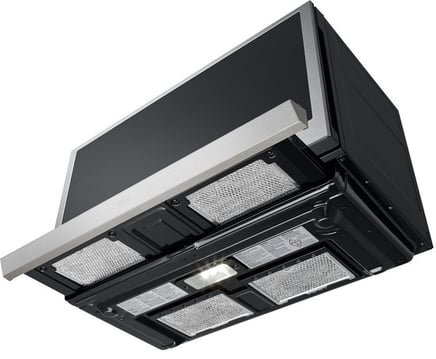 The 1,050 watts of cooking power is average, and the control panel is loaded with a list of sensor selections for melting, heating and cooking, popcorn, auto defrost, and custom settings. The interior has a 14.2" turntable, which can be turned off for casserole dishes. This also gives you the option to add 30 seconds cooking time, and a completion beeper to let you know once cooking is done. LG's warranty consists of 1-year parts and labor, and a 5-year parts warranty on the Magnetron Tube.
This model is available in PrintProof stainless steel at $599 and black stainless steel at $649.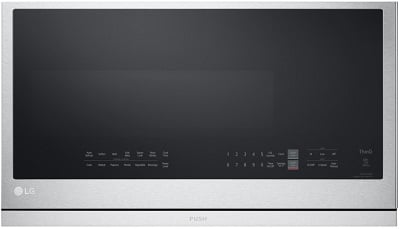 Features Comparison
Controls & Options: Both offer a good combination of sensor cooking presets, task lighting, and ventilation options. GE also offers a "steam clean" feature to help make dried-on messes easier to clean up.

Ventilation: LG definitely wins here with the ExtendaVent 2.0 system, but both offer a more powerful 400 CFM fan system with four speeds.

Look & Feel: LG has the edge in overall design with glass touch controls placed across the door rather than a panel next to the door handle. They both come with dark gray interiors that are easy to wipe down while hiding drips and spatters better than white interiors. However, the GE model comes in a large array of color options to suit any kitchen design!
So, which is better, the GE over the range microwave or the LG model? Both are really nicely featured models that are a cut above the rest. The LG model may be a better pick for you if you do high-heat cooking over gas burners and want the convenience of an OTR plus the better venting ability of a range hood. GE also has a lot to offer and comes in a lot of colors plus a slightly lower price. It's up to you to decide which model is right for your needs!
For more OTR microwave reviews, check out our list of the best over the range microwaves of the year. Please leave us a comment below - We'd love to hear from you!
Editor's Note: This blog was originally written in March of 2016 and has been completely revamped and updated for accuracy as of the publication date noted above.