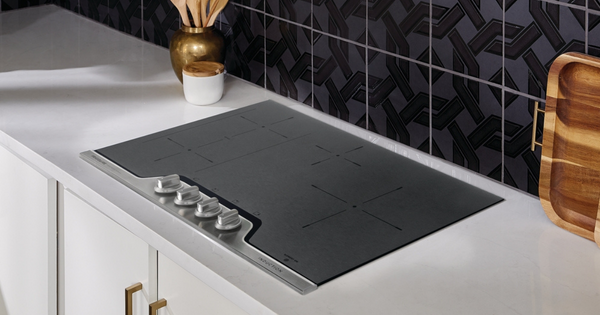 Stovetops with induction offer quick heating times and fine-tuned temperature adjustments while keeping your kitchen and the stovetop surface cool since induction transmits heat directly into your cookware. Magnetic induction elements heat faster than electric elements, and spills won't turn into a hard crust on your cooktop since the cooktop doesn't get hot. (Read more about induction here.) Once you have a set of magnetic pots and pans, you're ready to start cooking with induction! If you're looking for a new cooktop and are interested in going for induction technology, our reviews of the best induction cooktops should help you get started.
The models are listed in no particular order but are numbered for your convenience! They are all 30" models, but we link to 36" models where available. Prices range from $1,799 to $2,299, although holiday sales and package deals can save you 20% or more off the MSRP. Let's dig in!
Table of Contents
Induction Cooktop Tips & Tricks
Many induction cooktops have touch controls. This makes cleanup easy (you don't have to remove knobs if you have a spill), but there is a learning curve if you're not used to them. It's also worth checking the owner's manual to find out the control lock option so you can wipe the control panel down without turning on a burner.

Use a recommended ceramic glass cleaner. It's also a good idea to keep a single-edge razor scraper around in case a spill manages to burn onto the cooktop. If you're only using one burner, you can also put down some paper towels outside of the burner's radius to soak up drips and spatters. Just like with electric smoothtops, hot sugary spills can result in pitting of the cooktop surface. If a sugary spill occurs, use a razor to scrape the spill to a cool area of the cooktop and soak it up with paper towels. Let any remaining spillover cool and carefully remove all traces of the residue before using the cooktop again.

Good cookware is critical. You probably already know that your cookware should be magnetic. Just like with any other stovetop cooking method, you want pots and pans with flat (not warped or uneven) bottoms to make full contact with the cooktop surface, and quality construction to encourage even heating.
1. Frigidaire Professional FPIC3077RF - $2,199
Looking for the best induction cooktop under $2,200? Frigidaire Professional should be at the top of your list with the Frigidaire Professional FPIC3077RF, with an MSRP of $2,199. This ADA compliant model, available in black only, will blend into your kitchen seamlessly. The stainless steel knobs looks sleek, they provide an accurate temperature for simmering, sauteing, searing, or boiling.
This cooktop comes with a 6" zone, two 7" zones, and a 10" zone - but you have a bit of flexibility since SpacePro™ Bridge Element can be used for two separate cooking, or you can even combine the elements when using large pans or even griddles. Save some of the time you spend in cooking everyday with Frigidaire's PowerPlus™ technology that boils water in under 2 minutes!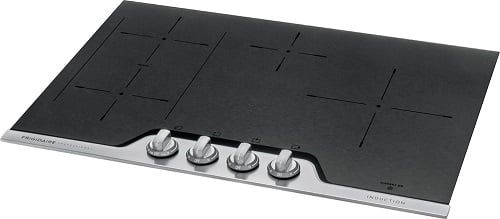 If you're looking for a sleek cooktop for a modern kitchen and like simple, intuitive controls, this four-burner Frigidaire Professional model could be a great option for you! A 36" wide five burner option is available - model FPIC3677RF, retailing at $2,399.
Click here to read over 60 real customer reviews of this product!
Frigidaire Professional FPIC3077RF - $2,199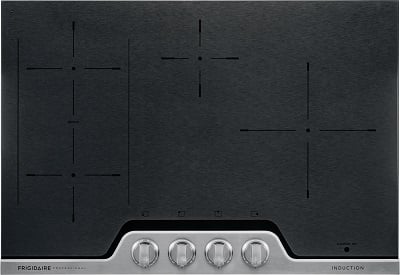 2. Electrolux ECCI3068AS - $2,199
Next up in our best induction cooktop reviews is the Electrolux ECCI3068AS, retailing at $2,199 in stainless steel. Its sleek design that has hidden controls, sharp edge detailing, and the Electrolux signature chamfered glass will complement any kitchen.
The four burners consist of two 8" elements with 3,600 Watts (right front and center rear) and two 7" elements with 2,600 Watts (left front and left rear), and two elements can be connected to form a larger zone that creates even heat, perfect for using griddles. It also features Precise Temperature Control Function, Serve Warm Mode, and Automatic Pot Detection among many others.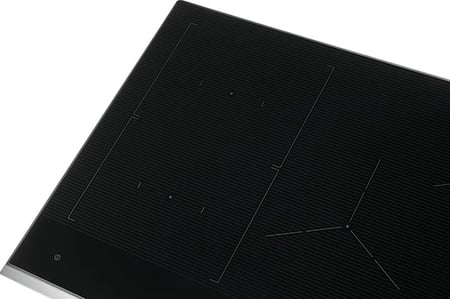 The 36" option is model ECCI3668AS, retailing at $2,399. These Electrolux induction cooktop models are backed up by Perfect Fit Promise that guarantees great fit to your existing space or they'll reimburse you of up to $100 for your modification. Plus, the Platinum Star® Limited Warranty is their exclusive additional one year warranty with product registration in 60 days upon purchase, aside from the standard manufacturer's one year warranty.
Click here to read over 25 real customer reviews of this product!
Electrolux ECCI3068AS - $2,199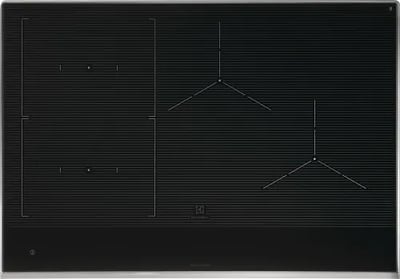 3. Bosch NIT8069UC - $2,299
Bosch, a German brand that is well-known for their great kitchen appliances, also offer induction cooktops. The Bosch NIT8069UC, which retails at $2,299, has touch controls, a black ceramic surface, and a frameless design for a seamless look.
This 30" induction cooktop has four cooking zones, and you can choose from 17 power levels for each cooking zone. In this model, you also get an independent countdown timer and a heat indicator for each cooking zone, making cooking more convenient for you. The cooking zones include two 6" elements at the front and a 9" and an 11" element at the back. Other features include SpeedBoost (which lets you add more power to cook faster), wipe protection, and child lock.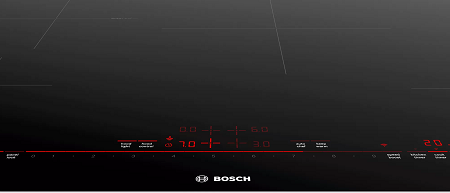 Some customers had trouble with its touch control, stating that it was somewhat difficult to get familiar in using it, especially if you got used with knobs. However, overall customers are pleased with this cooktop's performance and quality for the price. Bosch warranties it for one year parts and labor. If you're interested in the 36" model, you can check out the Bosch NIT8660UC. It retails at $2,799.
Click here to read over 35 real customer reviews of this product!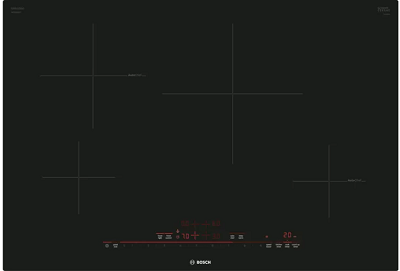 4. GE Profile PHP7030DTBB - $2,220
The next model in our best induction cooktop model reviews is the GE Profile PHP7030DTBB, retailing at $2,220 in black. The four burners are controlled via a digital glide touch control panel. The smooth glass surface is also easy to clean!
You get a 7" 2,500W left front burner, an 11" powerful 3,700W burner, and two 6" 1,800W rear burners. To have full control and responsiveness while cooking, you can adjust the burners with 19 heat settings and Precision Temperature Control. Features like Power Boil for boiling water quick, a timer, and a safety control lock setting are great additions. This model is also smart with built-in WiFi - with the app that will guide you, you can connect a smart pan and your burners will adjust time and temperature based on a video-guided recipe!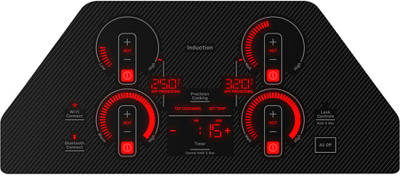 GEcovers the cooktop for one year parts and labor. The 36" model is the GE Profile PHP7036DTBB, retailing at around $2,442. GE's Fit Guarantee will reimburse you up to $100 for cabinet modifications if the new cooktop doesn't fit in an existing cutout (check the offer for more details). GE's induction cooktops are very popular!
GE Profile PHP7030DTBB - $2,220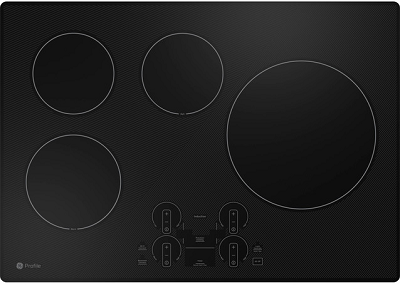 5. Frigidaire FCCI3027AB - $1,799
Last but not least is one of the best induction cooktops under $1,800 - another model from Frigidaire! Retailing at just $1,799, this ultra-affordable cooktop comes with the Frigidaire Fit Promise plus a basic setup of four induction cooking zones. The frameless black design will integrate seamlessly with your counter!
This model has a large 8" central element, two 7" elements, and an 8" right front element marked with guides to show you the range of pan sizes each element can accommodate. With Auto Sizing™ Pan Detection, it detects the size of pan you're using and it adjusts the heat accordingly. The glass touch controls include a control lock feature and a timer. There's also a Power Boil "P" high power setting to quickly boil liquids.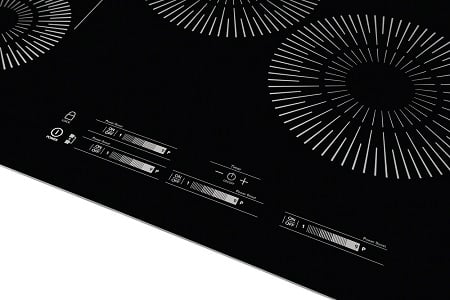 This Frigidaire main line model has two 7" zones and two 8" zones, while the Professional model has two 7" zones, one 10" zone, and one 6" zone. So which one you choose may come down to aesthetic appeal!
The 36" model is the Frigidaire FCCI3627AB, retailing at around $1,999.
Click here to read over 25 real customer reviews of this product!
Frigidaire FCCI3027AB - $1,799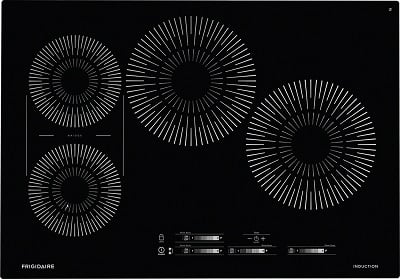 You've reached the end of our best induction cooktop reviews! Which model is best for you? Well, if you like to use a griddle, oversized cookware, or have a love for home canning, then a cooktop with a bridge element is a good idea - see #1 (Frigidaire Professional), #2 (Electrolux), and #5 (Frigidaire). The controls on these models are pretty easy to use. If you want some precision features to help you get the best cooking results, GE Profile is a great brand to consider. Frigidaire offers the cheapest induction models. (And if you need a wall oven to go with your new cooktop, check out our reviews of the best single wall ovens and the best double wall ovens of the year!)
Which one would you choose? Leave us a comment below - We'd love to hear from you!
Editor's Note: This blog was originally written in December of 2019 and has been completely revamped and updated for accuracy as of the publication date noted above.