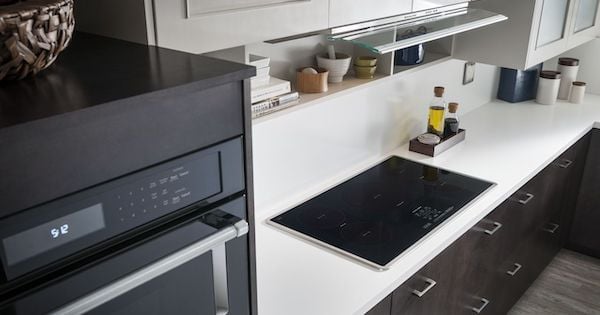 Stovetops with induction offer quick heating times and fine-tuned temperature adjustments while keeping your kitchen and the stovetop surface cool, since induction transmits heat directly into your cookware. Magnetic induction elements heat faster than electric elements, and spills won't turn into a hard crust on your cooktop since the cooktop doesn't get hot. (Read more about induction here.) Once you have a set of magnetic pots and pans, you're ready to start cooking with induction! If you're looking for a new cooktop and are interested in going for induction technology, our reviews of the best induction cooktops should help you get started.
The models are listed in no particular order but are numbered for your convenience! They are all 30" models, but we link to 36" models where available. Prices range from $799 to $1,999, although holiday sales and package deals can save you 20% or more off the MSRP. Let's dig in!
Table of Contents
1. Frigidaire Gallery FGIC3066TB - $999
Looking for the best induction cooktop under $1,000? Frigidaire should be at the top of your list with the Frigidaire Gallery FGIC3066TB, with an MSRP of $999. This ADA compliant model, available in black only, will blend into your kitchen seamlessly. The lockable touch controls allow you to set each of the four cooking zones to different power levels as well as set a timer.
This cooktop comes with a 6" zone, two 7" zones, and a 10" zone - but you have a bit of flexibility since the cooking zone can be adjusted down to smaller sizes as well thanks to the Automatic Pan Sizing feature. These controls are easy to use, with nine power levels plus a Power Boil "P" level for an extra boost. Just place your finger on the control and slide it to adjust the power level up or down.
If you're looking for a sleek cooktop for a modern kitchen and like simple, intuitive controls, this four-burner Frigidaire Gallery model could be a great option for you! A 36" wide five burner option is available - model FGIC3666TB, retailing at $1,099. Frigidaire's Fit Guarantee guarantees that this cooktop will fit in a preexisting 30" cooktop cutout, or they'll give you up to $100 towards remodeling your cabinetry.
PS: Want an induction cooktop with knobs rather than flat touch controls? Check out the Frigidaire Professional FPIC3077RF at $1,999!
Frigidaire Gallery FGIC3066TB - $999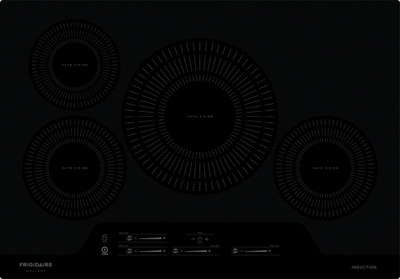 2. GE Profile PHP9030DJBB - $1,599
Next up in our best induction cooktop reviews is the popular GE Profile PHP9030DJBB, retailing at $1,599 in black on black trim, $1,699 with stainless trim, and $1,799 with black stainless trim. The four burners are controlled via a glass touch control panel.
Two 7" elements can be "bridged" with the SyncBurner feature to form a larger zone perfect for using griddles or for home canning. There's also a large 11" element and a 6" element. The controls are easy to use, with a timer, an All Off option, and a control lock. Lights will indicate which elements are hot. The pan presence and size sensor makes sure there's a pan centered on a cooking zone and adjusts the element to the perfect size.
The 36" option is model PHP9036DJBB, retailing at $1,899. GE's Fit Guarantee will reimburse you up to $100 for cabinet modifications if the new cooktop doesn't fit in an existing 30" cutout (check the offer for more details). GE's induction cooktops are very popular!
Click here to read over 45 real customer reviews of this product!
GE Profile PHP9030DJBB - $1,599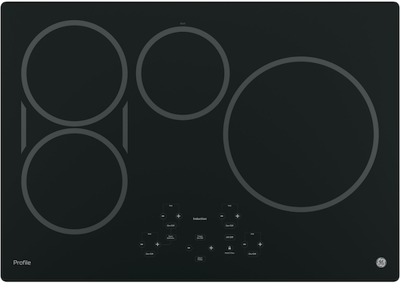 3. Electrolux EW30IC60LS - $1,999
Electrolux, which owns Frigidaire, was an early player in the induction cooking trend - check out our Electrolux induction cooking reviews for more great products. The Electrolux EW30IC60LS, retailing at $1,999, has a black glass surface and stainless steel trim. Wave Touch controls fade away when not in use for a seamless look.
This induction cooktop can boil a quart of water in 90 seconds, and the controls offer up to 25 touch settings, from Keep Warm to Power Boost. The cooking zones include a 6", 7", 8", and 10" element. Other features include pan detection, automatic shut-off, and a hot surface indicator light.
Electrolux stands out with their Platinum Star warranty, which offers a year of coverage on labor and three years of coverage on parts (see manufacturer's warranty for details). The 36" model is the Electrolux EW36IC60LS.
Click here to read over 30 real customer reviews of this product!
Electrolux EW30IC60LS - $1,999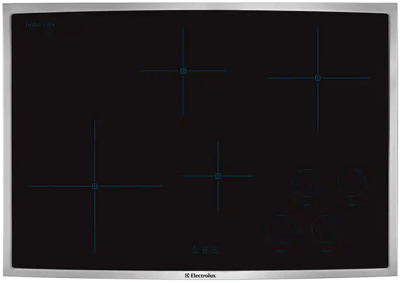 4. KitchenAid KICU509XSS - $1,999
KitchenAid, Whirlpool's premium line, offers one of the best induction cooktops with a bridge element in their Architect Series II. The KitchenAid KICU509XSS retails in black at $1,899 or with stainless steel trim at $1,999. Each of the four elements has 12 heat levels overall, and you can use the bridge element for home canning or using a griddle.
The control panel includes options for Power Boost for quickly boiling water, Simmer, and Melt + Hold, as well as a control lock and a timer. Pan detection and hot surface indicator light safety features are also built into the cooktop. Compared to other high-end models at this price point, it doesn't have quite as much of an integrated look since each burner is labeled "induction" and the brand badge, although subtle, is a little more front and center.
KitchenAid covers several core parts (labor not included) of the cooktop for five years on top of a one-year full parts and labor warranty to give you extra peace of mind. The 36" model is the KitchenAid KICU569XSS, retailing at around $2,199.
Click here to read over 120 real customer reviews of this product!
KitchenAid KICU509XSS - $1,999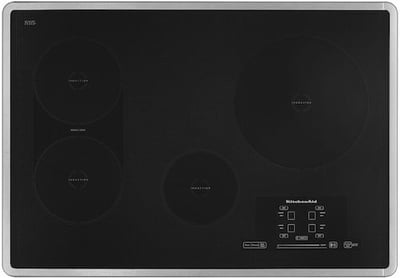 5. Frigidaire FFIC3026TB - $799
Last but not least is one of the best induction cooktops under $800 - another model from Frigidaire! Retailing at just $799, this ultra-affordable cooktop comes with the Frigidaire Fit Promise plus a basic setup of four induction cooking zones. The frameless black ceramic glass design will integrate seamlessly with your counter!
This model has a large 10" central element, two 6" elements, and a 7" element marked with guides to show you the range of pan sizes each element can accommodate. The glass touch controls include a control lock feature and a timer. There's also a Power Boil "P" high power setting to quickly boil liquids. There are nine power settings overall plus the "P" setting.
Compared to the Frigidaire Gallery model, the Frigidaire main line model has slightly bolder element markings and controls. This model also has two 6" zones and one 7" zone, while the Gallery model has two 7" zones and one 6" zone. So which one you choose may come down to aesthetic appeal!
The 36" model is the Frigidaire FFIC3626TB, retailing at around $899 .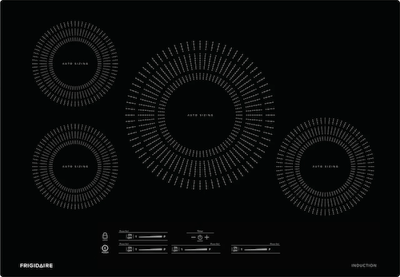 You've reached the end of our best induction cooktop reviews! Which model is best for you? Well, if you like to use a griddle, oversized cookware, or have a love for home canning, then a cooktop with a bridge element is a good idea - see #2 (GE) and #4 (KitchenAid). The controls on these models are pretty easy to use. If you want quick settings for melting and simmering, consider the KitchenAid model (#4). Frigidaire offers the cheapest induction models in their main line and their Gallery line. GE Profile cooktops have been very popular in our experience, while Electrolux offers a great warranty. (And if you need a wall oven to go with your new cooktop, check out our reviews of the best single wall ovens and the best double wall ovens of the year!)
Which one would you choose? Leave us a comment below - We'd love to hear from you!