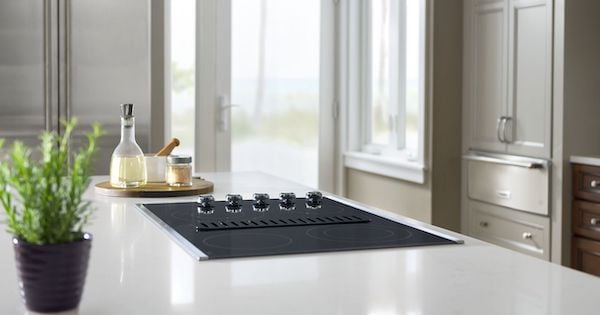 The downdraft cooktop, originally manufactured and sold exclusively by JennAir, offers a unique combination of cooking and venting in one appliance. If you are replacing an older JennAir electric cooktop with downdraft, you now have options from GE, Frigidaire, and KitchenAid that offer the same combination of cooking and venting as well as new options in styling, features and price points. Although downdraft ranges are getting hard to find, downdraft cooktops are still kicking!
GE Profile, KitchenAid, and Frigidaire offer electric cooktops (and gas cooktops as well) with downdraft in 30-inch widths. You can also find 36-inch models from Frigidaire Professional and KitchenAid. The KitchenAid 36" models come with five burners. More choices are always better, and these companies offer great products in this and every appliance category. Let's take a look at a couple of the best downdraft electric cooktop models on the market!
1. The GE Profile PP9830SJSS - 30" - $1,829
The GE Profile PP9830SJSS is a 30-inch downdraft electric cooktop with four radiant burners and a powerful exhaust system to take care of your ventilation needs. At a price of $1,829 in stainless steel, it offers a lot of style and function, combining two appliances in one package. It's also available in black starting at $1,729 and white for around $1,779.
The 3,000W right front burner can be adjusted from 9" to a 6" to accommodate different pan sizes. It has two 7" burners on the left side that can be joined together by using the bridge burner, making one large oval 4,400W cooking surface. In the right rear, it has a 6" 1,500W burner for your smaller pans.
The convenient heat knob controls are located in the front center of the cook top for easy access. The downdraft vent system has three speed settings and a CFM rating of 330 at high speed (see our ventilation buyer's guide for more information on cooktop venting). You can also set a control lock to protect against accidental activation.
This cooktop offers the flexibility and burner options you need to get the job done and do it well, so be sure to take a look at it while you're shopping around!
Click here to read over 25 real customer reviews of this product!
GE Profile PP9830SJSS - $1,829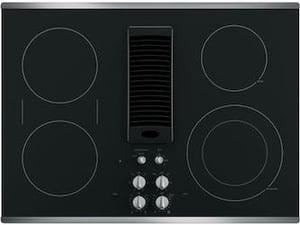 2. The KitchenAid KCED606GSS - 36" - $1,899
Looking for a 36" model? The KitchenAid KCED606GSS is a 36-inch electric cooktop with downdraft featuring five radiant burners. This unit sells for $1,899 in stainless steel or $1,799 in black, and offers a lot of features for the money!
The left front power burner is 6" with 1,300W, while the left rear burner is an 8" 1,800W power burner. It has a 6" burner in the center rear with 1,200W of power and the right rear burner is adjustable to 12" or 9" diameters with 3,000W. The fifth burner, located in the center front of the cooktop, is a 10" 3,200W burner.
The stainless steel knob controls are located on the front right side of the cooktop. The downdraft system has a 300 CFM rating with three speed settings. Like many KitchenAid products, it has a premium look and feel that might be a great fit for your kitchen! Starting at around $1,799, you can check out the 30" KitchenAid KCED600GSS, which has similar specs and features overall but with four burners instead of five.
Click here to read over 12 real customer reviews of this product!
KitchenAid KCED606GSS - $1,899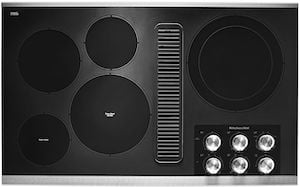 3. The Frigidaire Professional RC30DE60PB - 30" - $1,399
Frigidaire is known for offering sleek appliances with a premium style at a lower price, and this electric cooktop with downdraft is a great example. The 30" Frigidaire Professional RC30DE60PB retails for $1,399 in black.
The elements include a 9" 3,200W right front burner, a SpaceWise convertible 5"/7" right rear burner with up to 1,800W of power, and a SpaceWise bridge element combining the left front and left rear burner, each with 1,800W of power. The black knobs are easy to use and are located on the right side of the cooktop.
The 600 CFM 3-speed downdraft vent fan is noticeably more powerful than the GE and KitchenAid models. As a result, it's a better option for high-heat cooking because it can handle smoke and odors better. If you're looking for a 36" model, try the Frigidaire RC36DE60PB for $1,499 with a triple expandable element.
Frigidaire Professional RC30DE60PB - $1,399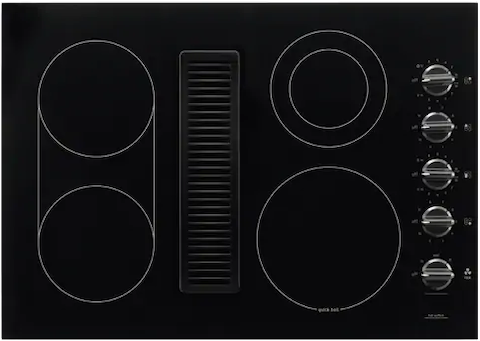 Features Comparison
Burner Options: If you're looking for a bridge burner, check out the Frigidaire and GE options. KitchenAid offers the largest burner element at 12" plus an 8" burner, which is a common pan size. All models come with some type of convertible burner diameter option for added versatility.

Other Features: The GE model comes with a control lock, which is a nice extra feature. All models come with hot cooktop surface indicator lights. KitchenAid has the most premium styling - check it out in person and you'll see what we mean! All models can be vented from the rear or from below and have optional recirculating venting available if external venting is not an option.

Best Price: Frigidaire is a clear winner here, with a retail price $400+ below the other cooktop options in the same sizes. The styling is not particularly striking but it's a great choice for upgrading your cooktop on a budget!
When you are ready to replace your old downdraft cooktop or if you are planning to have one in your new home or kitchen remodel, remember that GE, Frigidaire, and KitchenAid offer great products in this and other categories. Check out these models in person and see how you feel about the control placement, burner options, and overall styling to decide which model is the best for you! A downdraft cooktop is a compact and stylish option for your kitchen, and can be less expensive than hooded cooktops.
We hope you enjoyed this comparison of these three great electric cooktops with downdraft ventilation. Feel free to leave us a comment below. We'd love to hear from you!
Editor's Note: This blog was originally published in November of 2016 and has been completely revamped and updated for accuracy as of the publication date noted above.