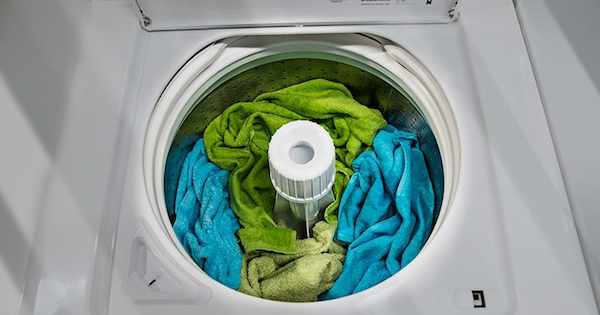 As you research your next washing machine, consider the brands Speed Queen and Whirlpool. Both are well known names in the US laundry industry. Both companies are known for making quality products in both the commercial and domestic markets, and their laundry products are manufactured in the United States: Speed Queen in Wisconsin and Whirlpool in Ohio.
The laundry industry has changed over the years and washers have been redesigned to use less water and electricity. These changes have been challenging for the industry because these new washer designs require customers to make adjustments and changes in the way that they do laundry. With less detergent and water used per cycle along with longer cycle times, many customers are missing their old machines that had deep water washes, 35 minute cycle times, and excellent cleaning results.
However, there are many excellent washers available that will do the job well while saving energy. Speed Queen and Whirlpool are on the leading edge of this industry and are making products that are energy efficient while providing excellent cleaning results and durability. Let's compare two of their best top loading agitator washers.
The Speed Queen TR3000WN - $899
The Speed Queen TR3000WN is an American-built top load washer priced at $899. It is built to last using premium heavy-duty materials that have withstood the test of time. The 3.2 cubic foot stainless steel wash tub is adequate for most wash loads and uses electronic rotary dial controls.
With an expected life of 10,400 cycles, their machines are made with the same durable, long-lasting design as their commercial washers that are used in laundromats and other commercial locations. Speed Queen washers feature a one-of-a-kind wash system that not only gives users the best wash available, but also takes care of your clothes! The tub and agitator work together to create a gentle wash action that moves the maximum amount of water through the clothes.
One example of that commercial technology at work can be seen in the solid mount suspension system. The full steel base and heavy-duty springs help reduce vibration and out-of-balance issues for a longer lifespan and noise reduction.
This Speed Queen commercial washer has the industry's best warranty: three years to cover all parts and in-home labor plus a lifetime warranty covering the outer drain tub and the stainless steel wash basket. See manufacturer's warranty for complete details. Speed Queen laundry products are a cut above most and a good choice for any home! Other Speed Queen washers have even longer warranties, as long as seven years.
Cycles & Options:
6 Cycles: Heavy Duty, Normal Eco, Permanent Press, Delicates, Handwash, Spin Only

4 Wash Temperatures: Cold, Cool, Warm, Hot

4 Load Size Selections: Small, Medium, Large, Auto Fill

Extra Rinse option
Dimensions:
Height: 42.75"

Width: 25.625"

Depth: 28"
Click here to read over 145 real customer reviews of this product!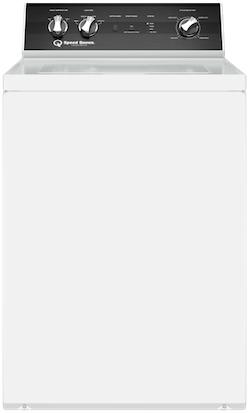 The Whirlpool WTW4955HW - $649
If you are looking for a basic, durable washer, but aren't willing to jump to the $899 price point, Whirlpool offers a model that may suit your needs. The Whirlpool WTW4955HW has a 3.8 cubic foot stainless steel tub and a two-way wash action agitator. The tub turns one way while the agitator turns the opposite way for a smooth and effective cleaning action.
Whirlpool uses an automatic water level system by weighing and measuring material resistance, then adding water accordingly. This measuring system ensures that there is just the right amount of water to properly clean the laundry. You can also choose the Deep Water Wash option to tackle heavy soils. Soaking cycles for colors and whites will soak your clothes and automatically start the wash to save you a trip to the laundry room. The Late Lid Lock feature gives you extra time to add any forgotten items, too, which emulates old-fashioned machines.
With 12 wash cycles, multiple rinse options, and four soil levels, consumers will find practically all needed cycles for any fabric and load size. This is definitely one of the best washers in its price range of $649. The warranty covers one year parts and labor.
Cycles & Options:
12 Cycles: Normal, Heavy, Colors, Colors with Soak, Whites, Whites with Soak, Delicates, Quick Wash, Bulky/Sheets, Rinse & Spin, Drain & Spin, Clean Washer with Affresh

5 Wash Temperatures: Tap Cold, Cold, Cool, Warm, Hot

2 Water Level Options: Auto Sensing, Deep Water Wash

4 Soil Levels: Ex Light, Light, Medium, Heavy

4 Rinse Options: Auto Sensing, Auto with Extra Rinse (use with fabric softener), Deep Water Rinse (use with fabric softener) Deep Water with Extra Rinse (use with fabric softener)
Dimensions:
Height: 44"

Width: 27.5"


Depth: 27"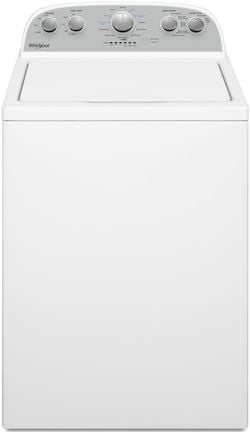 Features Comparison
Cycles & Options: The Whirlpool model offers more wash cycles and has a deep water wash option plus multiple rinse options for use with or without fabric softener. Both models offer auto load sensing.

Design: Speed Queen's model is 26" wide, ideal if you have a narrow space, while Whirlpool's is about 28". True to its roots, Speed Queen has a more commercial feel and it's hard to beat those heavy-duty commercial-grade components.

Price & Warranty: Speed Queen washers are definitely made to last - the brand claims to design and test every component to last at least 25 years. The Whirlpool model is cheaper but has a shorter warranty to match.
Some loyal fans of Speed Queen or old agitator washers may prefer the Whirlpool model since it offers a two-way agitator that turns one way while the tub turns another. The TR series of Speed Queen models has an "agi-tub" style where the entire tub rotates to wash the clothes. If you want a dual-action agitator with Speed Queen's legendary durability, check out the Speed Queen TC5000WN, a "throwback" model released in May of 2019!
Consider these and other Speed Queen and Whirlpool laundry products when you go shopping. You may find just what you are looking for. We hope you enjoyed this comparison of two of their best top loading washers. Please leave a comment below. We'd love to hear from you!
Editor's Note: This blog was originally published in December of 2015 and has been completely revamped and updated for accuracy as of the publication date noted above.