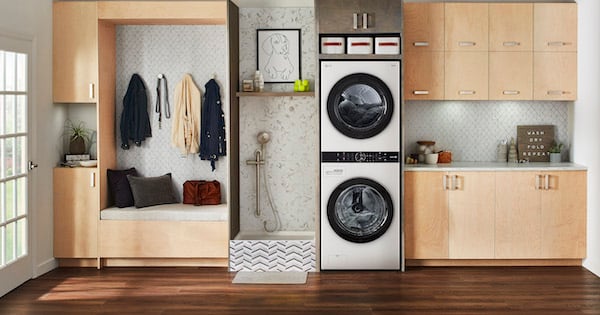 LG is not the first manufacturer to combine a washer and dryer into a single unit - there are all-in-one washer dryer combos that wash and dry in the same drum, unitized front load washer and dryer units from brands like Speed Queen, and even laundry centers that unitize a top load washer and dryer, like Frigidaire's washer dryer combo. LG's WashTower is new for 2020, and it unifies a front load washer with a matching front load dryer, with the control panel conveniently sandwiched in the middle.
Where does this machine really shine? Why should you buy the WashTower rather than a stackable front load washer and dryer pair? Let's dig into the details!
Table of Contents
Benefits of LG's WashTower
Here are the benefits of the WashTower over a stacked washer dryer pair:
Single control panel is easy to use. On a stacked pair, the dryer control panel might be hard to reach for some users. The WashTower's control panel is also relatively sleek, especially for LG - LG tends to pack a lot of information into their front load washer/dryer control panels, so this slimmed-down, more minimalist design is easy on the eyes.

Shorter height than the average stacked washer and dryer. The WashTower is 87mm/3.4" shorter than what you'll typically find if you stacked a separate front load washer and dryer, with a total height of 74.375". And the WashTower is still full-sized, with a 4.5 cubic foot washer and 7.4 cubic foot dryer.
Features & Pricing
The WashTower is definitely a premium machine, backed by its features and pricing starting at $2,499 for the LG WKEX200HWA, a white model with an electric dryer (a gas version is also available). Other features include:
Tempered glass doors - Premium and scratch resistant

AI Direct Drive - An "integrated care" system designed to take better care of your clothes

The washer and dryer can communicate cycle information in real time

10-year warranty on direct drive washer motor; 3 years on drums

Steam technology in both the washer and dryer - Kill dust mites, reduce wrinkles, and more!

4.5 cubic foot washer / 7.4 cubic foot dryer capacity
LG's new Proactive Customer Care is another interesting feature they are rolling out to more of their appliances, including the WashTower. This free service will provide you with customized maintenance tips and monthly usage reports. It's intended to help your appliances continue to perform their best.
There are 6 wash cycles and 6 dry cycles. The wash cycles include a Speed Wash and options for Steam, Extra Rinse, pre-washing, and sanitizing. The dryer offers steam options for reducing wrinkles and even a Steam Fresh option to quickly refresh sort-of-clean clothes for another day. These are nicely featured machines on their own, and as a pair they'll work together to give your clothes the royal treatment.
In 2022, LG has also released two additional new colors to choose from! These are Candy Apple Red (LG WKEX200HRA) and Nature Green (LG WKEX200HGA). Both colors are priced at $2,699 and are also available in both electric and gas dryer versions.
Dimensions
Width: 27"

Depth: 30.375"

Height: 74.375"
Installation Notes
At least 1" clearance on the sides, and 4" behind the appliance needed for water inlet hoses and drain hose

If electric, dryer needs to be plugged into a dedicated 240V outlet; if gas, dryer can be plugged into a dedicated 120V 3-prong outlet

The washer is plugged into a separate 120V 3-prong outlet

Alternatives
What are the other comparable options on the market?
A stackable front load washer and dryer - Entry level front load pairs typically start at $900 up each, and stacking kits are usually an additional $60 or so. If you're planning on spending around $1,200 a piece on a washer and dryer anyway, then the price difference vs the WashTower isn't as significant.

Top load laundry centers from brands like GE and Frigidaire - These units are usually $1,400-$1,700. They won't have the great features and likely won't wash as effectively, and they'll use more water and electricity.

All-in-one washer dryer combos - These haven't really caught on in the US just yet, and they have a steep learning curve for people used to having separate washer and dryer units. They usually cost around $1,500-$2,200.

Other unitized front load washer dryer combos - An alternative is the Speed Queen stackable washer dryer. Advantages: It's built to last 25 years, has a shallower 27.75" depth. Disadvantage: It costs $1,700 more than the WashTower at $4,199, the washer tub is about a cubic foot smaller, and the whole unit is taller at 78.1875".



If you have shorter household members who are sick of straining to reach a dryer control panel, or a space for stacked front loaders that is too short for many of today's models, the WashTower could be a great choice for you. If you want a sleek aesthetic and the unified WashTower design speaks to you, that's another reason to go for it.
The downside of this style is the downside of any "_-in-1" invention: you might be in double trouble if the appliance needs service. If something goes wrong with the control panel, you might be out on a washer and a dryer instead of just one or the other. An extended warranty from a local dealer like us that offers in-house warranty service could provide peace of mind in this case - learn more about extended warranties here.
We hope this helped you learn more about the LG WashTower! Leave us a comment below - We'd love to hear from you!