How Extended Warranties Work
---
We're going to focus on extended warranties for major appliances. An appliance typically comes with a one year warranty from the manufacturer. The manufacturer agrees to repair or in some cases replace your appliance if something goes wrong. After that first year, you're on your own.
(One problem you'll see over and over, however, is that the manufacturers may not have enough techs - or any techs at all - to cover certain geographical areas. If you're in a "dead spot," it becomes exponentially harder to get your appliance serviced in a timely manner.)
It seems like a pretty straightforward concept: one year isn't a lot of time, so an extended warranty is a kind of insurance policy in case your appliance has an issue in the second/third/etc year of ownership.
However, there are some major pitfalls that you should know about.
Worse Than Nothing - Warranties to Be Wary Of
Here is the scenario:
You pay for an extended warranty on one or more of your new appliances.

Let's say your refrigerator starts leaking water 18 months after you purchased it. You call the number on your warranty paperwork.

The people you reach are not, in fact, service providers. They're not employing technicians. They are a "third party administrator." They contract with independent repair companies to provide the actual service.
If you're lucky, they have an agreement with an independent repair company in your area to provide service.
If you're VERY lucky, they pay this independent repair company enough that they are happy to come out to your home and provide a high-quality repair.
Where it can go wrong:
The third-party administrator doesn't have any connections to reputable independent repair companies near you.

Meanwhile, the store you purchased the appliance from (usually a Big Box Store) has no obligation to you, either. The extended warranty is with this third party, after all. It's not their problem.

Or perhaps the administrator company DOES have a local connection, but...

When you google this local contractor, you are dismayed to find many unhappy customer reviews - or no online presence at all.

They haven't vetted this contractor and/or don't reimburse them well for their efforts.

You or the tech could be bogged down in haggling with this third party administrator over the phone to get the repair covered. It can take weeks to get a simple fix.
You probably weren't told any of this when you purchased the warranty. This is particularly common with Big Box Stores because they don't have their own service department.
The Gold Standard (In Our Humble Opinion)
(Hint: We're biased!)
You may already know that Bellingham Electric provides in-house warranty service - you call us and we fix it ASAP, no need to wait on hold with the manufacturer. The same goes for our extended warranty service: we service what we sell. Because we are a small store, administrating warranties completely on our own would be prohibitively expensive. Instead, we work with a third party insurance company - but that's where our similarity to the "worst case scenario" ends. Stores that don't utilize a third party like we do have found a way to manage the administrative costs of these warranties in a way that works for them.
We service the extended warranties we sell, and it's OUR job to make things right for you. We're not relying on a third party to provide you with a good experience or to make a frustrating situation (a broken appliance) better. Your satisfaction as a customer is our responsibility.
If Not Gold, Then...
Maybe you're reading this, but you don't live in our service area (Massachusetts and Rhode Island). Or perhaps you're investigating all of your options before you choose a store. Here is the only solid alternative we'd recommend for an extended warranty from a dealer that does not offer service:
The extended warranty is serviced by a reputable local repair business.
The dealer you're buying your appliances from should be happy to tell you who services their extended warranties. It's a good sign if they can be specific about who would be taking care of your appliance should the need arise.
Are Extended Warranties Worth It?
---
Extended warranties are a form of insurance. It's up to you to weigh the risks and rewards.
Here are some things to consider:
Our normal service fee (outside of warranty service) is $189 + parts.

On average, appliances last 6-10 years (although dishwashers, gas dryers, and gas ranges last 10-13 on average).

Sometimes, it is not cost-effective to repair an appliance due to the cost of specialized labor and the expense of parts. Having parts coverage, or receiving a credit towards buying a new appliance if the issue is not fixable, could be a benefit in this case.
Consumer Reports provides a list of problem rates for different appliances within the first 5 years of ownership - unfortunately, they don't differentiate between minor problems with easy fixes and major issues. In the best-case scenarios, there is a 10-25% chance of needing service in those first 5 years.
When it comes to the core workhorse appliances that you use daily, like your refrigerator, an extended warranty might mean having a problem fixed quickly rather than needing to pay out a hefty sum for parts and labor, or scramble to buy a new appliance. Microwaves, by comparison, are inexpensive and relatively reliable, and the worst case scenario is you can't reheat your coffee for a few weeks. Ultimately, whether an extended warranty is worth it is up to you.
Our Extended Warranty Options
---
Our extended warranties start where the manufacturer's leaves off: after the first year of ownership (believe it or not, this isn't always the case). Here is our full extended warranty pricing: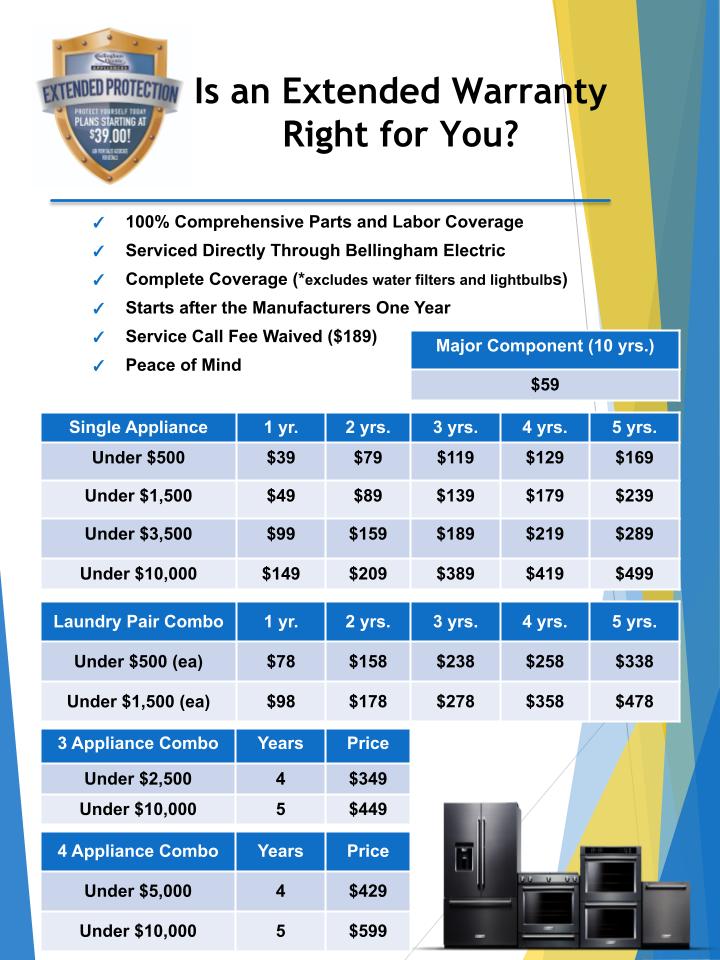 We hope this guide to appliance extended warranties was helpful. Here are the key points to remember:
In-house warranty service is the gold standard (which Big Box Stores can't provide)

If a dealer doesn't provide service, they should be transparent about which local business or businesses do service their extended warranties

Only you know your risk tolerance: an extended warranty = peace of mind