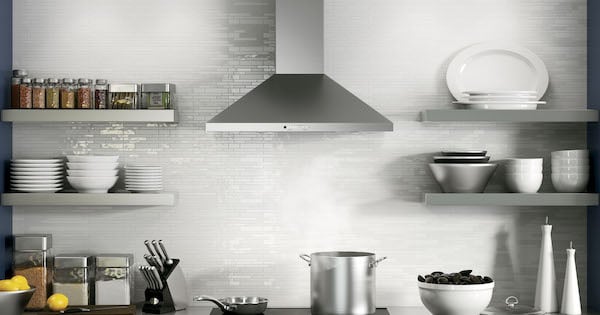 Even the best of cooks occasionally forgets about a pan on the stovetop or ignores an oven timer for too long. When that happens, a range hood can be a lot more effective than an open window! Sucking up smoke and greasy air, the best range hood options will keep cooking smells where they belong: in the kitchen, not bedrooms and other living areas!
We've put together a list of the best range hoods with complete reviews of their features and specs to help you upgrade your kitchen ventilation to the next level! Like most options on the market, these are all convertible range hoods. They can be hooked up to ductwork or set up as recirculating if ductwork is not available. They're listed in no particular order - the numbering is for readability and your convenience. Let's take a closer look!
Table of Contents
Range Hood Basics - 5 Quick Tips
Let's quickly review a few of the important specs you need to consider when buying a range hood and decode some of the jargon! For more in-depth explanations and things to consider, check out our free ventilation buyer's guide.
Recirculating Hoods: Not all range hoods need to be vented outside - some recirculate the air through charcoal filters instead. These are called "recirculating" or "ductless" hoods. Many of the hoods in our review are convertible to either option. Keep in mind that the charcoal filters need to be replaced regularly for the hood to be effective - check your owner's manual for the suggested replacement intervals.

Sones: A sone is a measure of loudness. Range hoods are typically around 1-10 sones. Once you get to 6 or 7 sones, that's about as loud as a typical conversation and running the hood for a long time at that setting could be annoying if you're nearby. Some brands, like Broan and XO Ventilation, have managed to create very powerful hoods that are still very quiet.

CFM: This stands for Cubic Feet per Minute. For people who cook regularly, at least 300-350 CFM is ideal. One standard to use is 1 CFM per 100 BTU of cooking power (so if your gas burners produce 45,000 BTUs, you'll want a 450 CFM range hood).

Make-Up Air: Depending on where you live, if you have a vented range hood over a certain CFM (usually 400 CFM), you will need make-up air as well. As the range hood pulls air out of your home, "make-up air" rebalances the air pressure. Many newer homes are more airtight, so make-up air becomes a necessity. Otherwise, your range hood and other things like your furnace could have to work too hard, creating excessive wear and tear on the products.

Maintenance Tip - Cleaning Filters: Cleaning the metal grease filters every few months is a great way to keep your range hood operating in peak condition for as long as possible. Too much grease buildup on the filters makes your range hood less effective and can also result in grease depositing on the internal components. Some models come with dishwasher safe filters. Otherwise, a soak in some de-greasing dish soap should do the trick.
Now, you're ready to dig into our reviews of the best range hood models of the year!
1. XO Ventilation XOC30SC - 600/395 CFM, 4-speed - $749
XO Ventilation products are made in Italy, and the brand is the second-largest independent ventilation manufacturer in Europe. That's quite a pedigree! The XO XOC30SC is a premium under-cabinet glide out visor range hood featuring a 600/395 CFM high-velocity blower with four speeds. Whether the visor is extended or not per your needs, the blower and the lighting both fully work. Two 3000K LED lights illuminate your cooktop below, and dishwasher-safe aluminum mesh filters trap airborne smoke and grease particles.
This range hood is available in stainless steel at $749. XO designed this model to be easy to install, too. It comes with a 90-day Love It or Leave It guarantee plus a two-year warranty on material and workmanship. This model can be switched from ducted to ductless/recirculating.
Features
600/395 CFM

1.0-6.5 Sones

Speeds: 4

Convertible

Dishwasher-safe aluminum mesh filters

Mounting height: 27-32" between cooktop and bottom of hood

2. GE JVX3300SJSS - 200 CFM, 2-speed - $198
Available in stainless steel or GE's premium slate finish at $198 and in white or black at $168, the GE JVX3300SJSS under-cabinet hood adds sophistication to your kitchen with electronic backlit controls. It reaches up to 6.5 sones at its 200 CFM High speed, with another 130 CFM option at 5.0 sones.
The incandescent lighting illuminates the cooking area, and you also get easy access front controls. It also has dishwasher safe filters. Those are some great features for the price - a budget friendly option!
It can be installed as recirculating or external venting. GE claims that one person can install this hood in 10 minutes or less!
Features
200 CFM

5.0-6.5 Sones

Speeds: 2

Dishwasher safe filter

Convertible

Mounting height: 24-30" between cooktop and bottom of hood
Click here to read over 90 real customer reviews of this product!
GE Appliances JVX3300SJSS - $198

3. Bosch DUH30252UC - 400 CFM, 4-speed - $699
The Bosch DUH30252UC is one of the best range hoods for heavy cooking with an above-average 400 CFM blower. At $699 in a brushed stainless steel finish, it offers four speed settings adjusted via rotary switches and two halogen lights. It can be set up for ductless installations with the addition of a charcoal filter, sold separately.
If you're looking for a quiet yet effective under cabinet range hood, this option from Bosch is a great buy at under $700. Its dual motors provide a good amount of power to handle hot, greasy air! The rotary switches aren't as attractive as push buttons or rocker switches and the lights are on/off with no low or high settings. Keep in mind that make-up air may be necessary since this hood is 400 CFM.
Features
400 CFM

1.5-5.0 Sones

Speeds: 4

1-level lighting

Dishwasher-safe aluminum mesh filters

Convertible

Mounting height: 24-30" between cooktop and bottom of hood
Click here to read over 12 real customer reviews of this product!

4. XO Ventilation XOS30SC - 600/395 CFM, 3-speed - $849
Looking for the best range hood in a chimney style? XO Ventilation has made our list a second time with the XO XOS30SC, available at $849. XO's new feature, the advanced Code Compliance Control for make-up air installations, is included in this hood. In some areas, you are required to add make-up air blowers if your range hood is at a certain power level. With the CCC, you can avoid these make-up air requirements by setting the range hood's CFM to 395 instead.
It's quieter than some less-powerful range hoods since it maxes out at 4.0 sones at 395 CFM or 6.5 sones at 600 CFM. Control the fan speed and lighting with electronic illuminated controls.
This Italian range hood masterpiece comes with a two-year material and workmanship warranty. If you're looking for a professional-style chimney range hood, the XOS30SC might be for you! It comes configured for vented installs, but you can purchase a kit separately for ductless installations. The telescoping duct cover fits 8-9' ceilings.
Features
600/395 CFM

1.0-4.0 Sones (or 6.5 sones for 600 CFM)

Speeds: 3

Dishwasher-safe mesh filters

Convertible - Optional recirculation kit: XORFK05

Mounting height: 27-32"

between cooktop and bottom of hood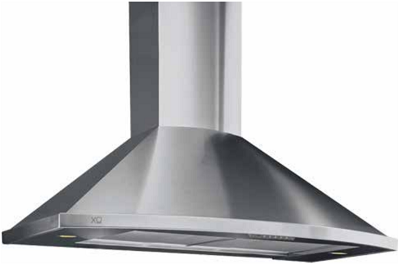 5. Broan ALT330SS - 450 CFM, 3-speed - $540
For a sleek, powerful, and affordable range hood, look no further than the Broan ALT330SS. It's available in a stainless steel finish. It has three speeds reaching up to 450 CFM. It comes with three-level LED lighting, which is highly efficient, lasts longer than traditional lighting, and stays cool during use. These LED light modules were specifically designed to handle a high-heat environment.
This model has a more sculpted look than you'll typically find in an undercabinet hood. The hybrid baffle filters are dishwasher-safe and super effective. This hood even has a filter clean reminder on the infrared control panel so you can easily keep your hood operating at peak efficiency! It has a delay off feature that will run the blower for 10 minutes before switching it off. Broan's Heat Sentry feature adjusts the blower speed when it senses excessive heat - this will help your hood last longer as well as providing effective ventilation.
Broan covers this model with a one-year full parts and labor warranty plus an additional two years on the LED lights.
Features
450 CFM

0.7-6.0 Sones

Speeds: 3

Auto delay-off feature

3-level LED lighting

Convertible ducting

Dishwasher-safe hybrid baffle filters

Mounting height: 18-30" between cooktop and bottom of hood

6. Broan BKDEG130SS - 300 CFM, 3-speed - $389
Another Energy Star rated range hood option comes from Broan. Broan is a specialty manufacturer known for their great range hoods. The Broan BKDEG130SS is available stainless steel and white. The Broan Captur exhaust system provides fast air flow management and filtration with quieter and less energy-intensive operation than the competition they tested against. The tap-touch controls look and feel high-end, and the two-stage LED lighting offers bright and long-lasting illumination.
This is a great pick if you're looking for a highly rated range hood from a brand that's thought of everything - including an EZ1 installation system that can cut installation time in half! It comes ready for ducted or ductless installation. It has a one year warranty plus three years on the LED modules.
Features
300 CFM

1.5-6.0 Sones

Speeds: 3

2-level LED lighting

Convertible

Energy Star rated

Dishwasher-safe, deluxe micro-mesh filters

Mounting height: 18-24" between cooktop and bottom of hood

7. GE JVW5301SJSS - 350 CFM, 4-speed - $658
The chimney-style range hood gives an industrial look to your kitchen if you're seeking premium styling. GE's model JVW5301SJSS comes in stainless steel or slate at $658, in black slate at $758, and in black stainless at $858.
This four-speed, 350 CFM range hood offers premium electronic backlit controls and dual halogen cooktop lighting. An optional remote control is available, so you can toggle the lighting or fan from anywhere in your kitchen. The auto-off setting will shut off the fan after 15 minutes when selected. For ductless installation, this model includes a recirculation duct, while charcoal filters are sold separately.
Features:
350 CFM

1.0-6.6 Sones

Speeds: 4

Auto-off setting

2-level halogen lighting

Optional remote control

Dishwasher-safe filter

Convertible

Mounting height: 24-36" between cooktop and bottom of hood
Click here to read over 115 real customer reviews on this product!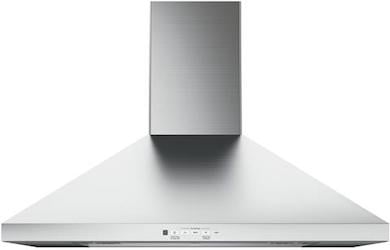 We hope you found our reviews of the top seven best range hoods informative! There are a lot of options to consider, from basic 300 CFM models to more powerful ones offering 600 CFM in a variety of styles and colors.
Let us know which one you choose. Leave us a comment below - We'd love to hear from you!
Editor's Note: This blog was originally written in July of 2018 and has been completely revamped and updated for accuracy as of the publication date noted above.