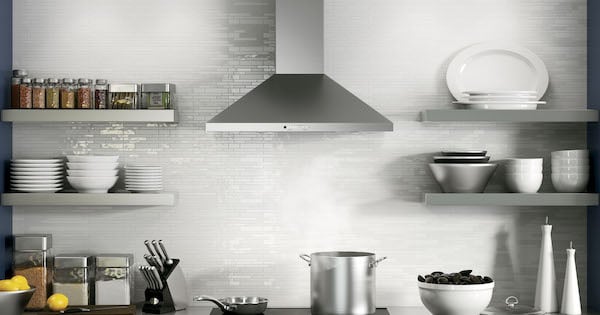 Even the best of cooks occasionally forgets about a pan on the stovetop or ignores an oven timer for too long. When that happens, a range hood can be a lot more effective than an open window! Sucking up smoke and greasy air, the best range hood options will keep cooking smells where they belong: in the kitchen, not bedrooms and other living areas!
We've put together a list of the best range hoods with complete reviews of their features and specs to help you upgrade your kitchen ventilation to the next level! They're listed in no particular order - the numbering is for readability and your convenience. Let's take a closer look!
Table of Contents
Models marked with a * are chimney style hoods designed to mount to a wall. All others are undercabinet models.
Range Hood Basics - 3 Quick Tips
Let's quickly review a few of the important specs you need to consider when buying a range hood, and decode some of the jargon! For more in-depth explanations and things to consider, check out our free ventilation buyer's guide.
Ducting: Not all range hoods need to be vented outside - some recirculate the air through charcoal filters instead. These are called "recirculating" or "ductless" hoods. Many of the hoods in our review are convertible to either option.

Sones: How loud is it? There's usually a tradeoff between a hood's loudness and its CFM (the power of the blower). A normal conversation is about four sones, with light traffic at around eight sones. Obviously, lower is usually less intrusive. Some brands have managed to create very powerful hoods that are still very quiet.

CFM: This stands for Cubic Feet per Minute. For people who cook regularly, at least 300-350 CFM is ideal. One standard to use is 1 CFM per 100 BTU of cooking power (so if your gas burners produce 45,000 BTUs, you'll want a 450 CFM range hood).
Now you're ready to dig into our reviews of the best range hood models of the year!
1. XO Ventilation XOE30S - 350 CFM, 2-speed - $219
XO Ventilation products are made in Italy, and the brand is the second-largest independent ventilation manufacturer in Europe. That's quite a pedigree! The XO XOE30S is an under-cabinet range hood featuring a 350 CFM high-velocity blower with two speeds. Two 50W halogen lights illuminate your cooktop below, and dishwasher-safe aluminum mesh filters trap airborne smoke and grease particles.
This range hood is available in stainless steel at $219, and in black or white at $199. It comes with a 90-day Love It or Leave It guarantee plus a one-year warranty on material and workmanship. This model can be switched from ducted to ductless/recirculating with the addition of a kit that includes four activated carbon filters to get you started.
Features
350 CFM

1.0-5.5 Sones

Speeds: 2

Optional recirculation kit: XORFK10

Dishwasher-safe aluminum mesh filters

2. GE JVX5300SJSS - 310 CFM, 4-speed - $249
Available in stainless steel or GE's new premium slate finish at $249, black stainless steel at $479, and in black or white at $219, the GE JVX5300SJSS under-cabinet hood adds sophistication to your kitchen with electronic backlit controls. It reaches up to 7.0 sones at its 310 CFM Boost speed, with three other speed options as low as 1.0 sones.
The dual halogen lighting includes a night-light option, and the optional remote control allows you to control both the fan and lighting from anywhere in your kitchen. The Auto-off option turns the fan off after 15 minutes of run time. Those are some great features for the price! It is shipped ready for recirculating installations without ductwork. Recirculating installs require a charcoal filter. Switching it over for a vented installation is very easy if that's what you're looking for.
Features
310 CFM

1.0-7.0 Sones

Speeds: 4

Optional remote control

Auto-off option: automatic shutoff after 15 minutes

Removable grease filter

Convertible: recirculating or external venting from top or rear of hood
Click here to read over 50 real customer reviews of this product!
GE Appliances JVX5300SJSS - $249

3. Bosch DUH30252UC - 400 CFM, 4-speed - $519
The Bosch DUH30252UC is one of the best range hoods for heavy cooking with a powerful 400 CFM blower. At $519 in a brushed stainless steel finish, it offers four speed settings adjusted via rotary switches and two halogen lights. It can be set up for ductless installations with addition of a charcoal filter, sold separately.
If you're looking for a quiet yet effective under cabinet range hood, this option from Bosch is a great buy at under $600. Its dual motors provide tons of power to handle hot, greasy air!
Features
400 CFM

3.0-4.0 Sones

Speeds: 4

Dishwasher-safe mesh filters

Convertible: recirculating or external venting from rear or top of hood

4. XO Ventilation XOS30SMUA - 395 CFM, 3-speed - $699
Looking for the best range hood in a chimney style? XO Ventilation has made our list a second time with the XO XOS30SMUA, available at $699. Offering a powerful 395 CFM, it's quieter than some less-powerful range hoods since it maxes out at 4.0 sones. Control the fan speed and lighting with push-button controls.
This Italian range hood masterpiece comes with a two-year material and workmanship warranty. If you're looking for a professional-style chimney range hood, the XOS30SMUA might be for you! It comes configured for vented installs, but you can purchase a kit separately for ductless installations, complete with a carbon filter and an air diverter.
Features
395 CFM

1.0-4.0 Sones

Speeds: 3

Two 50W halogen lights

Push-button controls

Dishwasher-safe mesh filters

Optional recirculation kit: XORFK05
XO Ventilation XOS30SMUA - $699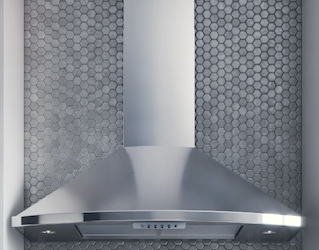 5. Whirlpool GXU7130DXS - 300 CFM, 3-speed - $549
For an energy-efficient range hood, look no further than the Whirlpool GXU7130DXS. It's available in a stainless steel finish at $549 with three speeds reaching up to 300 CFM. Push-button controls are easy to access, and you can toggle fluorescent task lighting on and off as well.
This under cabinet range hood is a little unusual in that it is Energy Star Certified. If you run your range ventilation often, it may be worthwhile to invest in a hood designed to use less energy than conventional options. Unlike many of the models on our list, this option does not allow for a recirculating/ductless installation.
Features
300 CFM

Speeds: 3

Energy Star Certified

Fluorescent task lighting

Convertible ducting

Dishwasher-safe grease filters
Click here to read real customer reviews of this product!

6. Broan BKDEG130SS - 300 CFM, 3-speed - $319
Another Energy Star rated range hood option comes from Broan. Broan is a specialty manufacturer known for their great range hoods. The Broan BKDEG130SS is available stainless steel and white. The Broan Captur exhaust system provides fast air flow management and filtration with quieter and less energy-intensive operation than the competition they tested against. The tap-touch controls look and feel high-end, and the two-stage LED lighting offers bright and long-lasting illumination.
This is a great pick if you're looking for a highly rated range hood from a brand that's thought of everything - including an EZ1 installation system that can cut installation time in half! It comes ready for ducted or ductless installation.
Features
300 CFM

1.2 sones at normal speed

Speeds: 3

2-level LED lighting

Capacitive touch controls

Convertible ducting

Energy Star rated

Dishwasher-safe, deluxe micro-mesh filters

7. GE JVW5301SJSS - 350 CFM, 4-speed - $549
The chimney-style range hood gives an industrial look to your kitchen if you're seeking premium styling. GE's model JVW5301SJSS comes in stainless steel or slate at $549 and in black slate at $649. Click the link to learn more about GE black slate finishes!
This four-speed, 350 CFM range hood offers premium electronic backlit controls and dual halogen cooktop lighting. An optional remote control is available so you can toggle the lighting or fan from anywhere in your kitchen. The auto-off setting will shut off the fan after 15 minutes when selected. For ductless installation, this model includes a recirculation duct, while charcoal filters are sold separately.
Features:
350 CFM

1.0-6.6 Sones

Speeds: 4

Auto-off setting

Two-stage halogen lighting

Optional remote control

Dishwasher-safe filter

Convertible ducting
Click here to read over 40 real customer reviews on this product!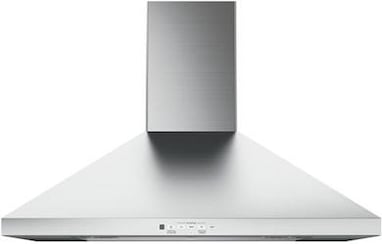 We hope you found our reviews of the top seven best range hoods informative! There are a lot of options to consider, from basic 300 CFM models to more powerful ones offering 350 CFM or more in a variety of styles and colors.
Let us know which one you choose. Leave us a comment below - We'd love to hear from you!
Editor's Note: This blog was originally written in July of 2018 and has been completely revamped and updated for accuracy as of the publication date noted above.