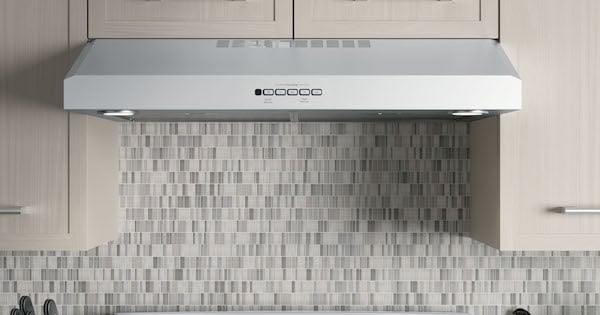 Are you trying to decide between a ductless or ducted under cabinet range hood? Also known as recirculating hoods, this type of hood is economical and easy to install. It's a common choice for manufactured homes and apartments where installing ductwork would be prohibitively expensive.
In this article, we'll go over what you need to know about ductless hoods and review three affordable, popular models.
Table of Contents
How Does a Ductless Range Hood Work?
A hood with ducting pulls air out of your kitchen to the outside. The other name for a ductless range hood is a recirculating hood, because that's what these duct-free hoods do: they pull air through a filter or set of filters, then blow it back into your kitchen.
To scrub the air, ductless range hoods will typically use aluminum (or less commonly, steel) mesh filters combined with replaceable charcoal filters. Aluminum mesh filters are great at capturing grease, while charcoal filters are better at capturing fine particles. Aluminum mesh filters need to be washed every few months, and many manufacturers offer dishwasher safe filters so they're easy to take care of. Charcoal filters need to be replaced periodically (usually every 3-6 months) but offer better performance than aluminum filters alone when it comes to smoke and odors.
Installing a ductless undercabinet range hood is relatively easy to do if you are replacing a preexisting hood. Hoods may be hardwired or come with a cord to be plugged into an outlet (please take appropriate precautions or consider hiring a professional if you're not comfortable working with electricity). The hood mounts to the underside of the cabinet with brackets and the wiring is fed up into the cabinet to be connected.
Should You Buy a Ductless Hood?
When it comes to ducted vs ductless range hoods, ducted hoods are superior in every way except price - installing ductwork can be expensive! You can likely get away with a ductless range hood if...
You don't cook often

You are a vegetarian or don't usually cook meats on the stove

You aren't cooking with high heat or making recipes that can smoke a lot or produce a lot of humidity
Consider a ducted hood if you have a professional gas range, do a lot of high heat cooking, or cook large meals. In the end, when it comes to ducted vs ductless range hoods, something is better than nothing. It's better to have a ductless hood than no hood at all to help scrub pollutants from the air! A range hood may be specifically required by local codes, so that's something to consider as well. Many undercabinet range hoods are "convertible," so they can be installed as recirculating or externally vented hoods.
3 Great Ductless Under Cabinet Hood Reviews! (30" Models)
You can spend $100 or under on a basic ductless range hood with less than 200 CFM, but the models in our review are a cut above the ultra-basic!
1. Broan BCSD130SS - Convertible to Ductless/Ducted - 250 CFM - $239
Just buy a set of charcoal filters and you're ready to use the Broan BCSD130SS in a ductless installation. This 250 CFM model features Broan's Captur system, designed to remove smoke and odor quickly and quietly. It operates at 1.5 sones at normal speed (basically whisper quiet) and at 5.0 sones at high speed (around 50 decibels - the average conversation takes place at 60 decibels).
It takes 50W halogen bulbs and offers two-level lighting. The rocker switches to control the light and fan are hidden for a seamless look. The two mesh filters are dishwasher safe so they're easy to clean.
Broan designs their range hoods to be easy to install on your own. This model uses their EZ1 brackets, which cut installation time in half compared to traditional methods. This model is covered with a one year parts and labor warranty.

2. GE JVX5300SJSS - Convertible to Ductless/Ducted - 310 CFM - $279
Next up is a sleek push-button control model from GE Appliances, the GE JVX5300SJSS. This popular range hood comes in all sorts of colors, including black, white, black stainless steel, and GE slate. It operates at 5.5 sones at high speed and 7.0 sones at boost speed - 7 sones is approaching 56 decibels, inching a bit close to the typical conversation level of 60 decibels. Learn more about sones in our ventilation buying guide!
It comes in the box prepared for a recirculating installation - you just need to grab a charcoal filter (sold separately). This model is designed to be easy to install in 10 minutes or less even if you're on your own. The electronic backlit controls are easy to use and look great! It comes with dual halogen lighting and a nightlight. It's covered by a one year warranty by GE.
Click here to read over 200 real customer reviews of this product!

3. XO XOE30S - Convertible to Ductless/Ducted - 350 CFM - $219
XO Ventilation is the second largest independent ventilation manufacturer in Europe, and their products are made in Italy. The XOE30S is a 350 CFM model with two speeds. It's relatively easy to adjust for recirculating applications with the addition of charcoal filters. This range hood is available in stainless steel at $219, and in black or white at $199.
Two 50W halogen lights illuminate the cooktop. The aluminum mesh filters are dishwasher safe. It comes with a 90-day Love It or Leave It guarantee plus a one-year warranty on material and workmanship. Read more XO Ventilation reviews here!

We hope this helped you decide if a ductless under cabinet hood is right for your needs. For more nicely featured hoods, check out our best range hoods of the year.
Leave us a comment below - We'd love to hear from you!
Editor's Note: This blog was originally written in January of 2020 and has been completely revamped and updated for accuracy as of the publication date noted above.