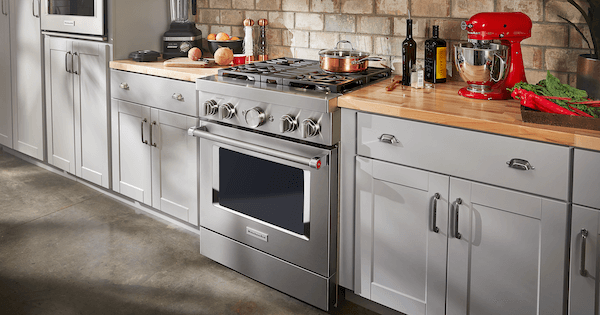 If you've been out looking at professional or pro ranges for your kitchen and are astounded by the prices, we have some good news for you. Many consumers want the power and looks of a professional gas range, but when they start looking at the prices of pro ranges from companies like Wolf, Viking, and Thermador, they quickly change their minds.
If you want one of these true professional ranges from an ultra premium manufacturer, you're going to have to pay the premium price! However, you can find some great models with MSRPs under $6,000. We'll go over some interesting options on the market today - there is a broad spectrum of options available, from true commercial ranges outfitted for residential use to models that have the pro range look but not as many commercial features.
(If you're looking for more information on choosing a new gas or electric range, check out our range buying guide!)
Table of Contents
What is a Professional Gas Range?
Professional ranges are defined mostly by their appearance, and the category can be a bit vague. Generally, they are ranges with high BTU burners and a commercial kitchen look. They are usually all-gas or dual fuel with an electric oven. Some consumers prefer form over function, and the look is more important than the true professional cooking capabilities - unless, of course, you're a gourmet chef! They are usually 36" or 48" wide with six or more burners, although there are some models available in 30" and even 24" widths. Most dual fuel models cost at least $8,000, while all-gas pro ranges can start at around $6,500.
Slide-in ranges can offer a more commercial look in a 30" width if space is limited, and many high-end slide-in ranges have the pro range style, although they lack the pro range power.
Typically, a professional gas range combines the following:
At least one 18,000-25,000 BTU high-output burner

Heavy-duty commercial styling and materials

Commercial features like simplified controls and open burners rather than sealed burners

A gas oven, usually with fan convection (click the link to learn more about convection)

Or an electric oven, usually with true convection
It's worth noting that you should check if your ventilation system can keep up with a pro range. You will likely need a range hood rather than the lower-powered, less effective over the range microwave, and the hood should match the stove's width as well. A ductless/recirculating range hood also won't cut it - you'll need ducting! The basic formula for how many CFM you'll need is 100 CFM for every 10,000 BTUs the range can put out. You can read more about this in our ventilation buying guide.
Some of the brands offering professional and "professional-style" gas and dual fuel ranges include:
Cafe, GE's high-end line with matte finishes and custom hardware

Fisher & Paykel, a New Zealand-based company focused on gorgeous innovative designs

Bertazzoni, a family-owned Italian company specializing in engineered cooking ranges since 1882

Capital, a niche luxury brand that offers true commercial ranges for residential use

Other luxury brands like BlueStar, Wolf, and Thermador
Typically, "mainstream" brands like KitchenAid and GE offer pro ranges that focus on aesthetics but are otherwise not too different from a typical freestanding gas or dual fuel range. Fisher & Paykel offers professional-style high-powered gas ranges. At one point in time, Frigidaire offered a 36" wide pro style range retailing for under $4,000, but it was discontinued in 2019.
Next, we'll review four professional ranges across the spectrum to help you explore some of your options!
(Pictured below: Rest in peace, Frigidaire FGGF3685TS...)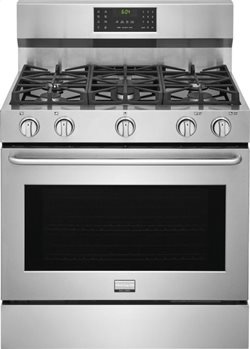 Product Reviews
In the following four product reviews, we try to distinguish the different models based on how much the product emphasizes pro features - so a model that has some pro features but leans towards being a more traditional range is "commercial-style" while a model that leans more heavily towards commercial features is a "professional range." You may disagree with our rankings - the differences can be somewhat nebulous when you're focusing on brands that aren't BlueStar, Wolf, etc!
Click the links below to skip to the review you're interested in:
1. KitchenAid KFDC506JSS - 36" Dual Fuel Commercial-Style Range - $8,199
KitchenAid offers 36" commercial style ranges as well as 30" commercial style ranges. Their 30" gas commercial style ranges are some of the few options on the market available for under $6,000. They offer 36" 6-burner commercial style ranges in a few different colors, including Imperial White, Misty Blue, Cobalt Blue, and Signature Red.
The KitchenAid KFDC506JSS has six gas burners and a 5.1 cubic foot capacity electric convection oven. You can control the oven with the front knobs. It retails at a lower price than Capital's 36" professional ranges.
The gas stove includes two 20,000 BTU Ultra Power Dual-Flame burners plus a 5,000 BTU melt/simmer burner that reduces to 500 BTUs for a true low simmer. The oven has KitchenAid's EvenHeat True Convection, with two heavy-duty standard racks and one gliding roll-out extension rack.
If you love the commercial style but like the features and options of residential ranges, this could be a great option for you. KitchenAid also offers 48" commercial-style models starting at around $10,000. KitchenAid covers this model with a standard one-year parts and labor warranty plus five years parts only on the electric element and other certain component parts.
KitchenAid KFDC506JSS - $8,199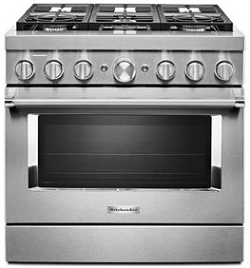 2. Cafe CGS700P4MW2 - 30" All-Gas Commercial-Style Range - $3,598
Cafe is GE's high-end line, and this all-gas model shows off the line's commercial-inspired style. It's available in matte white, matte black, platinum glass, or stainless steel, and you can choose from four hardware colors (read more about Cafe finishes here). This model features commercial styling with front control knobs and a backlit glass touch control panel. You also get a six-burner cooktop and an integrated griddle for versatility!
The 5.6 cubic foot oven features True Convection plus a temperature probe and self-clean racks. The stovetop features an ultra-powerful 21,000 BTU Tri-Ring burner for searing plus a 15,000 BTU power burner for boiling water quickly.
This model also features Wi-Fi connectivity with GE Chef Connect. Overall, this model is really a high-end residential range with commercial styling. As a result, it's more affordable than most true commercial and luxury brands. It comes with a one year parts and labor warranty. Cafe has made a few 36" ranges that were more heavy-duty, but they are being discontinued as of early 2021.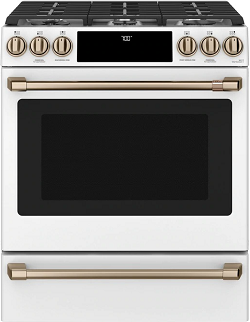 3. Cafe CGY366P2TS1 - 36" Smart All-Gas Commercial-Style Range - $6,598
This next model we'll review is also from Cafe, with a style inspired by professional kitchens. The Cafe CGY366P2TS1 has a 6.2 cu. ft. capacity gas caterer oven so you can cook more all at once evenly. Using inspiral burner swirls, it equally distributes the heat on all edges of the cooktop. The burner rings can be adjusted as well to fit with the size of cookware that you want to use. This model is available in stainless steel at $6,598, also in matte black and matte white at $6,798.
In addition, this Cafe commercial-style range includes three baking racks - where one can be extended partially for easier access, as well as two griddle burners that can be used separately or all in one. So, if you love cooking conveniently with features like mentioned above, this might be a great option for you!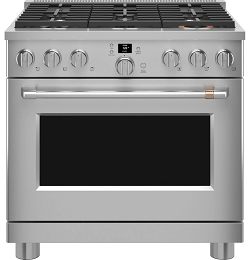 4. Capital MCOR304L - 30" Professional Gas Range with Open Burners - $5,035
You can find Capital ranges on TV shows like Chopped and Top Chef - this American-made brand offers truly commercial ranges for residential use. The Capital MCOR304L (LP version) and MCOR304N (natural gas version) are standout 30" pro ranges from the Capital Culinarian line available in 10 standard colors along with stainless steel, and even custom color options. The Culinarian line features all gas ranges with open burners. For sealed burners, check out the Precision line, and the Connoisseurian line offers dual fuel. If you want a self clean oven with a rotisserie, check out the Capital CGSR304L at $7,999!
The 4.9 cubic foot oven is manual clean and can fit a restaurant-size baking sheet. Convection and an infrared 18,000 BTU broiler with Inconel Mesh construction help you get the cooking results you crave, and the heavy-duty construction is obvious in the racks, door hinges, and titanium speck porcelain interior. There are no digital controls, gauges, clocks, or timers on this model!
The stovetop features three 25,000 BTU open burners that can all be turned down to a true simmer, plus an 8,000 BTU small pan burner that can be turned down for an extra low simmer. Capital's open top burner design features semi-sealed burner pans and pullout trays beneath the burners to make cleaning up easier.
Capital covers their products with a two-year warranty, plus an additional five years of parts on burners, heating elements, grates, and stainless steel sheet metal body parts. If you're looking for a nicely warrantied commercial-duty range for your home, Capital is definitely a brand to consider!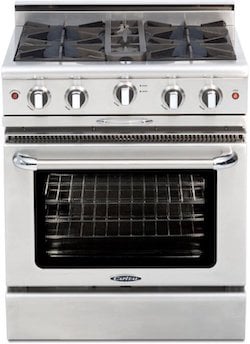 This is just a hint of the options when it comes to professional gas ranges! If you want to dig into more nitty-gritty research, community forums on websites like Houzz as well as seeing these products in person and in action can be a help. We've focused on brands that we carry, so that's why we didn't touch on other great brands like BlueStar.
Are you on the search for a pro range? Leave us a comment below - We'd love to hear from you!
Editor's Note: This blog was originally written in February of 2018 and has been completely revamped and updated for accuracy as of the publication date noted above.