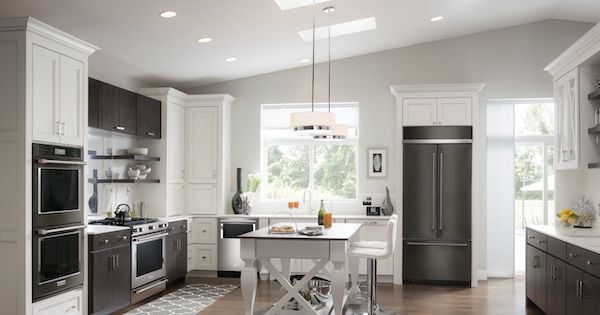 If you are remodeling a kitchen and going high end, you may be asking yourself: What is a built-in refrigerator? Is it a could choice? If you want that really modern, high-end commercial grade look, a built-in refrigerator may be exactly what you need.
Built-in refrigerators are made to be built into an opening in the kitchen cabinets, and they do not protrude from the cabinets. They do not have finished sides and the compressor is usually located on the top of the unit. These are available in larger sizes and are much pricier than freestanding refrigerators. They are usually purchased for very expensive homes along with other high-end appliances. (Before we continue: for more info on choosing a new refrigerator, check out our refrigerator buying guide!)
Table of Contents
What You Need to Know About Built-In Refrigerators
Built-in refrigerators are limited by cabinet depth, so they are available in greater widths and heights than freestanding refrigerators usually are (up to 48" wide and on average around 84" tall). They are available in premium finishes like stainless steel and black stainless steel, and you can also go the extra step by choosing a panel ready model: custom-made cabinetry and hardware are mounted to this type of refrigerator so it will completely blend in with your kitchen.
There is more budgeting involved with built-ins. They aren't "plug and play" appliances like freestanding models.
What makes a built-in refrigerator different:
Made to last longer than freestanding models - generally higher build quality

Permanent installation into cabinetry, with or without custom overlay panels

Compressor is at the top of the refrigerator rather than the bottom, and vents from the top
Built-in refrigerators cost more for a few reasons. Here are just a few of them:
You're paying for a "look" and prestige

They can offer a lot more capacity than freestanding models

They typically have higher-end designs, such as dual compressors (one compressor for the freezer and one for the fresh food section) for fine-tuned temperature control, ball bearing glide crispers, premium shelving, etc.

They typically use higher-end components that last longer and will match with the manufacturer's warranty and reputation for quality

Additional technology is needed to manage the heat and humidity (which usually can escape out the back and sides in a freestanding installation)
Built-in refrigerators typically start at around $5,000, but most are at least $8,000. Dimensions are extra-important with this type of refrigerator since you are building a custom cabinet and need room for the doors to open properly, any trim kits, and so on. Good communication with the professional handling your kitchen renovation is crucial!
Brands That Make Built-ins
Mainstream brands that make built-in refrigerators include:
KitchenAid

Cafe Appliances (by GE)

GE Monogram

Fisher & Paykel
Luxury and niche brands that make built-in refrigerators include:
Bertazzoni

Sub Zero

Jenn-Air

Thermador

Miele
(More) Affordable Alternatives
Freestanding models that do not need to be permanently built into the surrounding cabinetry can compete aesthetically with built-in refrigerators: counter depth and panel ready models offer a similar look, often at lower prices.
Integrated refrigerators are another type of fridge. They're designed to sit completely flush with your cabinetry, while most built-in and counter depth models protrude a small amount from the cabinetry - the doors stick out slightly while the case is completely covered.
If you want to design a custom panel for your refrigerator, an integrated refrigerator may be the best choice since panels add a little extra thickness to the doors. An integrated refrigerator will truly help your refrigerator "disappear" into the surrounding cabinetry! However, they typically will still vent from the bottom and may not be made to as high of a quality standard as a true built-in refrigerator (depending on the manufacturer).
Some people also look for column refrigerators and freezers: basically achieving a custom side-by-side refrigerator look by combining an all refrigerator model with an upright freezer model. Whirlpool and Frigidaire offer affordable column refrigerators, while Fisher & Paykel is one option for high-end columns.
Price Comparison
| | | |
| --- | --- | --- |
| Refrigerator Type | Lowest MSRP (Approx) | Average MSRP (Approx) |
| Built-In | $5,000 | $10,000+ |
| Counter-Depth (Most mainstream brands) | $1,400 | $2,000+ |
| Integrated (Fisher & Paykel, Bosch) | $2,000 | $2,500+ |
| Column Refrigerator & Freezer Pair | $5,000 (Whirlpool, Frigidaire) | $10,000+ |
Review: The KitchenAid KBSN608ESS - Built-In Side by Side - $9,399 MSRP
One built-in refrigerator model from a popular brand is the KitchenAid KBSN608ESS, a side-by-side model retailing at $9,999 in PrintShield stainless steel (read more about fingerprint resistant stainless steel in our article). This 48" wide model offers 30.0 cubic feet of capacity. It's 83.375" tall and 27.5" deep. It is not Energy Star rated, which is unusual for today's refrigerator market, and uses about 832 kWh per year. A more efficient model in the same size range will use about 100-200 fewer kWh per year.
It includes adjustable edge-to-edge spill-resistant glass shelves and SatinGlide crisper drawers as well as a factory-installed icemaker. The ExtendFresh Plus temperature management system uses separate thermistors in the refrigerator and freezer to maintain the ideal temperatures for each compartment. LED lights illuminate the refrigerator so you can find items in the fresh food section, freezer section, and even in the crispers more easily.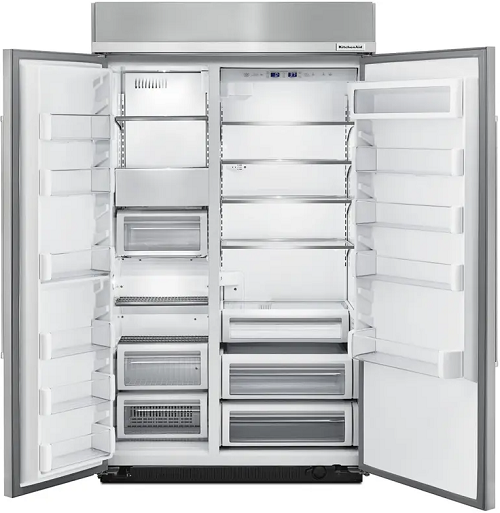 The warranty covers two years parts and labor on the full product, six years parts and labor on the sealed system, and then six additional years on the sealed system for parts only. See manufacturer's full warranty for details!
Click here to read over 80 real customer reviews of this product!
KitchenAid KBSN608ESS - $9,999 MSRP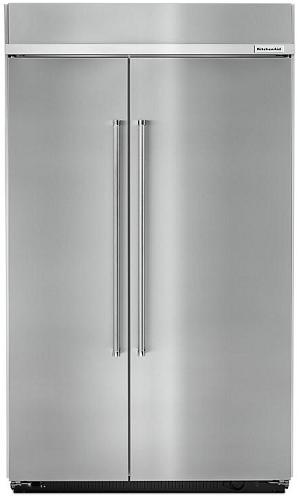 Review: Bosch B11CB50SSS - 24" Wide Counter Depth Bottom Freezer - $2,599 MSRP
Want a built-in look without springing for an actual built-in model? You may want to opt for a counter depth refrigerator (read our blog post about counter depth refrigerators here!). Counter depth models typically a case depth of 24-24.5" (excluding the doors and handles).
The Bosch B11CB50SSS, a narrow bottom freezer refrigerator best for compact kitchens, has a reduced depth that allows for a nearly-flush installation so you can get that sleek, finished look and feel! This model has a depth of just 23.875", excluding the handles. This is in comparison to most counter depth refrigerators, which have 24" deep cases plus doors that are 4" thick or more. (Bosch tends to have shallower counter depth refrigerators in general, such as the Bosch B36CT80SNB, a 36" wide French door refrigerator. This model has a case and door depth of 28.75", while other counter depth refrigerators can be 29-30" deep.)

This sleek bottom freezer refrigerator is priced at $2,599 in easy clean stainless steel. It also features a hidden hinge and reversible doors. This Energy Star rated model is 78.875" tall and 23.5" wide and offers 11 cubic feet of capacity.
It includes adjustable spill-proof glass shelves, a humidity-controlled drawer, and door bins. It's also frost-free and has included accessories like a wine rack and an ice tray. Bright LED lighting illuminates the interior. If you're looking for a narrow refrigerator that will still give your kitchen that high-end look, check out this Bosch model!
Bosch B11CB50SSS - $2,599 MSRP

We hope this helped you understand more about built-in refrigerators and other factors to consider when you're looking for a high-end design for your kitchen. As you can see, a counter-depth model tends to be a cheaper option than a true built-in, but there are other trade-offs when it comes to features and warranty coverage that are important to consider.
What do you love (or hate) about built-in refrigerators? Leave us a comment below - We'd love to hear from you!
(PS: Check out our Summit refrigerator reviews for some eye-catching integrated refrigerators at great prices!)
Editor's Note: This blog was originally written in December of 2016 and has been completely revamped and updated for accuracy as of the publication date noted above.