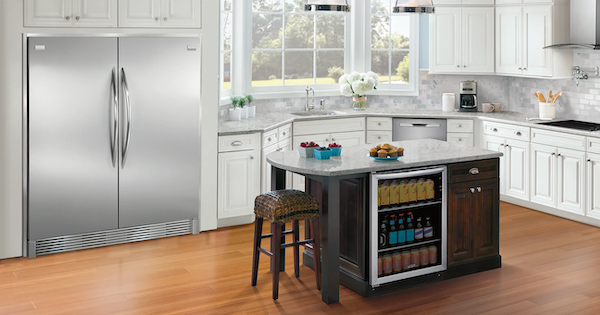 Looking for a stylish way to chill your beverages and display your good taste to the world? We take a look at three of the best beverage cooler options on the market today from Zephyr and Marvel, plus a surprise contestant: Frigidaire Gallery is offering a built-in model at a crazy low price point this year. All of these models can be installed freestanding or as built ins and feature windowed glass frames for a premium look and feel.
Beverage centers are step up from mini fridges with a more professional design, built-in options, and precision temperature controls. One complaint about some beverage centers is that they don't get cold enough to actually refrigerate items if you want to store more than beer, wine, or soda inside. These models are all exceptions that can cool down to 34 degrees!
(Serving tips: When it comes to beer, the temperature range is typically 50-55 degrees but can be as low as 40-42 degrees for some pale ales. When it comes to serving white or red wines, slightly chilled is usually best, at around 45-55 degrees depending on the wine.)
The cheapest model on our list is just under $700, and most high-quality beverage centers are at least $1,000. Here's why we don't have any cheaper models on our list:
Sub-$500 models may not be built to the same standard of quality so it may not last as long or do a good job at keeping your beverages cool.

Cheap beverage centers may have more limited temperature ranges so they can't be used to refrigerate fresh foods or precisely hold your wine at the perfect temperature.

They may be noisier when the compressor is running.

They're likely to also be less thermally efficient, so they have to run more often.
Without further ado, let's dig into the best beverage coolers of 2019!
1. The Zephyr PRB24C01AG - $1,099
Zephyr used to focus on range hoods, but they recently entered the wine and beverage cooler game with the Presrv line. The Zephyr PRB24C01AG features a full-extension black wood wine rack with stainless trim and two adjustable transparent glass shelves with airflow openings. Altogether, this beverage cooler can hold up to 8 bottles of wine plus 110 12-oz cans!
Precise digital temperature controls allow you to adjust the temperature from 34 to 50 degrees. Internal sensors and an on-board computer ensure temperature stability and even cooling. Set the LED lighting to white, blue, or amber, and enjoy your gorgeously styled beverage cooler! In order to preserve your wines as well as other beverages, this beverage center includes a vibration dampening system. Dual-pane argon-filled glass insulates the interior, while a low-e coating blocks UV light as well.
This model comes with a warranty covering one year labor, two years parts, and five years on the compressor. If you're looking for a gorgeously styled beverage center for your home, this newcomer on the market might be perfect for your needs!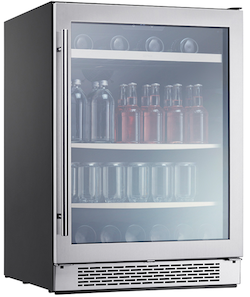 2. The Marvel ML24BCG1RS - $1,779
Looking for flexibility? The Marvel ML24BCG1RS 24" beverage center includes two 3-in-1 convertible shelves that can be converted to wine racks with a Vibration Neutralization System or cantilevered glass shelving. There's an additional roller-glide four-bottle wine rack as well. The touch screen integrated controls on the top edge of the door allow you to set the temperature from 34 to 42 degrees. This model is Energy Star rated thanks to a thermal-efficient cabinet with a dual pane argon-filled glass door that is UV-resistant.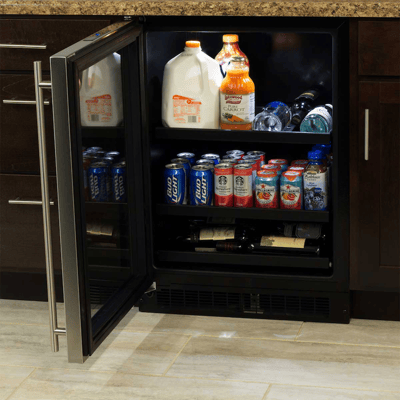 Marvel undercounter refrigerators are known for being quieter than the competition and they lead the industry in temperature stability and rapid cool down. This refrigerator can hold up to 18 bottles of wine or 162 12-ounce cans! This may be the best beverage cooler for people who want versatility - if you want to store beer, wine, and other beverages together, it's easy to do so with this model.
Marvel covers this model with a warranty of 1 year parts and labor and 5 years sealed system parts. This model comes in several configurations, including panel ready solid or glass framed overlays in right or left hinge door swings.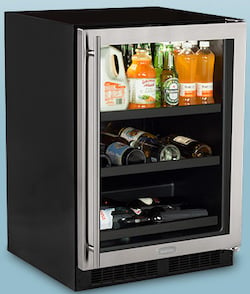 3. The Frigidaire Gallery FGBC5334VS - $669
Frigidaire is offering up a nicely styled beverage cooler at an impressively low price point of just $669. If you're looking for a built in beverage cooler on a budget, the Frigidaire Gallery FGBC5334VS might be perfect for you! The stainless steel door has a tinted glass window and adjustable end-to-end glass shelving with stainless steel trim keeps the interior looking as sleek as the exterior.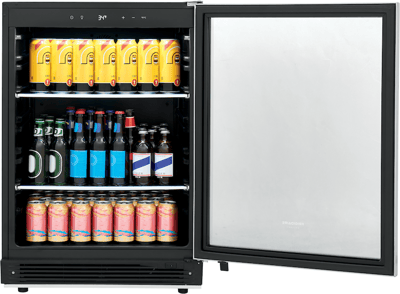 Use the LED display to set the temperature from 34 to 50 degrees. This model also features LED interior lighting, a reversible door, and 5.3 cubic feet of storage. No wine racks here, but you can store up to 195 12-ounce cans if you pack them in, or easily fit 165 cans. The front venting cooling system allows you to use this model in either built in or freestanding installations.
Frigidaire covers this model with a one year limited warranty. The shorter warranty is one of the tradeoffs for the lower price.
Frigidaire Gallery FGBC5334VS - $669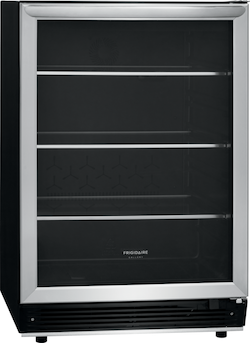 So, which of these models is the best beverage center for your needs? Although you can also spend a lot more on a beverage center, these models in our review are some of the most popular options with our customers.
Stylish but budget-conscious: Frigidaire is a great pick here, for obvious reasons. It's on the lower end for pricing when most 24-inch beverage centers from quality brands start out at around $900 and up.

Wine storage with an LED flair: The Zephyr model earns some style points with the three LED colors and an attractive all-stainless steel front. Plus it comes with an 8-bottle wine storage rack. If you like to have a stash of wine on hand as well as your favorite beers, sodas, or other drinks, this beverage center might be a good option.

Reliability and flexibility from a top brand: Marvel has a great reputation in specialty refrigeration and the warranty on this refrigerator is the best out of the options on our list. The integrated controls on the door are easy to access without bending over, which is a nice touch. If you want the most storage flexibility, this model might be for you.
Obviously, Frigidaire is a great pick if you want to save money but still want something that looks good. The Marvel and Zephyr model offer storage for wine as well as cans and bottles. Marvel is a tried and true brand for specialty refrigeration, but the Zephyr model offers similar features and great styling for a lower price. If you're looking for a quiet, energy efficient model and want more wine storage, the Marvel model might be your favorite.
We hope this helped you decide on a new beverage center that will look great in your home! If you're specifically looking for wine storage, you may like to read our wine refrigerator reviews as well.
What are you looking for in a beverage cooler? Please leave us a comment below - We'd love to hear from you!
Click here to view all currently available beverage centers from brands like KitchenAid, GE, Avanti, and more!