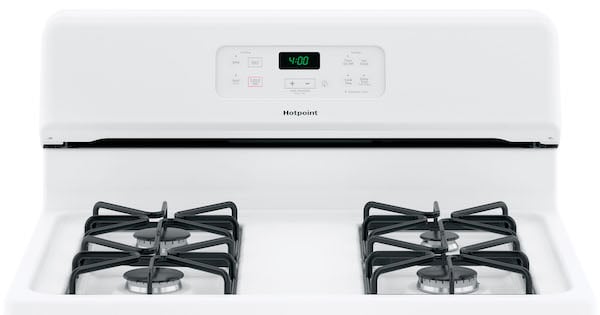 If you are looking for an appliance for your home or apartment that offers value and quality, the Hotpoint brand may be just what you are looking for.
Hotpoint, established in 1919, is one of the oldest names in the appliance industry. They have a history of making innovative appliances at affordable prices. They have been a value line produced by GE for many years, offering a limited line of products with a few in each category, mostly in white.
Hotpoint is a great source for smaller apartment sized ranges in the 20" and 24" wide category, but in this article, we'll explore what Hotpoint has to offer in full size 30" ranges. Let's dig in!
Hotpoint 30" Electric Ranges
Hotpoint currently offers two 30" freestanding electric ranges in black or white.
The first model option prices at $469. This is a basic coil top electric range with a 5.0 cubic foot capacity oven. A coil top range is a cheaper alternative to a smoothtop range and tends to be easier to repair, so they're a great option for homeowners on a budget or for apartments (view our comparison of smooth top vs coil top ranges in our article).
The standard clean oven keeps it simple: no self-clean option, no hidden bake element. Two oven racks allow you to handle multiple recipes at once, and there is a storage drawer beneath the oven cavity. The controls are located on the backguard: simple turn-dials allow you to set the heat level for the stovetop elements and select the oven temperature as well. Two lights on either side of the center oven dial will indicate whether the oven is heating or if a burner is on.
Hotpoint has created an ultra-low cost range by avoiding features like an oven window, digital clock and timer display, and other options that may seem basic but still add to the overall cost of the appliance. Hotpoint also offers electric range model RBS360DMBB with a small oven window and basic electronic oven controls with a digital clock and timer, for just $519.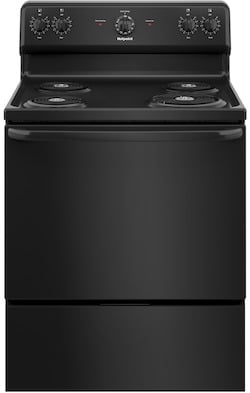 Hotpoint 30" Gas Ranges
Next up in our Hotpoint range review: the gas options. Hotpoint offers slightly more variety in this category. We'll start off with their most basic model and work our way up.
Hotpoint's ultra-basic option used to be the recently discontinued model RGB525DEHBB, but it has now been replaced by the RGBS100DMBB. This model is available in black or white at $459 and has a low backguard and front controls. The manual clean oven is 4.8 cubic feet and the burners are all 9,100 BTU.
This model does not have sealed burners and has a lift-up cooktop for cleaning underneath the burner area as needed. Check out the next model in the lineup to see sealed burners and some other improvements.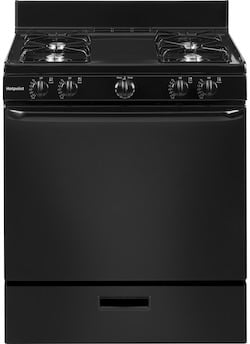 Next up in the Hotpoint gas range lineup is model RGBS300DMBB, at $439, pictured below in black. This 30" freestanding gas range has an oven capacity of 4.8 cubic feet and the four sealed burners are electronically ignited using controls on the front of the range. This model also offers more variety when it comes to the burners: a 12,500 BTU burner, two 9,500 BTU burners, and a 5,000 BTU precise simmer burner.
The range includes a broiler drawer with broiler pan and grid. Like the ultra-basic electric range, it does not have electronic oven controls or an oven window. It is also available in white.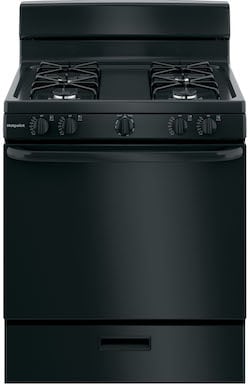 If you're looking for more aesthetic appeal you may prefer the Hotpoint RGBS400DMWW, available in white only, which features a large oven window plus electronic temperature controls with a digital timer and clock. The oven also comes with an interior oven light.
If you're looking for a cordless gas range, check out the RGBS200DMWW with battery ignition.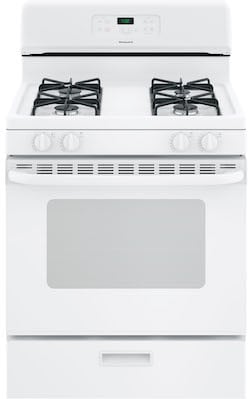 Hotpoint 20" & 24" Ranges
Looking for a cheap apartment sized range? Hotpoint offers three coil top electric models: two 24" models and one 20" model, and two gas ranges, one 20" and one 24". All of these smaller models are available in white only. The 24" models have oven windows while the 20" models do not. The electric models have lift-up cooktops while the gas models have sealed burners. Click the model name links below to view specs, current promotional pricing, and reviews.
20-24" Electric Ranges:
20-24" Gas Ranges:
In Conclusion...
We hope these Hotpoint range reviews have been helpful. Hotpoint also makes refrigerators, dishwashers, laundry products and other major appliances. All of their products offer simplicity, dependability and value. If you want to learn more about the entire line of Hotpoint appliances, click here to read all our Hotpoint appliance reviews, or start at our main overview of Hotpoint appliances.
Please leave us a comment below. We'd love to hear from you!
Editor's Note: This blog was originally written in May of 2017 and has been completely revamped and updated for accuracy as of the publication date noted above.