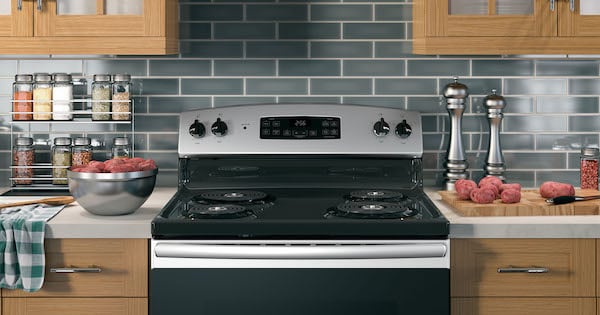 Most buyers of electric ranges in today's market are looking for smooth top ranges. However, don't overlook electric coil range models for certain applications. An electric coil range is an "old fashioned" range with burner bowls and coil elements that plug in and out of the range top. What possible advantage could this type of range have over a smooth top range? Let's take a look at a few scenarios. (And for more information to help you choose a new gas or electric kitchen range, check out our range buying guide!)
Coil top electric range models are around $400-500, which is less expensive than their smooth top counterparts. That's a good start. They are certainly not as pretty to look at and much more difficult to clean, but they do have a couple of advantages.
First, electric coil ranges are not susceptible to one of the worst heartaches any range owner can have: a broken glass range top! One simple slip of a casserole dish out of your over the range microwave can result in a broken top which can easily cost you $400 or more for parts and labor to replace it.
With coil ranges, this isn't a factor. Secondly, if there are repair issues with the elements on a coil range, they are very inexpensive to repair. While smooth top electric ranges seldom have repair issues with the elements, when they do, they are much more costly.
Times to Consider a Coil Top Electric Range:
When you are buying a range for a rental apartment that you own and are concerned with how the tenants will treat the appliances

When you are looking for the cheapest range available

When you want to be able to do more of your own repairs on your range

When you are buying a range for a family member, perhaps your young son or daughter, and you aren't sure how they will treat the range
While smooth tops are often the way to go, don't overlook a coil top electric range for these and other applications. Overall, there are fewer coil top models available and they tend to have more limited feature packages compared to smooth top ranges, but well-known brands like GE Appliances, Amana, Hotpoint, and Whirlpool are still producing them.
Click here for a full list of electric coil range models with detailed features, reviews and prices. There are slide-in and freestanding models available, including narrow 20" and 24" wide stoves ideal for apartments or tiny kitchens.
Let us know what kind of range you end up purchasing. We'd love to hear from you!
Editor's Note: This blog was originally written in January of 2018 and has been completely revamped and updated for accuracy as of the publication date noted above.