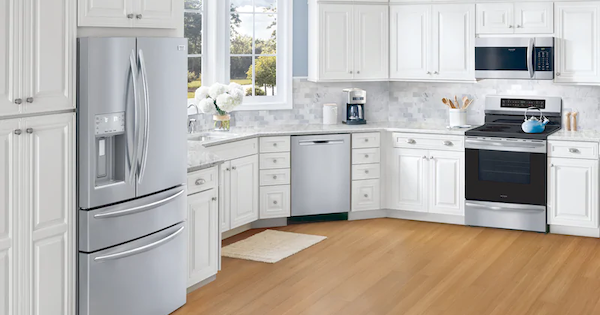 After manufacturing refrigerators for over a century, it's safe to say that Frigidaire has significant experience under its belt. The company has several lines of products, including the basic Frigidaire, the restaurant-inspired Frigidaire Professional, and the stylish Frigidaire Gallery. While much can be said about each product line, we will be looking specifically at Frigidaire Gallery refrigerators in this article to compare the different styles and features available.
The three main categories of Frigidaire Gallery refrigerators are French door, top freezer, and side-by-side. This product line offers refrigerators in black, white, black stainless steel, and stainless steel. Stainless steel is the most readily available Frigidaire Gallery color with most products having that as an option.
One of the biggest concerns when buying stainless steel appliances is that they show fingerprints and other smudges easily and the upkeep is more trouble than it's worth. That's where Frigidaire Gallery gains an edge over much of the competition. Every stainless steel product in this line features a smudge-resistant stainless steel finish, which still has a sleek modern look but leaves behind the hassle of constant upkeep. When this line was released in 2014, it was the first option to offer fingerprint resistant stainless steel!
We'll review the models available for each style of refrigerator in the Frigidaire Gallery line. Click the links to skip to the product you're interested in:
Let's dig in!
1. The Counter Depth French Four Door Refrigerator - Frigidaire FG4H2272UF - $3,199
New for 2019, the French four door refrigerator from Frigidaire Gallery, Frigidaire FG4H2272UF, features a Custom-Flex Temp Drawer between the fridge and freezer that offers the widest temperature range settings on the market as of this writing! (Click here to read more about four door refrigerators.) The model is also counter depth for a flush fit.
This extra drawer is great for snack storage, chilling meats and cheeses, and more. The temperature can be adjusted down to -6 degrees for keeping items frozen and up to 45 degrees for items like white wine. Other four door refrigerators don't allow the temperature to be turned down below freezing so Frigidaire has a unique option in this class of refrigerator!
This model also features an OpenAccess fresh food door: the righthand door is larger so you can access most of the refrigerator's interior just by opening that one door. It's a dual evaporator model with TwinTech cooling for more even and consistent cooling performance in the fridge and freezer sections. The extra tall ice and water dispenser provides 10 inches of clearance for filling large items like pitchers and sports bottles.
If you're looking for a French door model with some of the hottest new and convenient features on the market, this model might be perfect for your needs!
Watch Our Quick Video on the Frigidaire Gallery 4-Door French Door Below!
Custom-Flex® Temp Drawer can refrigerate or freeze items

Auto CripSeal Crisper Drawers

OpenAccess Fresh Food Door

PureSource Ultra®II Ice, Air, & Water Filtration

Extra Tall Ice and Water Pocket for filling tall pitchers and bottles

SpaceWise Storage System with flip-up shelving and expandable door bin

Quick Freeze: Quickly freeze foods so they stay at their freshest

Bright LED lighting
Frigidaire Gallery FG4H2272UF - $3,199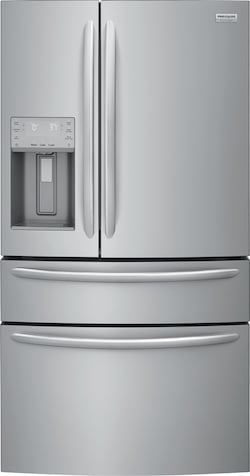 2. The Full Depth 27.6 cu. ft. French Door Refrigerator - Frigidaire FGHN2868TF - $2,349
The next Frigidaire Gallery refrigerator we'll look at is another french door style model, albeit a much larger one. The Frigidaire FGHN2868TF is priced at $2,349 and at 27.6 cubic feet, it's a full 5.7 cubic feet larger than the preceding model! Feature-wise, this fridge comes packed with many of the same attributes, including adjustable storage, gallon-sized bins, humidity-controlled crisper drawers, and a slide-under shelf.
Other than the size, the other most obvious feature difference in this model is that it does not come with water and ice in the door. This creates a more stark, smooth appearance and allows you to utilize the full interior of your fridge instead of having the ice bucket taking space in the top shelf. A factory-installed ice maker is located in the freezer. It includes a quick ice feature that delivers up to 37% more ice than traditional icemakers. The electronic control panel is easily accessible and located inside of the left refrigerator door.
This refrigerator is the same width as the $2,949 21.7 cubic foot counter-depth model Frigidaire Gallery offers (the FGHD2368TF) but significantly deeper, protruding almost five additional inches. If you have the room and require lots of fresh food storage, this may be a good model to keep in mind.
Interior Storage: Over 100 ways to organize and customize your refrigerator

PureSource Ultra® Ice & Water Filtration

Multi-Level LED Lighting

SpillSafe® Flip Up Shelves and Store-More™ Bins

Even Temp™: Maintain an even temperature throughout the refrigerator

Effortless™ Glide Crisper Drawers and Freezer Drawers

Full-Width Cool Zone® Drawer

Quick Freeze: Quickly freeze foods so they stay at their freshest
Height: 69.875"

Width: 36"

Depth: 33.375"
Frigidaire Gallery FGHN2868TF - $2,349
3. The Basic 25.5 cu. ft. Side-By-Side Refrigerator - Frigidaire FGSS2635TF - $1,499
Next up is a side-by-side Frigidaire Gallery refrigerator, the Frigidaire FGSS2635TF, priced at $1,499 and also available in black stainless steel, black, and white as well as in stainless steel. This model has essentially the same external dimensions as the previous model and while it has slightly smaller capacity at 25.5 cubic feet, this size is large enough for many families.
French door refrigerators are definitely more popular than side-by-sides in today's market but there are still many consumers who do not like having a freezer on the bottom because they feel that it limits their ability to easily access the items they want. (See our article comparing French door vs side by sides for more info.) Like the first model we looked at, this refrigerator has water and ice in the door. The ice maker is located in the top section of the freezer.
Just like the other two models, you still get adjustable storage and glass shelving in the refrigerator section, although this one does not have slide out shelving. Compared to the side by side refrigerators of other brands in the appliance industry, this fridge has the largest capacity crisper drawers. It also has a deli drawer to keep your sandwich meats and cheeses organized. Unlike the french door models, this one is also ADA compliant and may be better suited for those with physical handicaps.
As of this writing, you can also find a $1,699 22.2 cubic foot counter depth model, the Frigidaire FGSC2335TF, and a narrower 33" width full depth model of the same capacity, the Frigidaire FGSS2335TF at $1,499.
Adjustable Interior Storage: Over 100 ways to organize and customize your refrigerator

PureSource Ultra® Ice & Water Filtration

Designer LED Lighting

SpillSafe® glass shelves

Even Temp™: Maintain an even temperature throughout the refrigerator

Effortless™ Glide Crisper Drawers

Quick Freeze: Quickly freeze foods so they stay at their freshest

Store-More™ Bins
Height: 69.875"

Width: 36"

Depth: 33.375"
Click here to read real customer reviews of this product!
Frigidaire Gallery FGSS2635TF - $1,499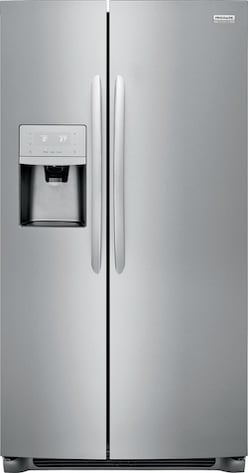 4. The Basic 20.4 cu. ft. Top Freezer Refrigerator - Frigidaire FGTR2037TF - $949
Last up, we have a traditional top freezer Frigidaire Gallery refrigerator for those who want a classic and familiar style. The Frigidaire FGTR2037TF is a 20.4 cubic foot refrigerator coming in smudge proof stainless steel. It is also available in a black stainless steel finish. Many currently available top freezer refrigerators are starkly featured, often coming with wire shelves, but this model possesses a full width deli drawer, glass shelves, and is icemaker ready.
Similar to the larger models we previously discussed, this option includes humidity controlled crisper bins, SpillSafe shelves, and bright LED lighting. At 29 5/8" wide, this may be a suitable alternative for consumers who have a smaller space to put a refrigerator since many households don't have the room to fit the 33" or 36" width that french door and side by sides typically require.
Key Features:
Designer LED Lighting

SpillSafe® glass shelves

Humidity controlled Crisper Drawers

Full-Width deli Drawer

Reversible Door: Can be installed to open left or right based on your needs

Ice Maker option
Height: 69.875"

Width: 29.625"

Depth: 34"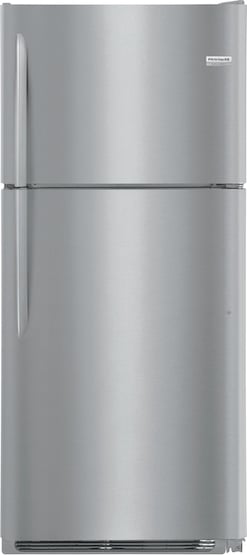 The only other major style of free-standing refrigerators that Frigidaire Gallery doesn't currently have in its lineup is the bottom freezer style with a single door refrigerator on top. Other than that, you have several options. Regardless of whether you choose a French door, side by side, or top freezer Frigidaire Gallery refrigerator, any of these will help give your kitchen a sharp, elegant appearance.
While you're thinking about it, check for Frigidaire appliance rebates and read up on appliance packages!
We hope these reviews proved helpful in uncovering the best refrigerator for your specific needs! Please leave us a comment below. We'd love to hear from you!
Editor's Note: This blog was originally written in April of 2016 and has been completely revamped and updated for accuracy as of the publication date noted above.